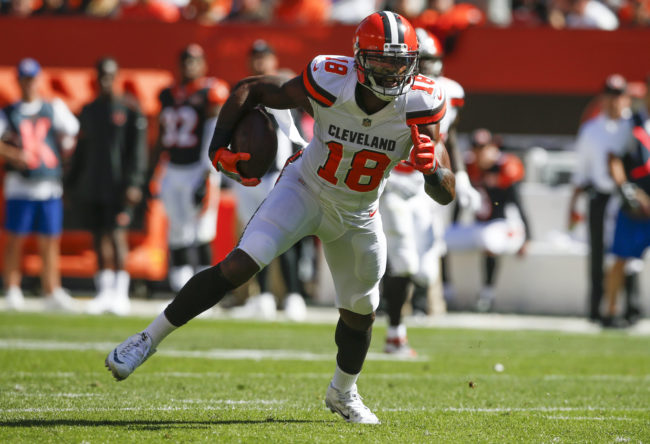 The New England Patriots are adding some depth at the receiving position. Kenny Britt signed a two-year deal with the team today. Adam Schefter reported the news on Twitter.
Patriots are finalizing a deal with former Browns WR Kenny Britt, per @FieldYates. Deal expected to be done shortly.

— Adam Schefter (@AdamSchefter) December 12, 2017
Britt was released just four days ago by the Browns. The Patriots had originally tried to sign Britt in the regular season, but the Cleveland Browns outbid the Patriots by a ridiculous amount.
The #Patriots were into Britt in free agency, but he got too pricey. #Browns paid the big contract, NE gets him for cheap. https://t.co/SVhemnyxct

— Ian Rapoport (@RapSheet) December 12, 2017
Britt signed a four-year, $32 million deal with the Browns this past offseason. The Browns had high expectations for Britt, but so far he has not lived up to them. Britt has just 18 receptions for 233 yards and two touchdowns on the season.
It seems now that the Patriots will have plenty of targets for quarterback Tom Brady to throw to. The Patriots currently have Brandin Cooks, Danny Amendola,  Chris Hogan, and Julian Edelman, who is set to return from injury next year.
The deal seems to work out for Britt. He leaves a struggling team to a team considered to be a legitimate Super Bowl contender.
And so in a season in which he has yet to know the feeling of winning a single game, WR Kenny Britt is going to the playoffs.

— Adam Schefter (@AdamSchefter) December 12, 2017
Britt will see his first action as a Patriot next Sunday against the Pittsburgh Steelers.