Markelle Fultz had to get out of Philadelphia. And Philadelphia needed to move on from a failed experiment with a No. 1 overall pick.
When the 76ers traded Fultz out of Philly and down to sunny Orlando, Florida, it was the beginning of a refreshingly new start that both sides desperately needed.
Fultz was the top pick in the NBA Draft less than two years ago but has played in only 33 games, dealing with a confusing shoulder injury that took a year just to properly identify.
The Thoracic Outlet Syndrome that has sidelined Fultz since the middle of November is now in the process of being rehabbed. There is currently no timetable as to when exactly Fultz could make his return to the court, but now he can work according to his timeline (although Fultz's agent said back in December that his client would return this season).
The 76ers botched the handling of Fultz and his injury. In Orlando, the tantalizing point guard will have a shot to regain the magic that made him one of the top prospects of the last five years in the first place.
The benefit of the move to Orlando is the Magic's lack of a starting caliber lead ball handler. D.J. Augustin has done a solid job of providing valuable minutes as a veteran point guard, but he isn't someone the organization should be building around. Especially since the Magic have one of the brightest young frontcourts in the league, featuring All-Star Nikole Vucevic and tweener Aaron Gordon, along with the two young and long freak athletes, Jonathan Isaac and Mohamed Bamba.
While it should come as no surprise if one of Vucevic or Gordon finds a new home by the summer, Bamba and Isaac are surely here to stay and will need a point guard that is willing to facilitate and make everyone around them better. Augustin is not that guy (anymore, at least) and odds are 22-year old rookie backup point guard Isaiah Briscoe will never grow into what Fultz could be.
The one glaring need that was missing from Orlando is a point guard of the future. They already have a perfectly crafted modern-day frontcourt, several outside shooters, and other young, promising prospects such as Wesley Iwundu. Now they have the point guard they need and it cost them a first round and second round pick along with Jonathan Simmons to get him. A first round pick for a player how has hardly seen the court in over a year and a half could be viewed as a risky investment.
But there's a reason Fultz was a clear choice for the top pick in 2017.
Fultz averaged nearly 23/6/6 in his one year at Washington. Let's not forget what he had some of the biggest sports publications in the world saying about him around draft time. He posted a triple-double in just his 14th career NBA game despite still battling an unknown shoulder injury.
"It's very rare that you get a chance to add a player of Markelle's ability and character to your team," Magic President of Basketball Operations Jeff Weltman said at Fultz's introductory press conference. "These days don't happen very often. It's a good day for the Magic. And now it means we begin the work of getting Markelle where he needs to be."
The question now is how does one get him to that point? How do you build a player who has already experienced so much drama and controversy so early in his career, into an All-Star? The lone bright side in this entire debacle between Fultz and the 76ers is that he's more seasoned to the media than most. He was forced to learn how to deal with the constant media frenzy and whether or not he handled it gracefully and appropriately is in the past now. He's experienced more criticism in less than two years than most players will experience in an entire 15-year career. That type of attention can leave lingering effects that might limit how a player goes simply about their daily routine. His response to the situation will tell if he's ready to take that next step and develop into the player that an entire nation hyped him up to be.
The beauty (and sad reality) of Fultz moving to Orlando is that he can keep himself much more privately secluded than he did in Philadelphia. In Philly, the eyes were attached to him. Even with Joel Embiid, Ben Simmons, and the trade for Jimmy Butler, Fultz was always in the national news, being criticized for things he had no control over.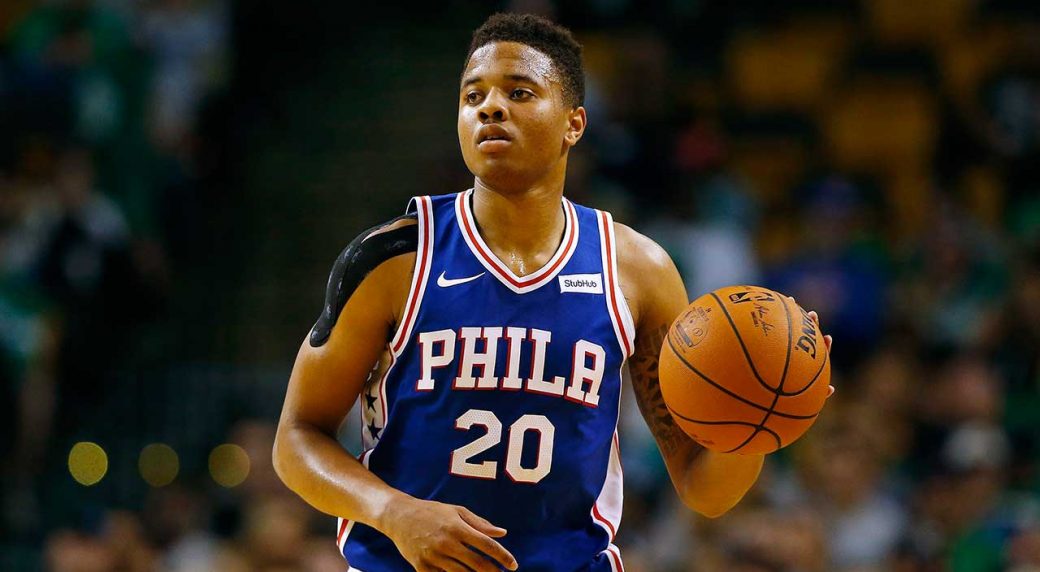 In Orlando, Fultz isn't the center of attention – at least not right now. The Magic are playing their best basketball of the season right at the All-Star break, winning seven of their last eight games and sitting only one-half of a game out the final playoff seed in the Eastern Conference. Even if Fultz doesn't come back this season, the Magic are slowly trying to creep out of the cellar and a playoff bid would be huge for their momentum going forward. But they aren't the Sixers and might never reach the current talent level that Philly controls (having five justifiable All-Stars in the starting lineup is only comparable to Golden State). Which means the media focus down south isn't going to be anything near what Fultz experienced in the northeast. And if he does turn into an All-Star one day, the questions he's asked will sound a lot different than they did in 2018.
The focus could soon shift back to Fultz, especially if he returns in time for a potential playoff matchup, but now he can control the narrative. There are no outside trainers attempting to self-diagnose what is wrong with him anymore. And that's how it should be. Fultz wasn't selected as the No. 1 overall pick due to pure luck. There's a clear reason why he was the overwhelming favorite and it showed with his skills on the court. Once Fultz can get back to that version of himself, both physically and mentally, his talents can do the talking.
A private injury made catastrophically public nearly derailed the entire career of Fultz, now he'll have a shot at redemption in a city starved for basketball success. It's time for Fultz to put his trust in a different process.