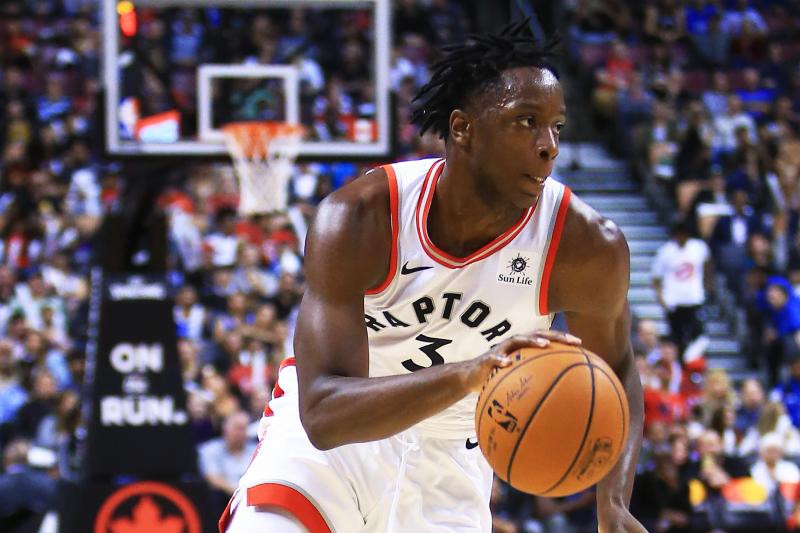 Kevin Durant is truly impressed by Raptors' rookie OG Anunoby. Durant recently held a Q&A on his YouTube Channel where he invited fans to ask him a wide range of questions.
When the question became who he thought was the most impressive rookie, Durant went off the book and had some high praise for Anunoby. Rookies like Philadelphia's Ben Simmons, the Celtics' Jayson Tatum and the Lakers' pair of studs Lonzo Ball and Kyle Kuzma have gotten most of the recognition from fans and analysts. To get recognition from the reigning Finals MVP isn't a small deal.
The following is from Andrew Potter of The Score,
"I like OG Anunoby from Toronto," Durant proclaimed. "He plays hard. He can shoot it. He rebounds well. He's really going to be really good in the future."
Anunoby, who the Raptors took 23rd in the 2017 NBA draft hasn't gotten the spotlight or the number of minutes that some of his fellow rookies have received.
The forward has only averaged about 18 minutes per game this season. Anunoby has averaged 6.6 points and 2.2 rebounds in 16 games this season.
For Anunoby, it was tough to get minutes with Toronto preferring veterans Norman Powell and Delon Wright. Both Powell and Wright have more experience in the league than 20-year-old Anunoby. However, with Powell suffering an injury, Anunoby was inserted into starting lineup and has played well.
In his four starts, the Indiana product averaged 9.3 points and shot 37% from three on four attempts per game. Coach Dwayne Casey has shown confidence in the rookie, and it's paying off. The Raptors are 11-5 and currently sit third in the eastern conference standings.
Anunoby has shown flashes of his potential with his athleticism and ability to shoot from distance. He scored his career high of 16 points against the Houston Rockets in a career 30 minutes.