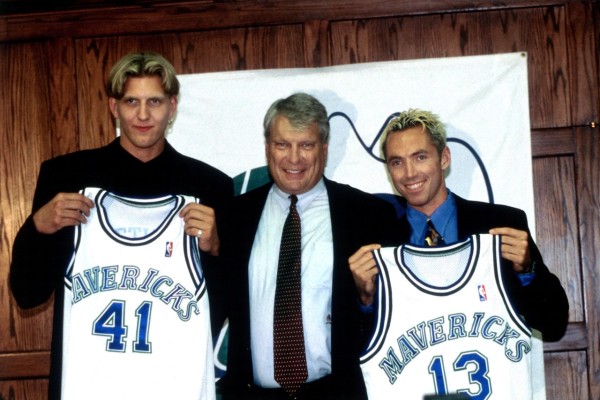 The Dallas Mavericks once had the All-Star duo of Dirk Nowitzki and Steve Nash, who lead one of the best offenses in the league in the early 2000s. When the 30-year-old Nash became a free agent in 2004 with intentions to return to Dallas, team owner Mark Cuban refused to match the Phoenix Suns six-year, $63 million offer, and eventually lost the guard that summer. Nash went on to win back-to-back MVP awards with the Suns early in his tenure and made the franchise a consistent playoff contender.
Now, with the recent acquisition of young star Kristaps Porzingis to pair with rookie sensation Luka Doncic, Cuban vowed that he wouldn't make the same mistake as he did with his last star pairing, according to Marc Stein of the New York Times:
Powerful quote from Mavs owner Mark Cuban that will be part of Tuesday's @nytimes NBA newsletter: "It was my mistake not to keep Dirk (Nowitzki) and Steve (Nash) together longer," Cuban tells @NYTSports. "I won't make the same mistake with Luka (@luka7doncic) and KP (@kporzee)."

— Marc Stein (@TheSteinLine) February 5, 2019
Porzingis, who will likely be sidelined for the remainder of the season, is a restricted free agent following the 2019-20 season. While the Mavericks do have the right to match any offer an opposing team gives to the Latvian big man, the team could allow him to walk if the deal is too rich. However, with Cuban's recent comments about his intent to keep the pairing together, it seems very unlikely that Cuban and the Mavs let him move elsewhere next summer.