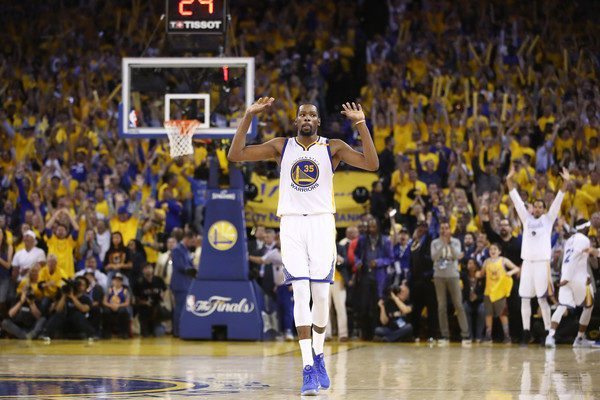 After putting together an extraordinary performance in the 2017 NBA Finals and winning Finals MVP, Kevin Durant has more than likely been on cloud nine for most of the off-season. Although there were many doubters, Durant paved his own lane to obtain his first championship with the juggernaut Golden State Warriors.
Subsequently, Durant took the Warriors' light years slogan and took a pay cut this offseason, instead of signing a max offer, so that the Warriors could have enough money to re-sign their core players. This tactic worked to perfection as they resigned Stephen Curry, Andre Iguodala, and Shaun Livingston. Durant took the time to address this move and how exactly it came about.
Following from Anthony Slater of The Athletic.
Well, I'm a smart guy and I want to keep this thing going and looking at Andre and Shaun (Livingston) and Steph (Curry) — they all should make the most money that they can make and get what they deserve. Because they were all underpaid and I knew at some point they'd want to get what they deserve. So I just took a step back and let the chips fall where they may. Then I took it in my hands. I wanted to keep the team together and I thought it was going to help the ownership bring all the guys back. And on top of that, it's my money. It's my decision. I can do what the hell I want with it.
It's clear Kevin Durant thought out his decision thoroughly and didn't care what the perception of him was as a result of it.