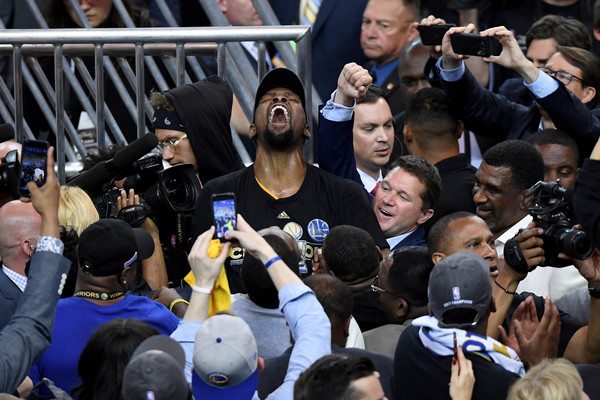 Kevin Durant made a decision last summer that turned many in the basketball world against him. After years of success with the Oklahoma City Thunder and the bitter taste of falling to the Golden State Warriors after holding a 3-1 lead, the star forward chose to join the Warriors in free agency.
The decision was met with ridicule and vitriol with critics claiming that Durant was taking the easy way out, joining a 73-win team to be carried to his first championship.
Eleven months later and Durant could not care any less.
Durant and the Warriors finished the job on Monday, beating the Cleveland Cavaliers in five games to secure the team's second title in three years and the first of Durant's already distinguished career.
Yes, the Warriors were stacked – arguably the most talented team in NBA history. But it was Durant that put them over the top. It was the seven-footer with guard-like skills and a sweet shooting stroke that eliminated every Cavaliers' run with a consistent barrage of scoring and defense.
Kevin Durant not only won his first ever title but he did it by leading his team when it mattered most, earning him the 2017 NBA Finals MVP.
Your 2017 #NBAFinals MVP, Kevin Durant!

Congrats, @KDTrey5 pic.twitter.com/fwLan4Fwpd

— Def Pen Hoops (@DefPenHoops) June 13, 2017
Durant scored over 30 points in every single game during the short series but even that does not begin to explain his impact. The former Thunder star averaged 35.2 points, 8.4 rebounds, 5.4 assists, and 1.6 blocks per game.
When LeBron James left Cleveland to win a ring in Miami, he knew the hate wouldn't stop until he won at the highest level. Durant's path was not exactly the same and he will receive plenty of criticism for some time.
But that doesn't matter now. What matters is that Durant sought what he aimed to do: win a championship by all means necessary. And he did it by leading the team that was supposed to carry him.