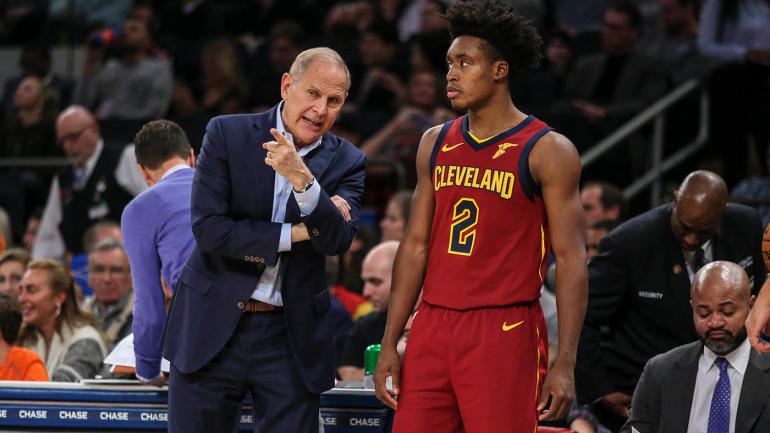 UPDATE:
Cleveland Cavaliers and head coach John Beilein have agreed to part ways after 54 games this season. Beilein signed a lucrative five-year contract with Cleveland this past summer but ESPN's Adrian Wojnarowski reports that his time with the team is now over.
Story filed to ESPN: After a brief and tumultuous tenure, John Beilein is leaving as Cleveland's coach. Associate HC JB Bickerstaff will be elevated to head coach. Beilein's expected to say goodbye to staff and players on Wednesday upon team's return from All-Star Break.

— Adrian Wojnarowski (@wojespn) February 19, 2020
Beilein elected to join the Cavs after spending the last twelve seasons at the collegiate level as the head coach of the Michigan Wolverines. JB Bickerstaff will coach the Cavs for the remainder of the 2019-20 season.
Original story follows:
The Cleveland Cavaliers are reportedly about to have their sixth head coach in seven years. John Beilein, who the Cavs pried away from the University of Michigan, is discussing the possibility of parting with the franchise according to Shams Charania of The Athletic. Beilein signed a five-year deal in the offseason, replacing the interim Larry Drew.
There have been several instances of John Beilein undergoing growing pains, sometimes to the detriment of the team. The 67-year-old got into some deep water when he accidentally referred to the Cavs players as "thugs" when he meant to say "slug" during a team film session. Even going back to training camp, players were reportedly disgruntled that Beilein was going over fundamentals.
Charania notes that the resignation of Beilein's son from Niagra has been particularly tough on John and is impacting his ability to coach. Add on the fact that the Cavaliers are one of the worst teams in the league and the losses, something Beilein was not accustomed to at Michigan, and the entire situation has turned toxic. "Every loss is hitting me really hard," Beilein said following an embarrassing home loss to the Golden State Warriors. "I don't have a lot of answers for you though." The flummoxed head coach has not been able to maximize the young talent on the roster, something the Cavaliers front office was hoping for.
It not only looks like Beilein will not make it to the end of his contract, but he also may not even make it to the end of the month of February. Charania adds that Cavaliers team owner Dan Gilbert met with John Beilein to discuss a potential out. That is a difficult scenario to come back from if you are Beilein, walking into a locker room where your players know that you do not want to be there.