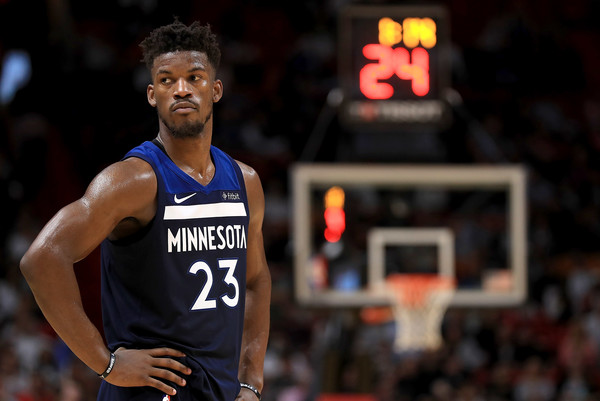 The 2018 NBA All-Star Game had almost everything you could possibly ask for, from a dramatic finish to improved effort on defense, we saw a much better version of the annual event than in year's past. Along with the improvements came something else unique: a seemingly healthy player not logging a single minute.
It was Minnesota Timberwolves wing Jimmy Butler who didn't enter the game once on Sunday for Team Stephen, and it was per his own request. The 28-year-old Marquette product said he simply wanted to take a backseat for the game due to rest and his commitment to the Wolves' remaining 21 games. Following from Minneapolis Star-Tribune's Jerry Zgoda:
"Just rest, man," Butler said. "I got to rest. I got to rest my body up. I know this Timberwolves season is very, very important to me. I've got to be ready to roll when I get back there."
It makes sense for Jimmy Butler to want as much rest as he can possibly get as he leads the league in minutes per game at 37.3. Butler also sustained a knee injury which kept him sidelined for six games last month.
Though Tom Thibodeau is known to ride his starters and Butler is getting the healthiest dosage of minutes in the league, not everyone saw the sense in him sitting out the star-studded night.
This includes LA Clippers guard Lou Williams who many perceived to be one of the snubs in this year's All-Star Game. Williams is known to be one of the more active NBA players on Twitter and he let it be known what he thought of Butler taking the night off.
@JimmyButler u serious bruh? Lol

— Lou Williams (@TeamLou23) February 19, 2018
Teams will have four more days off to enjoy their All-Star break before things ramp up with the playoffs now around the corner.