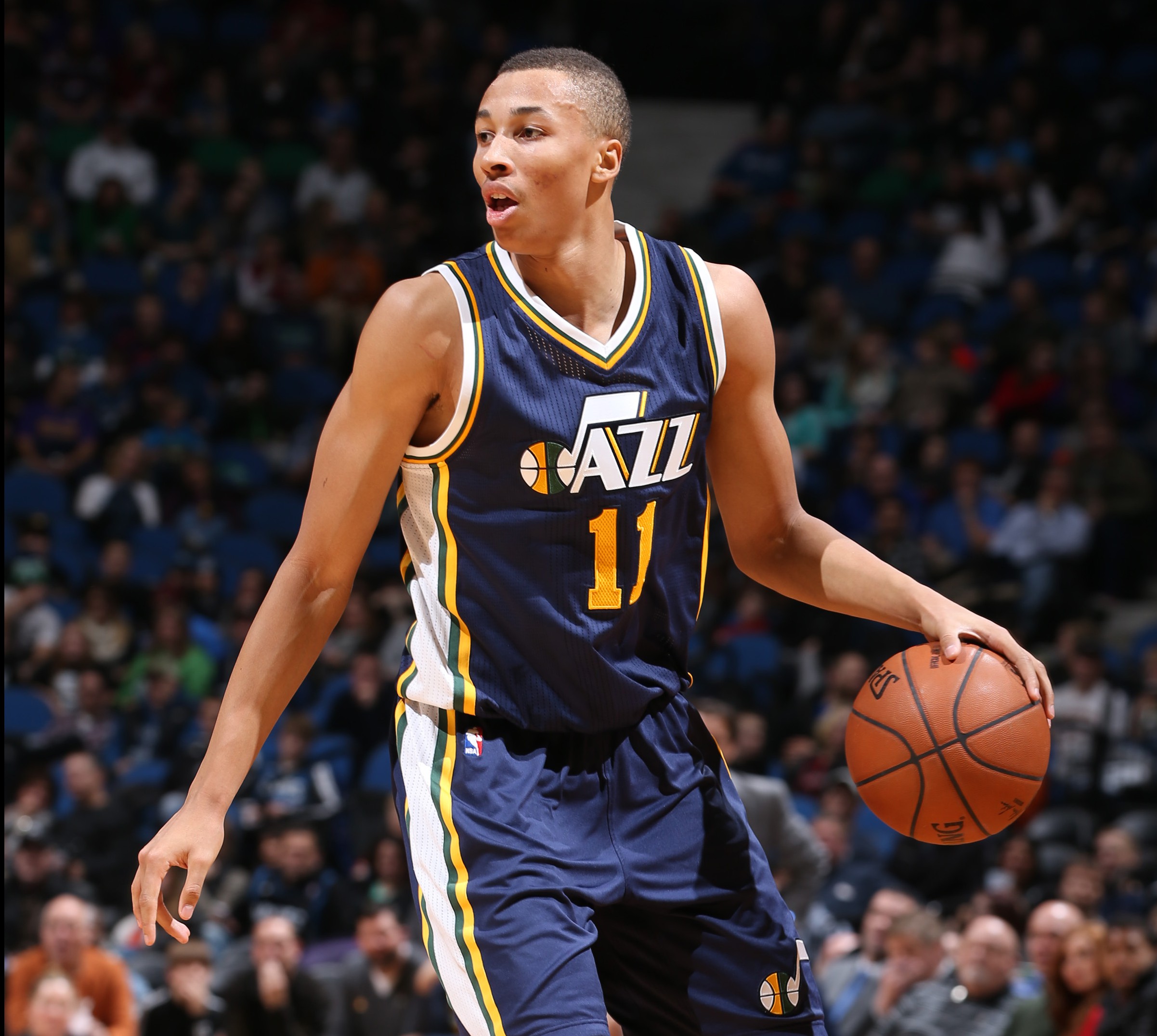 The Utah Jazz and their fans worst nightmares have officially come true. While there were reports of young guard Dante Exum suffering a knee injury playing for the Australian national team recently, there was no official announcement.
Until now.
It was reported that the Jazz knew but didn't want to make anything official and they 'feared' Exum's ACL was torn. Now the Jazz are confirming Dante Exum has torn his ACL and will most likely miss the entire 2015-16 regular season.
Following from the Utah Jazz.
Exum suffered a left knee injury on Aug. 4 while competing for the Australian National Team in a game against the Slovenian National Team in Ljubljana, Slovenia. After returning to Salt Lake City, he underwent magnetic resonance imaging (MRI) at University of Utah Health Care's Orthopaedic Center this morning. Following the examination, Jazz physicians Dr. Travis Maak and Dr. David Petron determined that Exum sustained a tear of the anterior cruciate ligament (ACL) in his left knee.

"First and foremost, our overriding concern is with Danté and his long-term health," said Utah Jazz General Manager Dennis Lindsey. "We are continuing to work closely with our medical staff, Danté and his representation in order to reach an accurate diagnosis and recommended treatment so that we can provide him with the best possible care. We all know how hard he will work to make a full recovery and look forward to his return to play."
This is horrible news for a Jazz team that was expected to make some big noise this upcoming season. After finishing the season with the NBA's best record after the All-Star break, expectations were high for the upstart young squad led by Gordon Hayward, Derrick Favors and Rudy Gobert.
While the teams strength is in the frontline, their backcourt was going to be very formidable, with a health Exum. Now it appears that Trey Burke, despite rumors he was next to be traded from the Jazz, will have to step up in Exum's absence. A backcourt of Burke and shooting guard Alec Burks, who is coming off an injury of his own, with Rodney Hood coming off the bench is a nice young core but with Exum and the way his skill appeared to have improved in his lone summer league game, this Jazz team would've been a threat to contend in the West.
Without Exum, this team is good enough to make some noise but what do they do from here? Would they dare try to acquire another solid backcourt piece to replace the loss of Exum or will they ride the storm out with their current young crop of guards and hope that a young prospect in Raul Neto can step up big without Exum on the roster? Only time will tell.