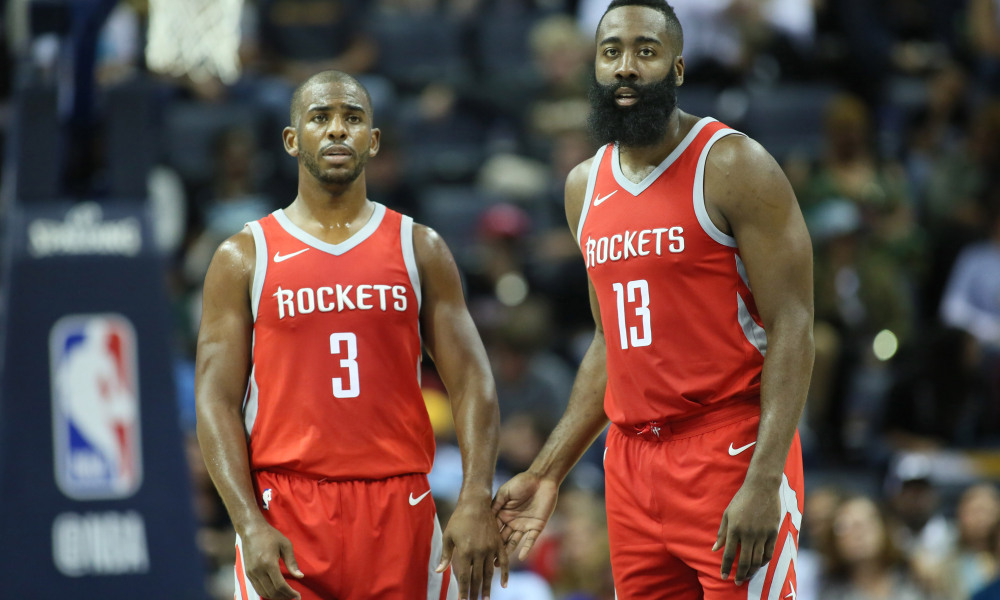 NBA Finals Ring Counting as a Fallacy
If person X were to assert that simply because the Houston Rockets were not able to compete in the NBA Finals this year, they were unequivocally not a championship-level team or were without championship pedigree, person X would be employing some fallacious reasoning.
If a team has not won an NBA title, it does not logically follow that this team couldn't, or was uncapable, or was unlikely to win one all along. That's a detrimental amount of hindsight bias from Person X. With how data science is impacting the game, we have better measurements to assess team value and player value than simply binary "yes" or "no" answers (to the question of whether a team won a ring).
When looking back at great teams over the years, whether a team has won a title is a heuristic, or best-guessing strategy/rule of thumb, that we often use to help us analyze teams a bit faster. But like many heuristics, it can give us an unfairly limited scope and can incite some reductionist argumentation. We can easily get caught into outcome bias's snare & re-assess the likelihood of an instance in light of its outcome. Of course, of course, of course, it's preferable to win championships than lose them, but to apply a "did you win a ring or not?" mentality inflexibly without ever attempting to read into the context is dishonest.
Would it be reasonable to gloss over the illustriousness of the 2015-16 Golden State Warriors, dismissing the fact that the unanimous MVP & best player in the league at that time had been injured and returned prematurely– which impacted his lateral quickness and overall elusiveness, even according to Cleveland staff? Simply because the Cleveland Cavaliers marched all the way back to win the series despite the statistical improbability (I found them at 22% likely with the first version of this decently predictive logistic regression model I worked on last year; it could be more efficient), there isn't grounds for an argument like: "'15-16 Warriors just weren't tough; they didn't have the true desire that HAS to exist for them to be a real championship contender. They got exposed in the light and weren't worthy all along." In Thinking Basketball by Ben Taylor, Taylor argues that even given the redoubtable quality of the '96 Chicago Bulls, there still was a ten percent chance that they could've left empty-handed– even when assuming good health remained as a constant. (Essentially, imagine if we could take all the relevant information from an NBA season and iterate through hundreds of thousands of trial runs to come up with a victor each time.) [Trust that we're slowly making our way back to the Houston Rockets & that the Rockets are a bit less extreme of an example than these two juggernauts.]
Moreover, there have been individual playoff years in which multiple teams were stronger than the singular championship team in another year. Even consider the Utah Jazz versus the defensive juggernaut Chicago Bulls, or consider early '00s San Antonio Spurs teams that were vanquished by Shaq's Los Angeles Lakers. The competition, in the case of the Houston Rockets this year, was vaunted and is historically revered. Finding a unique way to limit the supremely explosive Golden State Warriors with a strong switch-heavy defensive scheme was a testament to the versatility of the roster Daryl Morey effected.
Houston Rockets' strength in review
Being up 3-2 against the Warriors wasn't that shocking and almost certainly wasn't shocking to Morey. This is a team that held a season-long SRS (adjusted point differential) of 8.21 which ranks 25th among NBA teams ever– most of which did actually win the title in that year. Additionally and more impressively, the Houston Rockets touted a 12.5 healthy SRS and a 51-6 record when healthy with its Big 3 (James Harden, Chris Paul, Clint Capela), which staggeringly ranks among the top ten ever. For perspective of the strength of their unit, last year's Golden State Warriors, which went 16-1 in the 2017 NBA Playoffs, were sitting at 14.4 SRS as a healthy unit (Draymond Green, Stephen Curry, Klay Thompson, Kevin Durant).
By exploiting the strength of their offense, isolation scoring and spread pick-and-roll with 5-out spacing to generate layups and spot-up threes, the Houston Rockets found a recipe for success. On the season, Houston doubled the isolation frequency of most NBA teams (at 14.5%) and scored 1.12 points per possession, meaning that they were exceedingly strong in this play type and weren't highly suspectible to variance. Almost every NBA team that has played in the modern era hasn't been able to live off of isolation playtypes because of the relative poor PPP (points per possession) it generates– for example, the next highest PPP from isolations among NBA teams, this season, was just 1.00 PPP. Their shot distribution, with a .502 3PAr (1st), .298 FTr (3rd) and .288 0-3 feet shot distribution (11th), highlighted their insistence upon taking shots of high expected value.
Defensively, this team was as sound as it had ever been. Its luck-adjusted (LeHigh Method 2.0) defensive rating was 107.12 during the regular season was in the top five (also here: San Antonio Spurs, Miami Heat, Utah Jazz, Boston Celtics), and the defensive scheme featured a heavy dose of on-ball and off-ball switches, making it conducive to guarding Golden State well. There was great communication and less fear with switching Chris Paul on Kevin Durant in the post, or Capela onto Stephen Curry on the perimeter, than we'd normally expect. Their defensive strategy, which coaxed GSW into taking mid-post isolations with Kevin Durant, even held them down, despite the variance of their own scoring efficiency and notched them a few wins against the Warriors to swing the series back in their favor.
But two salient, unexpected occurences, which shouldn't overshadow the soundness of their production this year, impacted their win probability:
Of course, amid the jubilation of an imminent Game 5 win over Golden State, Chris Paul started grimacing from upper leg pain late in the 4th quarter. Soon that consternation became acquiescence because of Chris's knowledge that he'd be unable to compete for the rest of the series, as his hamstring pull was just too severe.
The most astounding 3-point variance of the season– They missed 27 consecutive 3-pointers in a game that they'd had reasonable control over for 30 minutes. It isn't an indictment upon the strategy that they employed, specifically given the fact that they'd not had Chris Paul, who can provide relatively optimal scoring value from midrange & short midrange jumpers. After all, why would you buck a strategy that gives your more optimal opportunity in favor of a strategy that decreases your probability of success even more? Instead, it's more of a disappointment that they incurred some exceedingly bad luck on some of their wide open attempts– shots that are of good expected value for players without notably off-dribble skill sets who would have been trying to evade excellent perimeter defenders. [See the '1 in 100000+ odds' tweets about this & the fact that a made 3-pointer from James Harden was even taken off the board, an erroneously called "side-swipe" foul.]
All things considered. The Houston Rockets were quite successful this season. Without Chris Paul, winning any game against another historically great opponent is a lot to ask. Of course, you cannot control all elements of your playoff quest; you can only control your ability to increase the likelihood of your success.
Looking forward
Though there are rumors that Chris Paul may want a max contract (which may or may not be well-founded claims), there does exist the possibility of adding some more superstar strength to the fold, given some (probably daunting) amount of cap room manipulation. Considering Chris Paul's age and how close Houston was to winning a title this season, they may seek high-caliber talent aggressively if they believe their window is closing. Perhaps, LeBron James… maybe… he's another person who's facing the brunt of the championship fallacy's censure, as he can only impact the likelihood of winning so much (given the talent and personnel fit discrepancy). Perhaps, Paul George?
Or maybe, they'll decide to simply move Ryan Anderson with a first round pick and mostly run it back. They might have the most compelling off-season in the NBA this upcoming summer. Either way, we know for a fact GM Daryl Morey still has the Warriors in his sights.