The purpose of this series is to rank the 10 Greatest NBA Seasons by individual players ever, as accurately as possible, based on both the regular season and playoffs.
6. Dwyane Wade, 2006
There is an ongoing debate among basketball fans about Dwyane Wade's prime vs. Kobe Bryant's. While Kobe may have had the better prime overall, if peak is determined by a single season, Wade takes the cake. Wade in 2006 put together one of the most memorable seasons and postseasons in recent memory and established himself as one of the best playoff performers of this era.
In the regular season, Wade had a solid year. He led the Heat to a 52-30 record despite being without Shaq for 23 games. Wade had a great statistical season as well, putting up 27-6-7-2 on 58 percent true shooting for the regular season. Leading his team in assists as a shooting guard was very impressive. Wade also played great defense this season, though he didn't make an All-Defensive team.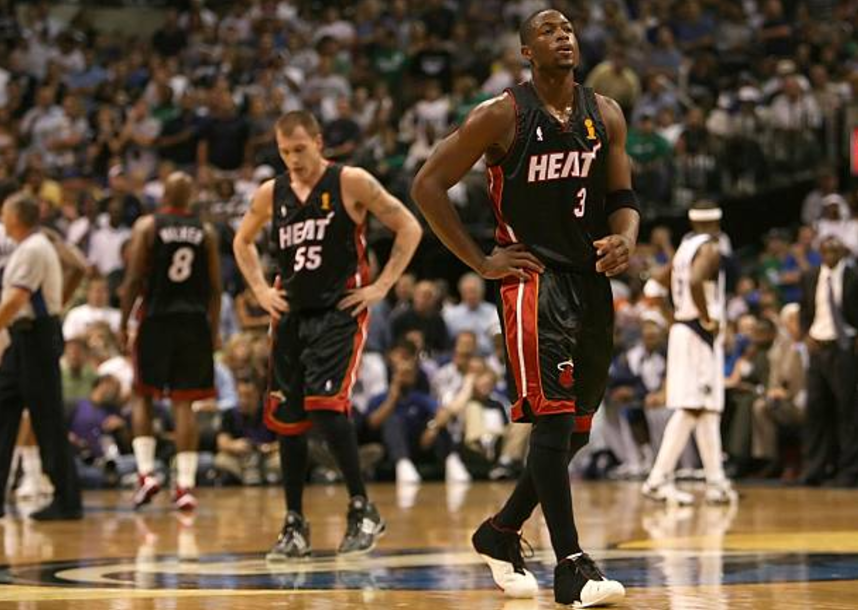 I know what you're thinking. This is the season that beat out LeBron in 2013 and Magic in 1987? Though Wade's regular season might've been unimpressive compared to the other regular seasons on this list, the postseason is where he established himself as above the other years.
In the previous postseason, Wade played fantastically for a second-year player, leading the Heat to seven competitive games against the Larry-Brown-era Pistons. Unfortunately, after taking a 3-2 lead, Wade injured his rib in game 5, which allowed the Pistons to get back in it and eventually win the series despite Wade's fantastic play. In 2006, he had a chance to exact his revenge, and he would capitalize on that opportunity.
After disposing of an average Bulls team in the first round, Wade and the Heat played against Jason Kidd's Nets. Kidd was one of the greatest perimeter defenders of all time, and he led the Nets to a 49-33 record with the fourth-best defense in the league in 2006.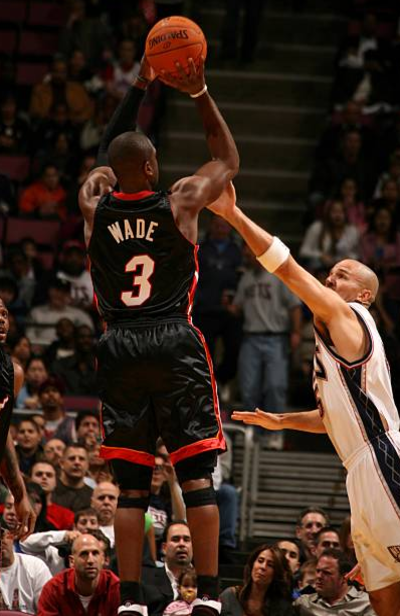 Kidd also primarily guarded Wade in this series and did as good a job as anyone could on Wade in his athletic prime. Of course, Wade still torched him for 28-6-7-2 on 60 percent TS for the series. What made this series victory so impressive was Wade's poor help offensively, combined with his fantastic defense in crucial moments.
Some people assume that since Shaq was on the team, he shouldered the load offensively, which is untrue. O'Neal continued his woes from the free throw line, shooting an abysmal 39 percent from the line, which heavily brought down his overall efficiency (which came on low volume to begin with). He was also outrebounded by Jason Kidd, which didn't help Wade in two crucial areas he needed O'Neal for. Shaq averaged just 19-7 on 54 percent TS for the series.
Wade also played fantastic defense on Jason Kidd in the fourth quarter of a close game 5; Wade scored just three points and committed the series-clinching turnover thanks to a great play by Wade.
The Heat would go on to face the defending Eastern Conference champs, the Detroit Pistons.
The Pistons were at the peak of their powers. They had the best record of any of their Billups-led teams (64-18), the fifth-ranked defense in the league and the starting five of the 2004 championship team. Of course, this didn't matter to Wade, who again lit them up for 27-5-6-2-2 on a ridiculous 68 percent true. His production was actually deflated due to the sluggish pace that the series was played at – just 83.8 possessions per game compared to the 90.5 league average in 2006.
It really needs to be put into perspective how impressive Wade's offensive performance was this series. Wade shot a mind-blowing 61.7 percent from the field. The only other guard to have at least 26 points per game on at least 60 percent shooting in a playoff series was prime Michael Jordan in 1992. Even then, Jordan had much easier circumstances, only playing in a three-game series against a 38-44 Heat team that had the 25th ranked defense in the league. Let that sink in. The only player to ever score the way Wade did in a playoff series was the greatest player of all time, in his prime, in fewer games, against a much weaker opponent. Wade was unbelievable.
To go along with his absurd offensive play was his incredible defense.
Wade primarily guarded the Pistons' best scorer, Rip Hamilton. Wade did a fantastic job on him, limiting him to just 37.8 percent field goal shooting after he shot 49.1 percent in the regular season. Hamilton also shot a terrible 29.4 percent from three after ranking fourth in the entire league in 3-point percentage (among players with at least 1 3PA/G) with 45.8 percent. Wade also came up huge on the defensive end in a pivotal game 4, in which the Heat lead by just six points going into the second half and by two going into the fourth quarter. Wade absolutely locked down Rip in the second half, holding him to 0 points on 0/6 shooting, 0 assists and one turnover as the Heat won by 11 (Wade also had 11 points in the fourth quarter).
Shaq did play a bit better this series, averaging 22-11 on 62 percent TS. Though his stats seem to show that he played great, Shaq had two fatal flaws in this series: Turnovers and defense. Shaq committed 26 turnovers (4.3 per game) and only dished out two assists throughout the course of the entire series. He also allowed Ben Wallace to increase his field goal percentage by over 15 percent, and was just poor at protecting the rim in general. Once again, Wade carried a huge load, and played fantastically on both ends to lead the Heat to their first ever NBA Finals. Wade would not disappoint.
I can already hear the complaints about the refs in this series. What people fail to realize is that the Heat only converted on three more free throws than the Mavericks did over the course of the entire series. In fact, that was about the only advantage the Heat had over the Mavericks as a team:
This still doesn't even begin to describe the terrible offensive help that Wade had in this series. Shaq had easily his worst series of the playoffs, and was outscored by Antoine Walker for the series. Shaq and Walker were the only double-digit scorers on the Heat aside from Wade, posting 14-10 on 53 percent TS and 14-6 on 46 percent TS respectively in the Finals. This further emphasizes the ridiculous offensive load Wade had to deal with; his only two decent scorers did it on terrible efficiency.
Wade did have a slow start to the series; the Heat lost the first two games as Wade averaged 25.5 points per game on a poor 46.7 percent TS. The Heat were beaten by 10 in game one, even though Dirk Nowitzki had a poor offensive performance (16 points on 4/14 shooting). This, again, shows how reliant the Heat were on Wade for success. With an average performance, even without the Mavericks' best player playing well, they still lost by a substantial margin.
Of course, Wade would bounce back in a huge way, averaging an utterly ridiculous 39-8-4-3 on 58 percent TS over the last four games to capture the championship for Miami for the first time in the franchise's brief history. He didn't have as big of a role on
defense as he did in the previous rounds, but he was still solid on that end, especially off-ball off-ball play.
Wade also came up huge in the clutch this series. At the end of game 3, on an alley-oop attempt to tie the game with one second remaining, Wade broke up the play to secure the Heat's victory. In game 5, Wade made a runner to send the game to overtime with 2.8 seconds remaining. The Heat won in OT.
All in all, Dwyane Wade and the Heat made some history in this title run. The Heat became the sixth team in NBA history (and the first since 1997) to defeat two 60-plus-win teams in a title run. Wade also carried a historically large offensive load during the Finals, as the Heat's scoring outside of him totaled just 58.2 points per game, the fourth-lowest of all time for a title team. It's also worth noting that the top three lowest-scoring supporting casts (1999 Spurs, 1997-98 Bulls) both took place in the lowest scoring era in NBA history so it's not surprising to see multiple late '90s teams on the list. However, Wade carried his load in a season where 10 established 15-PPG-plus scorers averaged career-highs in points per game, yet his team still scored at such a poor rate in the Finals.
For the entirety of the playoffs, Wade's supporting cast averaged 67.8 points per game, which is the eighth lowest for any team to win a championship. Combine this with the extreme difficulty Wade went against, plus Shaq's absence on defense and in the Finals in general, and Wade's 2006 title run is easily one of the greatest ever. His 2006 season was spectacular enough to make the list at no. 6.
5. Hakeem Olajuwon, 1995
Hakeem Olajuwon had just pulled off the unthinkable: Leading a team largely composed of role players to the first championship in Houston's history. Hakeem was absolutely dominant, and many believe that part two is never as good as the original. Hakeem didn't believe that, though.
His regular season wasn't quite as spectacular as his 1994 season, but it was still great. Hakeem missed 10 games with an ankle injury, which caused the Rockets to go just 3-10 in the time he missed. In games he did play, the Rockets were 44-28, on pace to win 50 games instead of the 47 they did. The Rockets' new acquisition, Clyde Drexler, also missed over half the season, playing in just 35 games. Even being hampered by injuries, and being the defending Champs, the Rockets didn't go into the 1995 playoffs as heavy favorites, as they were the sixth seed in a crowded Western Conference. This meant that the Rockets had to go through some historically great competition just to reach the Finals.
In just the first round, they were playing an elite team in the Utah Jazz. The Jazz boasted prime Karl Malone as well as John Stockton, and had a 60-22 record. They were one of the best teams in the league. The Rockets prevailed in game 5, when Hakeem dropped 33-10-4 on 10/16 shooting to send to Houston to the second round. Hakeem had a fantastic defensive series as well, although he didn't guard Karl Malone as often as he did in 1994. Instead, he guarded Antoine Carr and James Donaldson.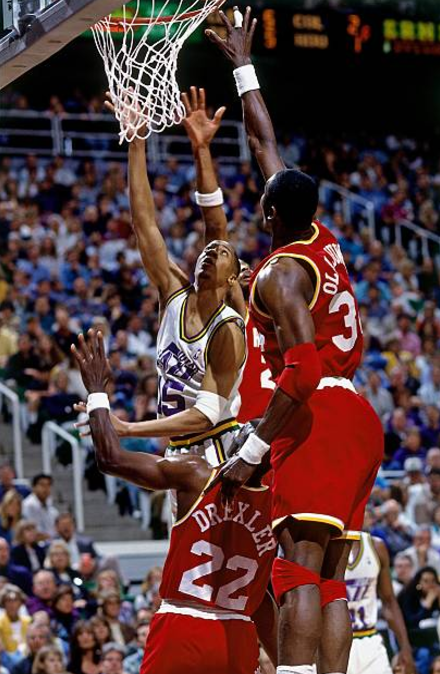 This was likely to give Hakeem more freedom on pick-and-roll coverage as well as help defense. It paid off, as the Jazz lost despite Malone having a fantastic series (with 30-11-4 on 55 percent TS). Hakeem averaged an outright ridiculous 35-9-4 with 2.6 blocks per game on 60.6 percent TS while playing great defense.
Hakeem appears to have had great help from Clyde Drexler this series, but it's worth noting that Drexler saw a huge boost in efficiency after arrivign in Houston. In fact, in the games that Drexler played in Portland in 1995, he shot 42.8 percent from the field, but while playing next to Hakeem, he shot a much better 50.6 percent.
Hakeem faced another great team in the Suns (59-23 in the regular season). 59 wins may have actually been low given Phoenix's talent; Kevin Johnson missed 35 games in the regular season and Barkley missed another 14. The Suns could have easily had 60-plus wins if their team was fully healthy. Only five other teams in NBA history have defeated two 60-plus win teams in a playoff run. The Rockets matched that in only two rounds.
Hakeem probably had his worst series of the 1995 playoffs against the Suns but was still completely dominant. Averaging 30-9-4 on 53 percent TS, he was again fantastic on both ends, though he didn't guard Charles Barkley much at all throughout the series. The Rockets went down 3-1 without home court advantage (sound familiar?), until Hakeem came up huge to bring them back to win the series. In game 5, Hakeem put up 31-16-3 on 14/31 shooting as the Rockets squeezed out a six-point victory.
In game 6, Hakeem had another fantastic game, with 30-8-10-2-5 on 13/22 shooting. In game 7, the Rockets were down going into the second half, and Hakeem had started out slowly on both ends, as he was battling a wrist contusion that clearly affected his shot. After the Rockets went on a huge 11-2 run while Olajuwon's wrist was being treated, Hakeem returned for a huge 15-point fourth quarter (on 6/7 shooting), while facilitating for his teammates and playing great defense to do just enough for the Rockets to prevail and go to their second consecutive Western Conference Finals. Hakeem was so good in this fourth quarter that the Rockets somehow overcame one of five 45-point, 10-assist games in NBA playoff history by Kevin Johnson (the only ever in a game 7).
In the Western Conference Finals, there was a bit of bad blood to begin with. Many speculated that Hakeem thought that he deserved MVP over David Robinson, who won the award. The two Hall-of-Fame centers would go at it to decide who really was more valuable in the 1995 Western Conference Finals… and it was an absolute massacre. Remember when Kobe dunked on Steve Nash in the 2006 playoffs as a metaphoric statement on how he should've won MVP over him? Imagine that for an entire series. That pretty much sums this up.
Hakeem posted 35-13-5 with 4.2 blocks per game on 59 percent TS while leading the Rockets to the win over the Spurs in six games. His numbers, while unbelievable, don't do the performance justice. Keep in mind that Hakeem had to go against two of the greatest frontcourt defenders of all time (both in their defensive primes) in Robinson and Dennis Rodman. This is the same Rodman that shut down Shaquille O'Neal several times, and was the key to limiting Karl Malone in back-to-back NBA Finals. Oh yeah, he could guard point guards too.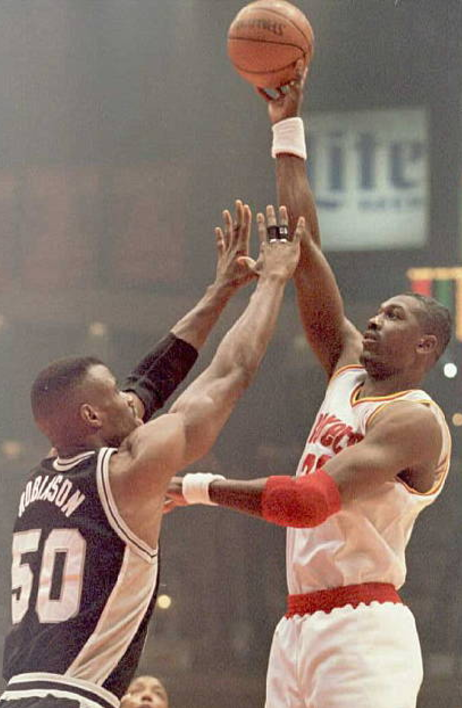 So, which tools would Hakeem use against Rodman? His quickness, which Rodman already could defend against? His strength (which, Rodman locked up Shaq)? His height, which clearly didn't matter to any player Rodman guarded? How about all of the above?
Let us not forget about the reigning league MVP, who also happens to be one of the greatest defensive players ever – David Robinson. The admiral won the scoring title in 1994 and averaged 27.6 points per game on 53 percent shooting in the 1995 season. That changed with the presence of Hakeem, who forced his averages down to 23.8 points per game on 45 percent shooting for the series.
Hakeem was simply unbelievable in this series. When taking into account his level of competition, his dominance on both ends, and the way he improved his teammates, Hakeem's 1995 Western Conference Finals has a strong argument as the greatest playoff series performance of all time.
In the NBA Finals, Hakeem put on yet another clinic. Going against a young Orlando Magic led by Shaquille O'Neal and Penny Hardaway shouldn't have been an easy task for the Rockets, but Houston won in a sweep. While Shaq was still young, he was the regular season scoring champ. Of course, this didn't matter for Hakeem, who outplayed him, averaging just one less rebound and assist per game, while scoring five more points a night. This number is actually deflated, considering Hakeem held Shaq to just 10 points on 3/10 shooting in game 2, while the Rockets built a 22-point lead. Shaq scored most of his points with the game out of reach, while Hakeem rested (a la Bill Russell/Wilt Chamberlain).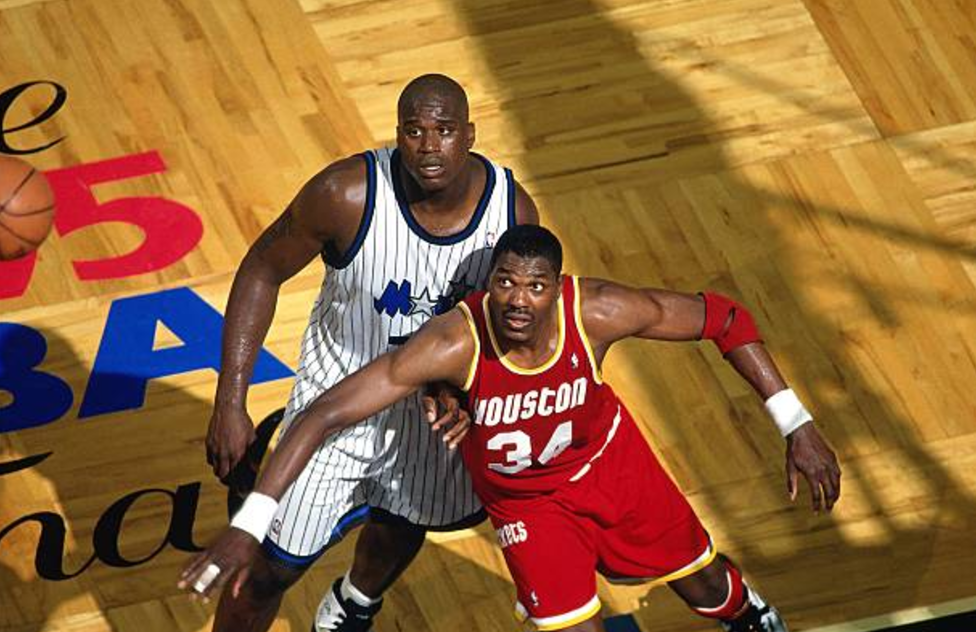 Hakeem was also incredibly clutch in this series. After lucking out with Nick Anderson missing four free throws, Hakeem held Shaq to just one point in overtime of game 1, Hakeem also had game-winning tip-in to give the Rockets the game 1 victory. Hakeem actually outscored Shaq in every game, despite the 10 percent gap in their efficiencies. Hakeem wasn't very efficient in terms of scoring, but he made up for it in a few areas. Of course, his defense was fantastic, but his playmaking was also very efficient for a center. He averaged 5.5 assists per game with a 2:1 assist/turnover ratio, while Shaq was at a much worse 1.19:1 ratio.
In 1995, Hakeem became one of just four players (Iverson '01, Shaq '00, Jordan '92) to score 700 or more points in a playoff run, and Hakeem did it in much better fashion than any of the aforementioned players in their respective runs. He was more efficient than everyone besides Jordan, and was far superior to any of them defensively. Hakeem also went against much better competition than any of those players during their runs. Jordan played three 50-plus-win teams, but had a sub-.500 team to play in the first round. Shaq played weak competition at his position in every round besides the first round and Conference Finals, and Iverson played in one of the weakest conferences ever. Hakeem not only played four 50-plus-win teams, he played four 57-plus-win teams.
To put it into perspective, only five other teams have defeated two 60-plus-win teams in a playoff run. Only one other team ever played three 56-plus-win teams in a playoff run. Hakeem played the equivalent of three 60-plus-win teams (barring injury for the Suns), and played four 57-plus-win teams. A strong argument can be made that the Rockets played the highest level of competition ever for a playoff run. Not only this, but Hakeem played against elite competition at his position. He played a total of five Hall-of-Fame big men in this run: Malone, Barkley, Robinson, Rodman and O'Neal.
Combine the level of competition with his ridiculous overall numbers of 33-11-5 with 2.8 blocks per game on 56 percent TS, and his elite defense. Hakeem's 1995 playoff run was incredible, and his regular season was good as well, securing him a spot at no. 5 in the top 10.