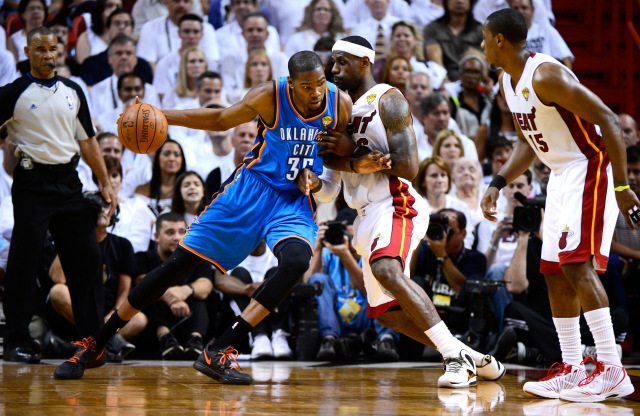 In this series, I set out to list the 10 greatest NBA seasons of all time. Each of these seasons will come with reasoning and justification for their ranking. For this part, seasons 10 and 9 will be evaluated. Be sure to check back here at DefPen for the rest of the seasons as they are released. These are Great NBA Seasons.
10. LeBron James, 2012
Many will be surprised to see this LeBron season so low on the list. There are clear reasons why LeBron's 2012 campaign doesn't rank above some of the others Great NBA Seasons.
First off, LeBron had the luxury of playing in a shortened season of only 66 games. None of the other seasons on the list had the benefit of being shortened by 16 regular season games. This also meant that the Heat's record (46-20, a 57-25 win pace) is slightly inflated because they did not have to play the Western Conference as much. The Heat had a 72.9 winning percentage against Eastern Conference teams, compared to just 61.1% against Western Conference teams. They also beat East opponents by an average of 7 points, while they beat West teams by an average of only 3.3 points. Miami's overall record in the regular season likely would have been worse had they had to play all 82 games instead of 66. This would have 30 games against the tougher Western Conference as opposed to only 18.
LeBron also had the luxury of playing against good competition in the playoffs with excellent help from Dwyane Wade. The Heat only played two teams on pace to win 50+ games, the Indiana Pacers, and the Oklahoma City Thunder. The Heat's Eastern Conference Final's opponent, the Boston Celtics, were a solid team in their own right, even boasting the league's best defense, but were not an elite team. While they had an elite defense, their offense was incredibly poor due to the severe decline of Paul Pierce (19-6-3 on 51 percent true shooting for the playoffs) and Ray Allen (11-4 on 51 percent true shooting). Against the only two elite teams the Heat played, LeBron had Wade, who posted 27.8 PPG, 6 RPG, 4.1 APG on 65.5 percent true shooting in the eight wins against the Thunder and Pacers. These benefits LeBron had in the 2012 season and postseason that others didn't have lowers his ranking slightly.
Even with these small caveats, LeBron's 2012 overall season was fantastic. LeBron that regular season won his third MVP in four years, averaging 27-8-6-2 on a 60.5 percent true shooting.
LeBron, upon receiving his third MVP, proclaimed:
"This is very overwhelming to me as an individual award. But this is not the award I want, ultimately. I want that Championship. That's all that matters to me. I would give all three of them back for an NBA Championship." Really? The media and the entire world questioned LeBron's commitment to winning a championship. After seemingly quitting on his team in the 2010 ECSF, and having a poor performance in the 2011 Finals, nothing was going to change the people's minds but doing just that: winning the championship."
LeBron would begin his run to his first championship against the New York Knicks, who the Heat dismantled in 5 games. LeBron severely outplayed Carmelo Anthony in this series, who had 28-8, but on a poor 49 percent true shooting to LeBron's 28-6-6 on 60 percent true shooting.
The Heat would then play an up-and-coming Pacers team who had a top 10 defense and a deep offensive team. LeBron came up huge in this series with many key moments. Down 2-1 in game 4 in Indiana, LeBron dropped an incredible 40-18-9-2-2 on 14/27 shooting game to tie the series going back to Miami. He also had a fantastic Game 5 to take the lead in the series, which he posted 30-10-8 on 12/19 shooting.
The Heat would go on to play the Boston Celtics in the Eastern Conference Finals, the fourth time LeBron faced their Big 3 in five years. The Celtics were an elite defense; they had an insane 98.2 defensive rating, good for top 15 of any team since 1980.
The previous year, though LeBron had a good series, Wade outplayed him. This year, however, the Heat were clearly LeBron's team. Down three games to two going into an elimination Game 6 in the Boston Garden, LeBron had been playing fantastic all series long. The entire world's expectations were on his shoulders. If the Heat lost, the Big 3 likely would be broken up, there would have been a coaching change, and LeBron would still be looking for his first ring which he desperately needed to enhance his legacy. However, the Heat would not need to worry about these hypotheticals.
LeBron's Game 6 performance was one of the greatest playoff performances in history. Right from the tip off, LeBron was in a zone that should've destroyed any myths that he lacks a "killer instinct." LeBron absolutely dismantled the Celtics, posting 45-15-5 on 19/26 FG, sending the series to a decisive game 7.
The Heat's Big 3 combined for 73 points in Game 7 and LeBron led the way, putting up 31-12 on 9/21 shooting to send the Heat to their second consecutive Finals.
LeBron for the entire Conference Finals averaged a ridiculous 34-11-4 on 59 percent true shooting, leading both teams in scoring for every game, except in Game 2. LeBron was so dominant in this series that he scored more points Wade and Bosh combined.
LeBron, as opposed to his two previous Finals performances, had an incredible Finals. He led the Heat in points, rebounds, and assists while shooting pretty efficiently and out-playing an MVP candidate in Kevin Durant. LeBron finally captured that ever-elusive first ring and did so in spectacular fashion.
More importantly, this NBA Finals and overall postseason signified a change in LeBron's game. In 2011, he looked passive, perhaps being concerned over being a co-star with Wade at the time. In 2010, he wasn't aggressive in his series against the Celtics, and it cost the Cavaliers. In this run, there was no doubt. LeBron finally had a team around him good enough to win a championship, and a mindset perfect for success: attack. For the entire playoffs, LeBron averaged 30.3 ppg, 9.7 RPG, 5.6 APG, 1.9 SPG on 57.6 percent true shooting, erasing all doubt in the eyes of the critics, and giving him a spot in the top 10 great NBA seasons of all time.
9. Charles Barkley, 1993
Chuck's 1993 season goes down as arguably the best ever by a power forward not named Tim Duncan. This is one of the great NBA seasons of the 1990s. In the regular season, he won his first MVP award, leading the Suns to a 62-20 record with 26-12-5-2 on 60 percent true shooting. The Suns gained nine wins from their 1992 team upon the acquisition of Barkley, even with the loss of leading scorer Jeff Hornacek, and injuries to two out of the three best scorers for the Suns. Richard Dumas and Kevin Johnson missed a combined 65 games for the Suns, making it even more impressive that Barkley was able to lead the Suns to the best record in the league.
In the playoffs, Barkley would continue his phenomenal play. Unlike LeBron in 2012, Barkley did not have the help that LeBron had from Wade. Barkley's second best player this season, Kevin Johnson, had the opposite trend as Wade, who played much better against the best teams. Against the two best teams that the Suns faced, the Supersonics and the Bulls, KJ averaged 16.5 PPG and 6.8 APG on 52.3 percent true shooting and 3.9 turnovers. This was easily KJ's worst playoff run of his prime, and Barkley was still able to take the Suns to the Finals and win two games against the Bulls.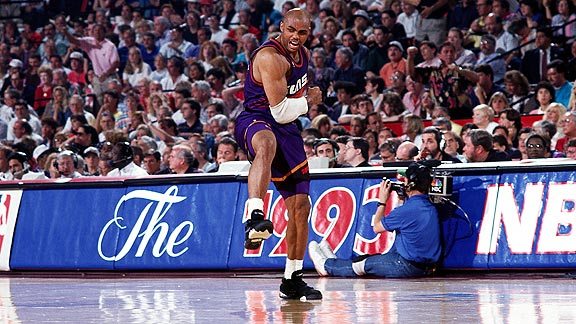 After going down 2-0 to the 8th seeded Lakers in the first round, Barkley went off in the last 3, putting up 29-12-5-2-2 on 55 percent true shooting to complete the comeback and advance to the next round, where they faced David Robinson and the Spurs. San Antonio did not achieve 50 wins this season, but with the coach they went into the playoffs with, John Lucas, they went 39-22, which is a 52 win pace. They also had the 10th ranked defense in the league, so this was a very good team they were going against. Barkley outplayed David Robinson, averaging more points, rebounds, steals, and one less assist the entire series. He even hit the series clinching shot overtime in Game 6 to propel the Suns to the conference finals.
The Suns then played the Seattle SuperSonics, boasting a 55-27 record with the second overall defense in the league. Though it was a hard-fought 7 game series, the Suns and Barkley ultimately prevailed, with Barkley having another fantastic series with averages of 26-14-4 on 58 percent true shooting. In Game 7, Barkley had one of the greatest games in NBA playoff history, dropping 44 points and 24 rebounds in the 13 point victory. Outside of Barkley, the Suns shot a dreadful 34.6 percent from the field. Compare this to the 50 percent from the field that the Sonics shot overall, it's incredible that Barkley was still able to lead the Suns to a victory, and the Finals.
Barkley had a great series against the Bulls, but he was simply no match for Michael Jordan at his peak, who had one of the greatest Finals performance of all time. Even with Jordan playing fantastic. The Suns also came as close as possible to push a Game 7, but John Paxson had other ideas. The Suns lost by one point in Game 6 which overshadowed an otherwise great game Barkley had. He didn't shoot well (7/18 from the field), but he posted 21 points, 17 rebounds, and 4 assists.
Here is a look at some of the incredible performances Barkley had in his 1993 Finals run (points-rebounds-assists-steals-blocks):
Vs Seattle: 43-15-10-2-2 on 16/22 FG
Vs Chicago: 42-13-4-1-1 on 16/26 FG
Vs San Antonio: 36-12-3-0-1 on 10/15 FG
Vs San Antonio: 35-10-2-7-3 on 11/16 FG
Vs LA Lakers: 34-15-4-2-2 on 12/16 FG
At Chicago: 32-12-10-3-1 on 10/19 FG
This season for Barkley was his absolute peak, which was one of the highest in NBA history. 1993 Barkley beat out other incredible seasons from his position like '97 Malone, '04 Garnett, and '06 Nowitzki. He ultimately came up short from the goal but had a fantastic season and postseason, which was enough to edge out LeBron, West, KJ, Garnett, and Magic for the number nine spot on the list of great NBA seasons.