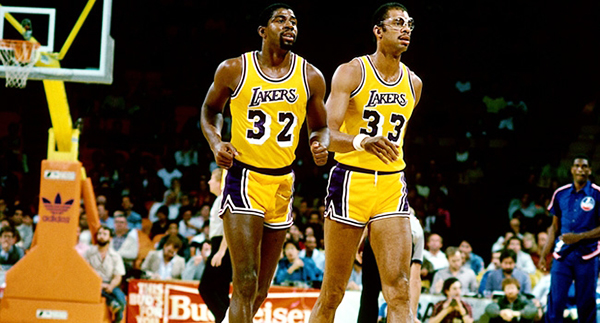 Typically, when ranking individual seasons, most like to either focus on the regular season or a playoff run. I thought it would be interesting to blend the two together and compile and rank a list of the greatest seasons while weighing both the regular and postseason. Before we get into the list, let's go over the criteria. In no specific order, the factors that will determine the order of this list will be:
Dominance in the regular season (defensive impact is taken into account as well)
Dominance in the postseason
Level of competition faced (also taking era into account) in the postseason
Amount of help from teammates (relative to competition faced)
Sustained level of play during playoff runs in deep rounds
The postseason will be weighted a bit more than the regular season, but both are taken into account. However, poor playoff runs following great seasons (e.g., Dirk Nowitzki in 2007) will be penalized.
17-11: Honorable Mentions
These seasons, though great, didn't make the top 10 for one reason or another. In chronological order, let's review the seasons that nearly made the cut.
Jerry West, 1969
The logo's most impressive season came in 1969, the first season after the arrival of Wilt Chamberlain. His Lakers compiled a 55-27 record as West led the team in points and assists while being his team's best perimeter defender. He also had a great playoff run, averaging 31-4-8 on 54.2 percent true shooting, remarkable efficiency for the time (the league average for true shooting percentage in 1969 was 49 percent). West became the first and only recipient of the Finals MVP award on a losing team, posting ridiculous averages of 38-5-7 on 55.6 percent TS. The pace wasn't even as outrageous as one would think, with an average of 95.3 field goal attempts per game in the Finals (for reference: the league average in 2016-17 was 85.4 FGA/G).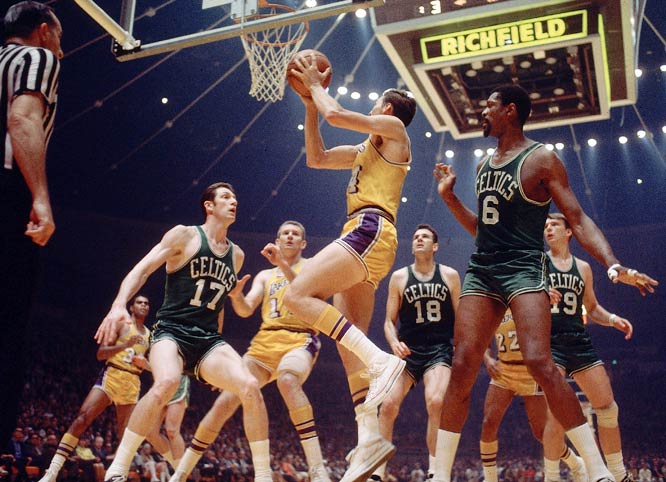 Even with a good regular season and an incredible Finals, West's circumstances were heavily favorable. He played two sub-50-win teams before the Finals, and only had to play three rounds in total, compared to the four rounds that the rest of the list had to play. Though he did take the greatest dynasty in NBA History to a game 7, with Chamberlain playing poorly (Russell limited Chamberlain to just 11.7 points per game in the Finals), West just misses having one of the 10 greatest seasons ever.
Lew Alcindor (Kareem Abdul-Jabbar), 1971
Alcindor's 1971 season is a popular choice as one of the greatest ever, and understandably so. Alcindor put up a ridiculous 32-16-3 on 61 percent TS season as the Bucks won 66 games and their only championship in franchise history. While Alcindor had a fantastic season, it misses the list for a few reasons.
First off, Kareem's competition in the playoffs, and overall, was pretty terrible. For starters, the ABA was gaining a lot of popularity, causing the talent in the NBA to be significantly diluted as a whole. Even with this advantage, the Bucks played some of the worst competition for an NBA champion in history. In the first round, they played a 41-41 Warriors team. In the second round, they played the Lakers without their best player, Jerry West, who was out with a knee injury. In the Finals, they met the best team they played in the entire playoffs, a mediocre 42-40 Bullets team led by future Hall-of-Fame power forward and Bullets leading rebounder Gus Johnson, suffered an injury halfway through game 2.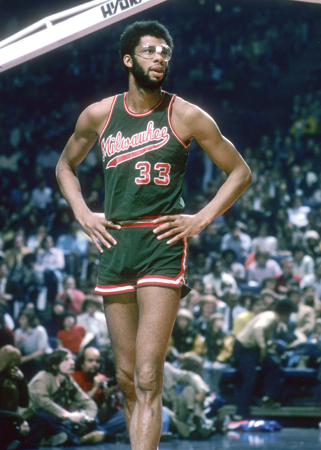 Another reason Alcindor's best season doesn't make the list is that he arguably wasn't even the best player on his team. Though Oscar Robertson missed the playoffs three times before joining the Bucks, it's arguable he was actually more valuable to the Bucks than Alcindor was. In 1974, the Bucks lost in game 7 of the NBA Finals, and then Oscar retired in the '74 offseason. Kareem in the next five years of his career, in the middle of his prime, would go on to miss the playoffs twice, and never win consecutive rounds, even with three Hall-of-Fame teammates surrounding him.
Larry Bird, 1986
Bird's 1986 season was phenomenal: 26-10-7-2 on 58 percent TS averages while leading the Celtics to a 67-15 record. He also had a great postseason, putting up similar averages while winning the championship. He did, however, have a huge luxury that others on the list did not. Bird's second option, Kevin McHale, did a great job of shouldering the offensive load. McHale averaged only one fewer point (on better efficiency) and less than a one fewer rebound than Bird for the overall run. This doesn't discredit Bird's performance, but others on this list had to carry a bigger load offensively.
Magic Johnson, 1987
Magic Johnson is undeniably a top-10 player of all time and the greatest point guard ever. His regular season was phenomenal in '87, as led his Lakers to a 67-15 record and the greatest offense of all time (tied with this year's Warriors in offensive rating). To do this in an era where not many threes were taken, lowering the overall efficiency of offenses, is simply incredible. Magic also had a great postseason run, averaging 22-8-12 on 60.7 percent TS as the Lakers won their fourth championship of the '80s and dispatched their rival Celtics for the final time of the decade.
The reason Magic's greatest season doesn't make the list is, again, due to the poor level of competition he faced.  In the Western Conference playoffs, the Lakers faced two teams that had records below .500. Another team that they faced was one game above .500. Magic had the most talented team and beat up on lackluster competition for a majority of the playoffs, which allowed him to have an even greater Finals performance.
Kevin Johnson, 1990
Kevin Johnson just might be the most unappreciated star in NBA history. His 1990 season signifies the peak of what we were able to see from a healthy KJ, but it was as good as any from a point guard.
His Suns went 54-28 as he averaged 22.5 points and 11.5 assists per game on 58.5 percent TS. Those points- and assists-per-game numbers have only been matched by Oscar Robertson (1965) and Magic Johnson (1987).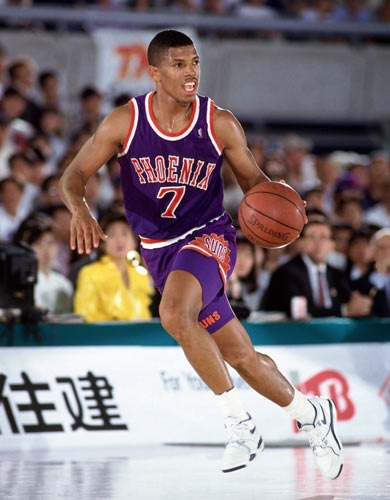 He was also fantastic at improving his teammates. At first glance, people might think that Tom Chambers was the engine of that team, but Chambers was very reliant on KJ to create for him at this stage in his career. In the seven games that Chambers played but Johnson did not, he shot 40 percent from the field, compared to 51 percent in the games he played with KJ. This trend would continue into the playoffs, as Chambers shot 31 percent in the two games KJ didn't play full minutes due to injury, compared to 43 percent in the games Johnson did play.
Johnson's playoff averages were brought down by these two games as well. Excluding those two games, he averaged 23.1 points and 11.4 assists on 55 percent TS. He also had 14 points and 6 assists on 4/6 shooting in only 14 minutes of game 6 of the Western Conference Finals, and the Suns ended up losing by just three points, so it's pretty much guaranteed that the Suns would have forced a game 7 had KJ been healthy.
So why doesn't Johnson's 1990 season make the list? Simply put, it just wasn't as impressive as the others. This season made a serious run at the no. 10 spot, but ultimately, other runs were either more impressive statistically, faced steeper competition or had more impressive regular seasons. Considering his team "only" had 54 wins, his regular season wasn't quite as impressive as some of the others on this list.
Shaquille O'Neal, 2000
Many will be shocked to see O'Neal's 2000 campaign not making the list, as it is often considered the peak of his dominance in the NBA. Shaq had a fantastic season but falls short for a few reasons.
First off, he was outplayed in the first round by Kobe Bryant, who was still the clear second option at the time. Kobe had 139 points on 55.7 percent TS while Shaq had 147 points on 53.4 percent TS. While his rebounding was clearly superior, Kobe was the better overall defender. Shaq also disappeared in the final two games of the Western Conference Finals when he was desperately needed and was outplayed by Kobe again. Kobe averaged 29.5 points, 6.5 rebounds, 6.5 assists, two steals and 3.5 blocks per game on 57 percent TS over the final two games, while Shaq had a terrible 17.5 points and 10 rebounds on 49 percent TS.
Shaq also benefitted from Duncan's injury at the end of the 2000 season. Instead, he was able to face against the Suns in the second round, who had no real interior presence. Shaq has a history of playing below his standards in matchups with Duncan; he was outplayed by Duncan in their 1999, 2002, 2003 and 2004 matchups.
Kevin Garnett, 2004
Kevin Garnett took the league by storm in the 2004 season, finally receiving some help in Minnesota in the form of Latrell Sprewell and Sam Cassell. He took full advantage of this, winning the MVP award while leading the Timberwolves to a 58-24 record. His defense was incredible, and his gaudy averages of 24 points, 15 rebounds, five assists, two blocks and two steals on 54.7 percent TS in the regular season were remarkable considering that 2004 was possibly the greatest defensive year in NBA history. Garnett took the Timberwolves to the Western Conference Finals, where he lost to Kobe and Shaq's Lakers. To this day, it remains the only time the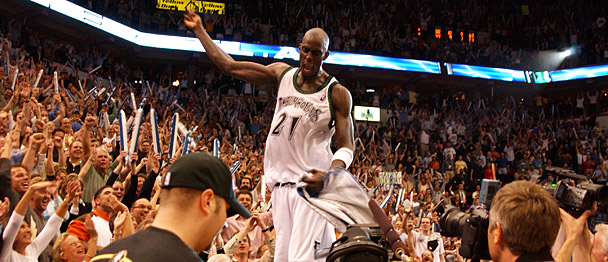 Timberwolves franchise has won a playoff series and was the most recent time that they made the playoffs.
What keeps Garnett's 2004 season off the list is his inefficiency in the playoffs. Though his volume of 24.3 points per game was nearly identical to this regular season volume, his scoring efficiency dropped significantly to just 51.3 percent TS. Though it was the toughest defensive year of all time (TS average was 50 percent during the playoffs), it still is less impressive than what some of the other top big men were shooting at the time. Shaq shot 57.8 percent TS despite his horrendous foul shooting, while Tim Duncan shot 56 percent TS.
He also missed chances to make this run even better than it was. Though he was great in the first two rounds, against solid competition, he played pretty poorly in some of the losses in the Conference Finals:
Game 1- Garnett scores 16 points on 15 shots, turns the ball over four times, and is outscored by Sprewell and matched by Cassell, who plays 13 less minutes. The Timberwolves lose by nine.

Game 6- Garnett commits eight TOs that lead to 11 Laker points. Garnett fouls out. He is outscored by Sprewell, and the Timberwolves lose by just 6 points.
LeBron James, 2013
The 2013 season was arguably the best ever from LeBron (though I would argue 2009 was superior). He lead the Heat to an outstanding 66-16 record with per-game averages of 27 points, eight rebounds, seven assists and two steals on 64 percent TS. If this were a list of the greatest regular seasons alone, LeBron's 2013 season would rank in the top five. However, since the playoffs are heavily weighed in this list, LeBron's 2013 season just misses. LeBron benefitted from sub-par competition even more so than in his 2012 run. The Heat played zero 50-plus win teams until the Finals – the first time that had happened since 2002. LeBron had average help from his team during the Eastern Conference playoffs, but also faced average competition. Against the only elite team the Heat played, Wade played well with 20 points, four rebounds, five assists and two steals on 51 percent TS averages for the Finals.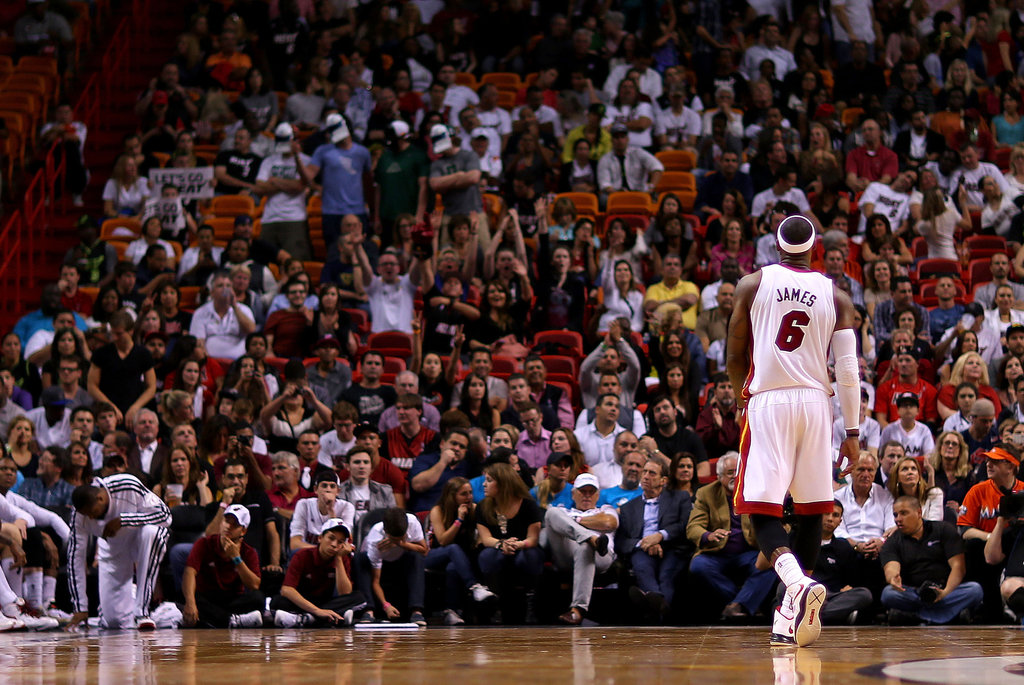 Even with the easier competition, LeBron wasn't statistically as dominant as one would expect, averaging 26 points, eight rebounds, six assists and two steals on 59 percent TS. This is still great production, but compared to LeBron's 2012 run, during which he averaged 30 points, 10 rebounds, six assists and two steals on 58 percent TS against better teams, it doesn't stack up. LeBron also had a lackluster beginning to the Finals in terms of scoring, which resulted in the Heat facing a 3-2 hole. LeBron averaged 21.6 points per game on just 49.4 percent TS, before having two of the greatest elimination games of all time to win the championship.