The NBA trade season is finally upon us, with 125 different players from all 30 teams now eligible to be traded as of December 15th. Each of these players signed new contracts with their respective teams during the offseason, and by NBA rule, were not allowed to be traded up until this point. To be clear, any player who signed with a team after September 15th (i.e. Spencer Dinwiddie with the Nets) cannot be traded yet, but for the other 100-plus players who inked deals over the summer, anything goes from here on out.
This season's trade deadline falls on February 23rd — It was originally scheduled to be one week earlier, but the league decided to distance it one week further from the All-Star break. Once 3:00 P.M. strikes on that day, players cannot be traded for the remainder of the regular season.
With the annual deadline roughly two months away, here are some names worth keeping an eye on as the trade season kicks off:
1. Nerlens Noel: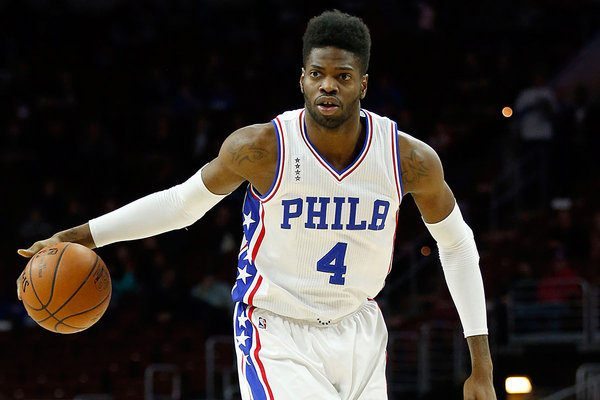 The curious case of Nerlens Noel, the 6th pick in the 2013 draft, has Sixers fans on the edge of their seats as the annual trade season looms. Philadelphia has aggressively shopped him this year, engaging in trade discussions with nearly every club in the league. Teams such as Portland, Toronto, and Boston have taken a recent interest in the 22-year-old and could be potential suitors for him in the coming weeks.
With the Sixers possessing three quality big men on its young roster, one would assume Noel gets moved in the near future. Noel himself has publicly stated that he doesn't believe in the team's questionable three-centers strategy, admitting that the situation seems silly:
"I think it's just silly . . . this situation that we are in now with three starting centers," Noel said back in September. "With the departure of [former general manager and president] Sam Hinkie, I would have figured that management would be able to get something done this summer."
…
"I feel like it definitely needs to be figured out," he said. "I think at the end of the day, again, you have three starting-caliber centers. And it's just not going to work to anybody's advantage having that on the same team. That's how I'm looking at it. I'm not opposed to anything, but things need to be situated."
2. Goran Dragic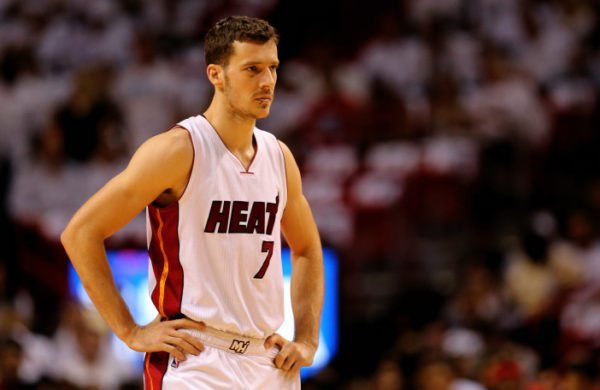 The Heat's 2016-'17 campaign is off to a very interesting start. Despite lacking the talent needed to contend in the East, Miami remains one of the most competitive, motivated and hungry teams in the entire league.
Sudden sparks are coming from every which way within the Heat; Whether from the young and athletic Tyler Johnson at point guard, or from the explosive James Johnson in the frontcourt, or even from an unlikely hero in Josh McRoberts, the Heat have found ways to stick around this season even while possessing one of its worst rosters in franchise history.
With Miami beginning to focus its attention on its young nucleus, a core consisting of Hassan Whiteside, Justise Winslow, Tyler Johnson and Josh Richardson, the dire need for Goran Dragic suddenly doesn't seem so dire anymore. Once craving over the thought of acquiring Dragic, Heat president Pat Riley likely no longer sees the significance of keeping the 30-year-old guard from Slovenia around in South Beach for much longer. Dragic still has talent, and would better be used on a team seeking to be competitive in the present day. Miami, on the other hand, is a team locked into the future.
Simply put: Goran Dragic and the Miami Heat no longer fit well together. The disappointing losses of Dwyane Wade to his hometown, Luol Deng joining the Lakers on a huge contract, Joe Johnson moving west to team up with the young Utah Jazz, Chris Bosh not being permitted to return and others have turned the Heat's identity around. Miami has fielded interest in Dragic before and will do so again during the next 60 days, likely hoping to find any kind of quality youth addition it can for its coveted future.
However, trading for him won't come easy for rival teams. The Heat dealt away two future first-round picks to acquire him back in 2015, and are not expected to settle for anything less that the same in return this time around. Getting one draft pick for a player you spent two for is publicly acknowledging a mistake for getting him in the first place.
3. Rudy Gay: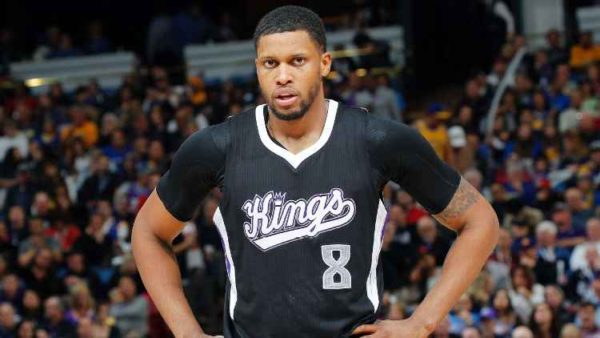 Kings forward Rudy Gay, much like Nerlens Noel, has seen his name wrapped around the rumor mill and back throughout the past year. The Kings, similarly to Philadelphia, shopped him around the league over the summer but failed to find an appealing package.
Gay has taken a keen interest in playing in Miami, a source close to the forward told Def Pen back in August. The Heat, who have their valuable small forward position locked up with the young Justise Winslow, likely won't trade for Gay. However, do not totally rule this possibility out, as the Heat and Kings discussed a deal centered around Gay twelve months ago, as well as two months ago, too.
Teams in need of a scoring punch will be contacting Sacramento as the deadline nears, with Gay averaging a respectable 18.6 points per game this season.
4. Brandon Knight: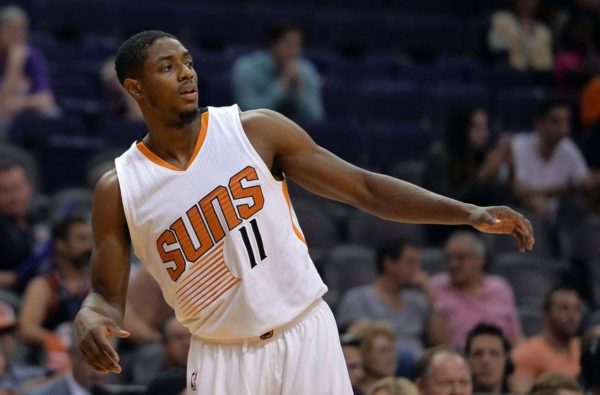 The Phoenix Suns' backcourt situation is almost comical and possesses similarities to the struggles over in Philadelphia's frontcourt. There's no denying the fact that Phoenix has three talented guards on its roster, and with the sudden emergence of Devin Booker, dealing away one of its other two guards seems plausible to many around the league.
As The Vertical, ESPN and other outlets have reported this year, Phoenix has taken calls on Knight, but are not trying to immediately move the 26-year-old. They'll stay patient and await the right package.
Teams like the Sixers, who are seeking further backcourt talent, will certainly be calling. The Sixers and Suns have reportedly held exploratory talks on deals centered around both Knight and teammate Eric Bledsoe, but nothing has materialized to this point.
5. DeMarcus Cousins:
Oh, come on: You really didn't think you'd be reading an NBA trade-related list without seeing this name, right? Right?
There's no questioning that DeMarcus Cousins has been the most discussed name, year after year, as the trade season kicks off. The Kings and Cousins have had a rough past few seasons, with several off-the-court and on-the-court problems arising during their time together.
Whether with coaches, teammates, front-office personnel or other team staff, DeMarcus Cousins has had his fair share of problems in Sacramento. That is one reason why many believe he will be wearing a different jersey at this time next year.
Cousins, a talented big man who torments opposing defenses inside and out, (he is shooting an insane 37% from deep this season), has received vast interest from around the association. The Kings haven't outright shopped him in recent months but were engaged in discussions with a few teams heading into February last year — The Celtics, Heat, and Bulls among them.
It's speculated that Washington could be a landing place for Cousins, with the Wizards off to a disappointing start to the season, and Cousins' former Kentucky teammate John Wall running ship — The two have maintained a close relationship since parting ways.
Both Cousins and the Kings have publicly denied that they are looking to split up, but what's happening behind-the-scenes is thought of to be totally different. Cousins will be an unrestricted free agent in 18 months, and will likely sign with a club not named the Kings. If Sacramento recognizes this much and wishes to gain assets before allowing him to walk, it should act sooner rather than later in dealing the big man away.
Other names to watch:
Omer Asik:
After impressing during a short stint with the Rockets, Asik's role with the Pelicans has just never materialized. Whether due to injury or coaches decision, Omer Asik hasn't served as a valuable piece for the Pelicans since joining the team. According to CSNNE, Omer Asik is "very available" for teams looking to acquire him.
Omri Casspi:
Omri Casspi's role with Sacramento has been reduced this season, with the 26-year-old Israeli forward receiving less playing time than he prefers. Casspi shot a respectable 41% from behind-the-arc last season and recently met with Kings management to discuss his role. His relationship with coach Joerger is poor, with the two sides hardly speaking since training camp. While not demanding a trade, Casspi certainly wouldn't mind being shipped elsewhere.
Andrew Bogut:
If I told you one year ago from today that Andrew Bogut would wind up playing for the Dallas Mavericks while receiving tons of trade interest from other clubs, you'd probably wonder what I had to drink. But in fact, this is where we are. The Mavericks are an injury-riddled franchise who are far from contenders and are probably better off choosing to focus on the future. Moving Bogut, who is reportedly registering some interest from Portland, Boston, and other teams, to acquire a young asset or future pick, would be beneficial for the Cuban-led Mavericks.
Ricky Rubio:
Let's face it: The Timberwolves have been looking to deal Ricky Rubio for a long, long time. Back when LeBron James bolted Miami to join his hometown Cleveland Cavaliers, rumors of Rubio's eventual departure began circulating. The Wolves, who now have a promising Rookie of the Year candidate in Kris Dunn at point guard, are better off moving Rubio now than ever before. Although Rubio makes his teammates noticeably better while on the court, allowing Dunn to mesh early on with teammates Karl-Anthony Towns, Andrew Wiggins and Zach Lavine is imperative to Minnesota's success in the future.
Myles Turner:
Timeout. Before you exit out of this article and rush to Twitter to criticize this list, here me out: The Pacers have disappointed during their first 26 games this season. To be fair, the team has been forced to deal with various injuries, but the underwhelming overall production so far from such a talented roster is certainly concerning for Indiana fans. The Pacers have absolutely no interest in dealing away All-Star forward Paul George, who has been on the team longer than any other player on the active roster. Team President Larry Bird made several offseason moves designed to help the team stay competitive this season, such as trading for Jeff Teague and Thaddeus Young, along with signing veteran big man Al Jefferson.
The Pacers are not a young team by any means and are looking to compete right away. With a sluggish start to the 2016-17 season, one must wonder how Larry Bird and company would feel if a talented package came their way centered around the young Myles Turner. Building around Paul George while he's in his prime years should, and has been all along, the focus of the franchise.
Final thoughts:
The NBA trade deadline is always an eventful day for media, fans, players and management. The unpredictability of the occasion is what many fans look forward to — Back in 2015, over 40 players were dealt at the deadline, while hardly anyone was traded at last season's occasion. You truly never know when a deal can be agreed upon between teams, making the next two months interesting but agonizing for some players across the association.
There are other names certainly worth keeping an eye on until the deadline, players such as Wilson Chandler, Kenneth Faried and Greg Monroe, of course. But for the time being, keep a close eye on the players listed above until the always highly anticipated deadline day arrives.