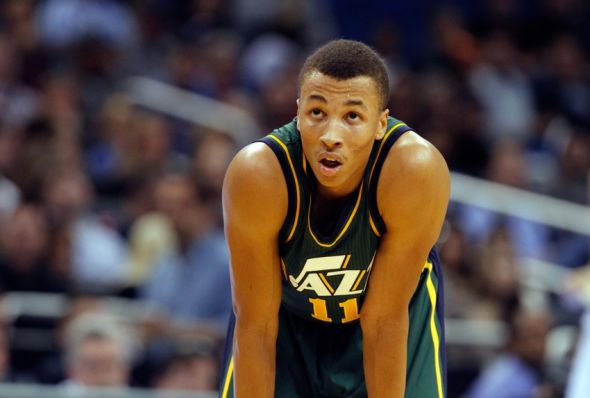 The Utah Jazz suffered a huge blow early last season losing Dante Exum to an ACL injury, that would make him miss the rest of the season. As the season wore on, the Jazz troubles of a point guard grew apparent, and it was obvious they were lacking someone to lead this young team to a playoff spot. They tried to resolve their issues by trading for Shelvin Mack, but even with Mack's efforts along with Trey Burke, the Jazz led by Gordon Hayward and cast finished 9th in the Western Conference.
A lot has changed since then. The Jazz look like a rejuvenated team, with the additions of George Hill, Boris Diaw and Joe Johnson, the young cast of players have added the veteran presence needed to make a run to be a playoff contender. With Dante Exum set to return from his ACL injury next year, the Utah Jazz are shaping up to be another bright young team in the West. Exum says he is ready to come back. Per the NBPA Twitter:
Dante Exum (@daanteee): "I'm fully recovered." Dante dished on new NBPA digs, his return, his Boomers & AAU program. pic.twitter.com/GoJj5hvsSn

— NBPA (@TheNBPA) August 10, 2016
If Exum is ready to go for training camp, the Jazz could be looking at a starting lineup of Gobert, Favors, Hayward, Rodney Hood, and George Hill. Exum could see himself along side a bench Boris Diaw, Joe Johnson, Trey Liles, Alec Burks, which could be one of the best bench lineups next year. If there are two teams that playoff contenders in the West should be scared about, it's the Minnesota Timberwolves led by Karl Anthony-Towns and the Utah Jazz.