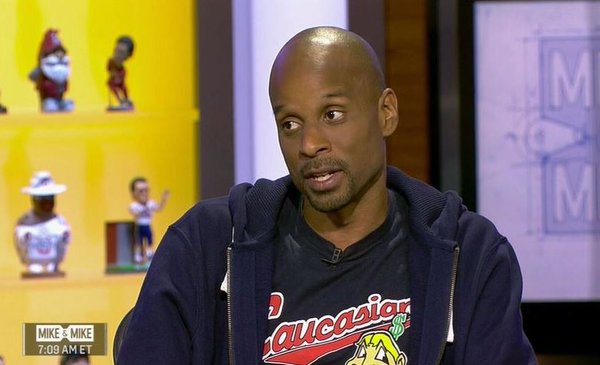 In another case of people on the internet losing their minds for no apparent reason, I present to you the case of ESPN personality, Bomani Jones. He was recently a guest on 'Mike & Mike' early this morning and while a collective majority of the world slept at 7 am eastern time, there were some people wide-eyed and bushy tailed and managed to catch Jones on the show wearing his 'caucasians' shirt.
Shirt @bomani_jones is wearing on @MikeAndMike this morning pic.twitter.com/9gw69nqrrw

— Darren Rovell (@darrenrovell) April 7, 2016
The shirt concept, which according to 'Hardball Talk' is over a decade old and is very popular on Canadian Indian reservations, is designed to look like a Cleveland Indians shirt. The stark contract is that it features the word "Caucasians" in place of the word "Indians" and a caricature of a white person in place of the Indians' mascot 'Chief Wahoo' and fittingly, also has a dollar sign in place of Chief Wahoo's feather.
So of course in typical internet fashion, there were many who took offense to Jones' shirt choice. A shirt Bomani jokingly said on 'First Take' that he only wore because 'it was clean'. Jones has been one of the many people against the stance of using 'Chief Wahoo' as a mascot in professional sports given the racial implications but that didn't stop people from freaking out over a shirt and Jones had no problem firing back at the masses.
I don't blame Bomani for being a disgrace, I blame @espn for allowing it. @bomani_jones who hurt you? I'm serious, I don't want ppl in pain.

— Jimmie (@Jimmie_Knows) April 7, 2016
@bomani_jones shirt…What happens if @Espngreeny wore an "African Americans" shirt on the air? @MikeAndMike @espn pic.twitter.com/Vua6fDfWo7

— Justin DePrimo (@justindeprimo) April 7, 2016
or…indians? https://t.co/anat5DWOE3

— El Flaco (@bomani_jones) April 7, 2016
it was clean. and it's really dope. and self-evident. https://t.co/cMKUipK1sP

— El Flaco (@bomani_jones) April 7, 2016
#youre https://t.co/2mse9lVcoB

— El Flaco (@bomani_jones) April 7, 2016
thanks for your permission, champ https://t.co/NK0mazYGJG

— El Flaco (@bomani_jones) April 7, 2016
look it up, slugger https://t.co/uIl7Aue7pJ

— El Flaco (@bomani_jones) April 7, 2016
what cartoon is that in your avi? https://t.co/PJC7vL1Pe3

— El Flaco (@bomani_jones) April 7, 2016
btw, my mentions aren't so bad. check the totality and proportions of responses before going for the easy blog post.

— El Flaco (@bomani_jones) April 7, 2016
As Jones said, relax. It's not that big of a deal.
If you're interested in buying the shirt, you can buy it here, courtesy of Shelf Life Clothing Company.