Ranking the Top-Five Young Power Forwards in the NBA.
At No. 1, the Milwaukee Bucks' Giannis Antetokounmpo.
The NBA Twitter world has been in disarray since the Finals ended. From Dennis Rodman making diplomatic visits to North Korea to our annual discussion of how good Nikola Jokic is. I thought I'd do my part to soothe tensions by making a completely pointless list of the best young players in the game. Here we are with the number one guy on the power forwards list: the Milwaukee Bucks' Giannis Antetokounmpo.
A few notes to consider:
Playoff potential (or performance) is weighted heavily. Players who have a major weakness to be exploited will be docked accordingly, at least until it's somewhat rectified.
The list is a ranking based on projecting the players going forward, not a ranking of how good the players are right now.
I haven't included anyone from the upcoming draft class. Trae Young may very well be the next Steph Curry, but we won't know for sure until he's dropping in 30-footers at the highest level.
This is a list of the best talent under-23. The best. All of these guys are really good. If I happen to put one guy over your favorite player, it's not that I hate your favorite player or team. Please try to remember this before you set fire to my Twitter mentions calling me an idiot (though you certainly might be right in a more general sense).
The cutoff point, age-wise, was anyone still listed as 23 or under via basketball-reference.
Number One: Giannis Antetokounmpo
The smoothie king has come a long way.
I just taste for the first time a smothie..MAN GOD BLESS AMERICA?

— Giannis Antetokounmpo (@Giannis_An34) January 20, 2014
Giannis' transition from quirky oddity to all-NBA star has been breath-taking. It's crazy to recall, but many covering the 2013 draft thought he was a reach with the fifteenth pick. He came into the league all arms and innocence, putting up 6.8 points a night despite not really knowing what the hell he was doing.
Fast forward to today, Giannis is unequivocally a top-ten player in the league. His 2017-18 stat line has only been matched by two players in NBA history: Kareem Abdul-Jabbar and David Robinson.
One Of a Kind
Some might still be enamored with the idea of "Point-Giannis", but the Greek Freak was nominally a power forward for 93 percent of his minutes in the 2017–18 season according to basketball-reference. Still, pigeon-holing Giannis into any fixed position or role is difficult. No player in NBA history, not even LeBron James, quite fits the bill.
Giannis handles and passes like a guard and dunks at a rate matched only by the league's great pick-and-roll lob finishers. He threw it down 161 times last season, the fifth-highest total in the NBA. Here's the kicker, though: Giannis only got 25 lobs (29 attempts) the entire season. For context, Anthony Davis finished 129 of his 152 alley-oop attempts last year. Giannis is tasked with far more playmaking and ball-handling than AD, but the disparity is jarring.
Last season, Giannis led the league in attempts inside five feet (9.7 per game) and converted 70.2 percent of them. To put that number in perspective, of the 25 players who logged at least six attempts per game in that range, only LeBron James (73.7 percent) and Anthony Davis (72.6 percent) shot at a higher clip. Giannis' effectiveness around the basket is even more impressive considering how poor Milwaukee's spacing was.
Finishing Through the Cracks
The Bucks shot just 25 3s per game last season, the fifth-lowest total in the league. Though clearly an indictment of the antiquated offenses Jason Kidd and Joe Prunty were running, a big part of the problem was the team's lack of shooting at the four and five spots.
The Bucks' acquisitions of Brook Lopez and Ersan Ilyasova should help open things up. While neither guy is an elite shooter from three (34.5 and 36.0 percent last season, respectively), they represent a huge upgrade from a paint-bound dinosaur like Jon Henson.  The Bucks' center rotation of Henson and Thon Maker jacked a paltry 111 total threes in 2017-18. Lopez alone launched 325 threes last season, despite playing just 22 minutes per game.
Giannis' 3-ball (or shooting in general) is the aspect of his game most commonly referenced during discussions of his ceiling. Incremental improvements have been made. Though his pull-up 3 is a trainwreck, mercifully resigned to emergency situations, his catch-and-shoot 3 is slowly approaching respectable:
2015-16: 1.1 attempts (26.1 percent)
2016-17: 1.4 attempts (29.8 percent)
2017-18: 1.2 attempts (34.9 percent)
While his attempts are low, it's still an encouraging arc. Expect those attempts to rise sharply under new coach Mike Budenholzer. Even hardcore NBA fans couldn't pick half of the Hawks' rotation players out of a line-up last season, but they still placed ninth in 3s attempted (30.7 per 100 possessions) and 15th in 3-point percentage (36 percent). Expect Giannis' tendency to dither before launching from range to be a thing of the past.
Beyond the Jumper
Jumper or not, Giannis is still one of the most remarkable scorers in the league.
His initial point of attack is further from the basket than any player in NBA history. He can high-five a hotdog vendor in the nosebleeds and still Euro-step his way to the basket. Watch as he flies around the screen and faces up on poor Boban Marjanovic:

Devastatingly quick fast breaks are a nightly occurrence in Milwaukee. Giannis can rebound like a center (10 per game) and handle and pass like a guard. He can finish with either hand through contact. Throw in an increasingly stout and powerful frame and you have the most devastating attacker the league has seen since…well, LeBron James.
Even the very best defenses in the league can't pack the paint enough to stop him. Giannis averaged 32 points on 66.8 percent true shooting in two games against Rudy Gobert's Utah Jazz. Watch as he pirouettes around Thabo Sefolosha before throwing it down:
Or how about putting down a left-hand dunk on Gobert?
Notice that in both clips, the Jazz have all five defenders committed to sealing off the paint. There are serial killers in exercise yards who don't garner as much attention. The Bucks placed eighth in offensive efficiency last season. With better coaching and more shooting next season, top-five is definitely not out of the question.
Put Up or Shut Up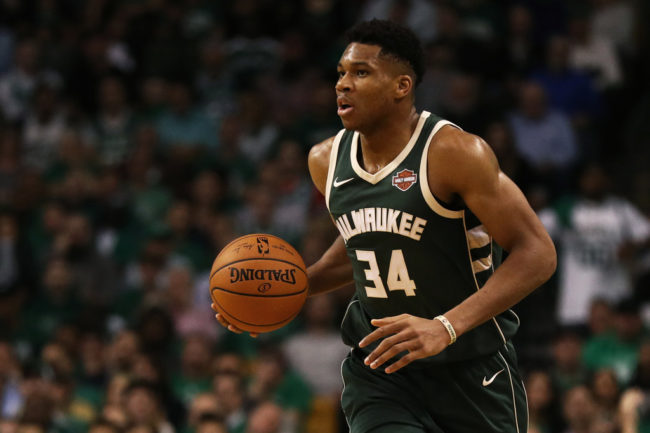 The league genuinely adores Giannis, but it goes without saying: The honeymoon will officially end if the Bucks don't make a deep playoff run next season. The vultures are already circling. Questions abound: Is Giannis really a winner? Does his stat-stuffing elevate his teammates?
These questions are absurd, of course, but they'll only grow louder if the Bucks sputter through another season of mediocrity.
The Bucks finally have a decent coach and tactician in Budenholzer (all due disrespect to Kidd and Prunty). Khris Middleton was a human flamethrower against Boston. Malcolm Brogdon is back from injury and the onus will be on Giannis to pull everything together and turn the Bucks into something resembling a contender.
LeBron James' first pair of Laker shorts are still in his wash basket, but that hasn't stopped fans of the purple and gold from salivating over the potential of the Greek Freak in Los Angeles. The Celtics, Raptors and a host of teams are all dreaming of prying him away. If the Bucks are to have any chance of holding on to him, the winning has to start. Now.