Ranking the top-five young power forwards in the NBA. At number four, it's the New Orleans Pelicans' Julius Randle.
The NBA Twitter world has been in disarray since the Finals ended. From Dennis Rodman making diplomatic visits to North Korea to our annual discussion of how good Nikola Jokic is, I thought I'd do my part to soothe tensions by making a completely pointless list of the best young players in the game.
A few notes to consider:
Playoff potential (or performance) is weighted heavily. Players who have a major weakness to be exploited will be docked accordingly, at least until it's somewhat rectified.
The list is a ranking based on projecting the players going forward, not a ranking of how good the players are right now.
I haven't included anyone from the upcoming draft class. Trae Young may very well be the next Stephen Curry, but we won't know for sure until he's dropping in 30-footers at the highest level.
This is a list of the best talent under-23. The best. All of these guys are really good. If I happen to put one guy over your favorite player, it's not that I hate your favorite player or team. Please try to remember this before you set fire to my Twitter mentions calling me an idiot (though you certainly might be right in a more general sense).
The cut-off point, age-wise, was anyone still listed as 23 or under via Basketball-Reference.
Number Four: Julius Randle
After four seasons with the Los Angeles Lakers, the seventh pick of the 2014 NBA draft signed a two-year, $18 million contract with the Pelicans after being heavily recruited by superstar Anthony Davis.
Randle struggled to find playing time early in 2017–18. The big averaged just 22 minutes per game over the first 33 games of the season, despite posting a solid 12 points per game on 55.2 percent from the field.
Things really started coming together in the second half of the season. It's foolish to put much stock in late season stat-stuffing. The best teams already have one eye on the playoffs. The worst teams are face-planting into tank mode. Still, Randle's numbers from February to the end of the season were eye-popping:
Minutes: 31.7 per-game
Points: 19.8 per-game
Rebounds: 9.0 per-game
Assists: 3.3 per-game
True-shooting percentage: 61.8 percent
The Lakers tight-roped .500 ball during that spell (11 and 12), with Randle posting a decent plus 1.6 net-rating when on the court. A spirited playoff challenge was snuffed out, but those in purple and gold were justifiably delighted with Randle's progress. Will Randle continue to shine in the shadow of the Brow?
Power and Finesse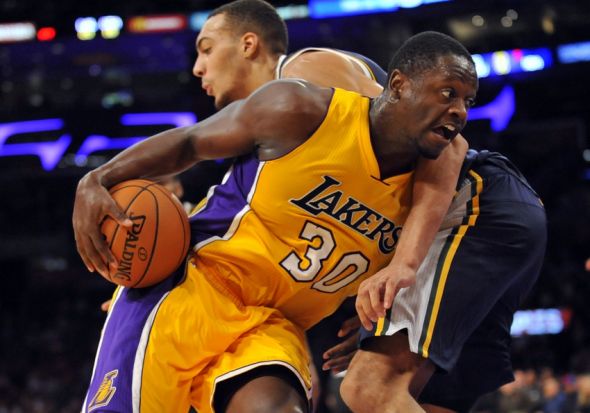 Julius Randle is like a bull in a china shop…if the bull was kind enough to finesse a 100-dollar-bill onto the counter-top after the place is wrecked. Randle takes what he wants with brute force, but not without a touch of grace and skill.
Randle doesn't finish through contact — he finishes through clobberings. Few players generate as much force with their shoulder lowered. Unless you're Boogie Cousins or a handful of other behemoths strong enough to withstand the charge, your best hope is to foul him. Which is not to say he doesn't have touch. Randle has a really nice floater game. It looks awkward, but it's effective:
For everything Randle showed as a ferocious interior scorer and per-minute rebounder in 2017–18, he also regressed as a secondary facilitator. Passing is one of Randle's best skills when he's willing, and one that helps negate his lack of a jumper. Randle can make all manner of passes, from hitting cutters on drives to flinging alley-oop passes from the elbow. Watch him draw three defenders on the break before finding Brandon Ingram in the corner for a three:
The Pelicans played at the fastest pace in the league (104.5 possessions per game) after DeMarcus Cousins went down with a torn Achilles on the 28th of January. Randle's ability to grab a rebound, get out in the open court and make a play will fit the Pelicans' identity on offense.
Randle's possible fit with Anthony Davis is interesting. Though blessed with superlative perimeter skills for a big-man, Davis still does his best work closer to the basket. Randle excels close to the basket himself, and doesn't have a respectable jumper capable of luring opposing bigs out of the paint.
Though I've ranked him as a four here, a large part of Randle's future probably lies at the five. Nikola Mirotic's shooting (37.7 percent from three last season) makes him ideal to slot next to either Davis or Randle at the four. A Houston Rockets-style staggering of Randle-Davis with Mirotic makes all kinds of sense. Davis has been flirting with a long-ball for years (34 percent on 2.2 attempts per game last season). If Davis can inch over league average, the Pelicans' spacing might be better than many expect.
A Randle-Davis pick-and-roll isn't out of the question. Unorthodox, yes, but potentially deadly. Randle has the ball-handling and passing game to make it work. Davis is probably the most frightening lob threat in basketball. Pay too much attention to Davis's roll, Randle will bulldoze his way to the rim for lay-ups and free-throws. Play Randle too strong and it's either a dunk for Davis or a kick-out to a dead-eye shooter. Randle probably doesn't have the play-making chops to play this dance as perfectly as the James Hardens of the world, but it hardly matters given the weapons.
Davis was arguably the best cutter in the league last season (1.58 points-per-possession on 2.9 per game). Randle consistently found guys like Brandon Ingram and Lonzo Ball for easy buckets all last season:
Going Forward
Randle's future beyond the Pelicans, assuming he moves on again, is interesting. In many ways, Randle is a poor man's Giannis Antetokounmpo. High-usage players without a jump-shot need to be superlative offensive talents. Randle's ability to punish switching and small-ball, two staples of the modern NBA at the highest level, are the main reasons to be optimistic. Still, the most likely outcome might have him topping out as just really good.
There are few players in league history for whom the term "fit" doesn't apply. Even an all-time great like Dirk Nowitzki needed just the right combination of players (and a bunch of luck) to finally break through the championship wall. Not to put Randle on Dirk's level, but the point remains. Perhaps a human cheat code like Anthony Davis is the Yin to Randle's Yang.