Ranking the top-five young power forwards in the NBA. At number three, The Philadelphia 76ers' Dario Saric.
The NBA Twitter world has been in disarray since the 2018 NBA Finals ended. From Dennis Rodman making diplomatic visits to North Korea to our annual discussion of how good Nikola Jokic is. I thought I'd do my part to soothe tensions by making a completely pointless list of the best young players in the game.
A few notes to consider:
Playoff potential (or performance) is weighted heavily. Players who have a major weakness to be exploited will be docked accordingly, at least until it's somewhat rectified.
The list is a ranking based on projecting the players going forward, not a ranking of how good the players are right now.
I haven't included anyone from the upcoming draft class. Trae Young may very well be the next Steph Curry, but we won't know for sure until he's dropping in 30-footers at the highest level.
This is a list of the best talent under-23. The best. All of these guys are really good. If I happen to put one guy over your favorite player, it's not that I hate your favorite player or team. Please try to remember this before you set fire to my Twitter mentions calling me an idiot (though you certainly might be right in a more general sense).
The cut-off point, age-wise, was anyone still listed as 23 or under via basketball-reference.
Number Three: Dario Saric
Before we get into the intricacies of Dario Saric's game, I'd like to address something first: The facial hair has to go.
This is not in anyway related to my own inability to grow something beyond an embarrassing teenage moustache. Embrace the razor, Dario. You're giving pubescent-looking men everywhere a bad rep.
Saric is the perfect European player stereotype; a tall guy who can shoot and do a little bit of everything. Tonic Kukoc for the Steph generation. Defenders aren't overwhelmed, they're finessed. "The Homie" broke out in 2017–18, ranking top-five on the Sixers in virtually every single statistical category:
Points: 14.6 (5th)
Rebounds: 6.7 (3rd)
Assists: 2.6 (6th)
Steals: 0.7 (5th)
Three-point percentage: 39.3 percent (3rd)
Free-throw percentage: 86.0 percent (3rd)
A combination of skill, hustle and personality has endeared Saric to basketball hipsters everywhere. Rooting for stars as transcendent as Joel Embiid and Ben Simmons is boring. Ok, not boring. But pumping the virtues of a guy like Saric is worth far more hipster brownie points. Name with an "ic" at the end? Yup. Game that transcends boxscores? Ditto.
A Man Between Stars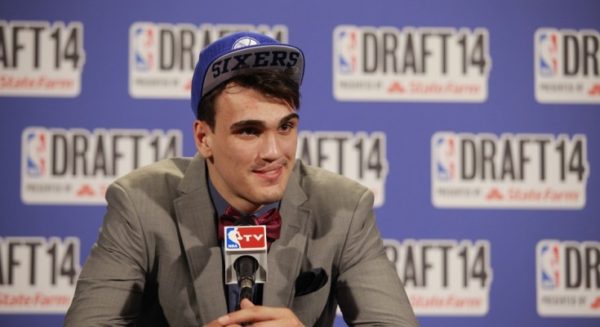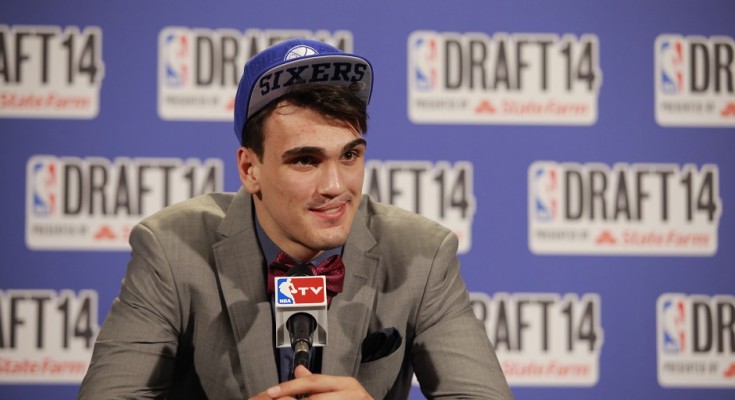 Three-point shooting is a prerequisite of any complimentary star in Philly. Saric poured in two threes a night last season (39.3 percent on just over five attempts per contest). Saric fitted right into a system that valued motion over all else.
His pairing with Simmons was clunky at first but, eventually, basketball IQ and skill won out. The pair had fantastic chemistry by the time the Sixers hit their stride north of New Year:
A lot of Saric possessions play out from the top of the three-point arc. Play too far off him and Saric can  splash threes with the best of them or ping slick high-low passes to Joel Embiid and Simmons (two of the most devastating cutters in the game). Watch this beautifully weighted jumper-turned-dish to Embiid:
Saric can even run the occasional pick-and-roll. Watching him weave through defenders in slow-motion might not be as intoxicating to the eye as Simmons flying through the lane, but it's effective nonetheless. Observe as he gets LaVert on his back, flirts with the dish before elevating for the smooth left-hand finish (In fairness, I could probably finish in the lane if Jahlil Okafor was the last line of attack):
Saric played just 208 minutes without either Simmons or Embiid on the court last season. It's difficult to state his exact value as a lone wolf in such a limited sample-size, but for what it's worth the team treaded water just fine with a slight uptick in Saric's usage (From 17.3 to 20.7 percent):
Offensive-rating: 102.3
Defensive-rating: 102.0
Net-rating: Plus 0.2
True-shooting percentage: 54.3 percent
The Sixers posted the third-best defensive rating in the league last season. The Bulk of the credit justly goes to Embiid, but Saric is no slouch on that end. He competes. Saric understands where to be and when. While he might not rack up steals in mind-blowing amounts, he has good hands and timing. At the very least, he's not the kind of guy who gets played off the court once a team hits the conference finals.
Know Your Role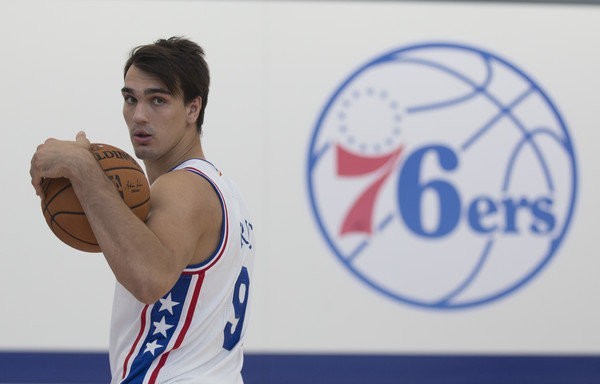 Saric might lack superstar upside, but he's exactly the type of do-it-all role-player that every great championship team needs. Only Robert Covington, who recently signed a big extension with Philly, had a lower usage rate among the Sixers starting line-up. Saric probably has an ego. It usually takes a sizable one to even make the league. The Rock's old maxim is a difficult one to swallow with a smile: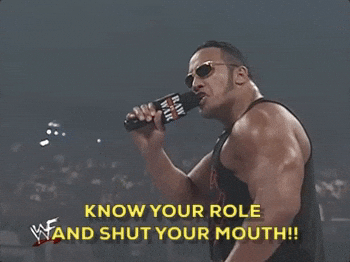 Saric is unlikely to become a superstar. No great insult there. The ability to create your own shot, even at power forward, is still the singular attribute which separates stars from non-stars. Over 75 percent of Saric's makes from the field were assisted last season. Having two teammates consume over 50 percent of possessions combined is a major factor here, but part of it is also that it's just not Saric's game.
Embiid and Simmons are generational stars, but they're not without warts. Saric's ability to plug-holes in the Sixers' attack is critical. Saric's 14.6 points and 2.6 assists-per-game don't jump off the screen, but he could average more if tasked with doing so. Some guys aren't ok with being ancillary figures. Finding someone as well-rounded as Saric who is happy (for now) to blend in behind the Process and the Yank is a coup for Brett Brown and the Sixers.
All stats courtesy of NBA stats and info and basketball-reference.