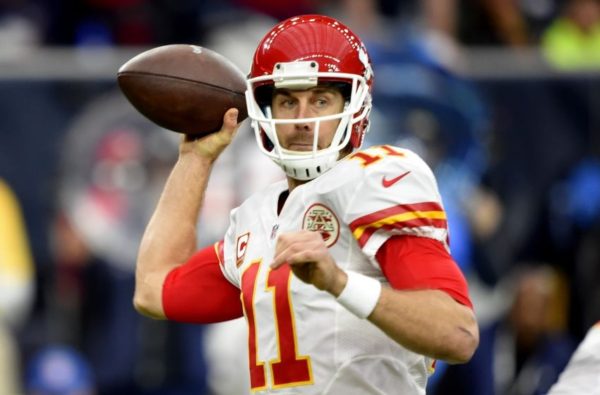 The Kansas City Chiefs have agreed to a trade that will send quarterback Alex Smith to the Washington Redskins. Ian Rapoport broke the news via Twitter.
The #Chiefs are trading QB Alex Smith to the #Redskins, source confirms (as @TerezPaylor reported). It involves picks and a player. Huge deal.

— Ian Rapoport (@RapSheet) January 31, 2018
There is an agreement in principle for Alex Smith to go to the #Redskins. The deal will be finalized tomorrow. This means Kirk Cousins will be a free agent. Mega-deal.

— Ian Rapoport (@RapSheet) January 31, 2018
It is reported that the Chiefs will receive a second-round pick, possibly more, for the trade.
Kansas City is expected to receive a second-round pick from Washington for Alex Smith and possibly more, per source. But a second-round pick was the price as of this morning, before trade between KC and Washington finalized.

— Adam Schefter (@AdamSchefter) January 31, 2018
The deal cannot be finalized until the first day of the new league year, which is March 14. However, sources state that both sides have agreed to the deal in principle and will finalize the deal.
This deal does two things for the Chiefs. First, it clears $17 million in cap space. This cap space could be used to help sign some role players to help better the team. It also clears the way for quarterback Patrick Mahomes, whom the Chiefs selected with their first pick last year, to become the franchise quarterback.
Smith, 33,  is coming off a solid year. He had career-highs in passing yards (4,042), touchdowns (26) and passer rating (104.7).
There is news that Smith and the Redskins have reached an agreement on a four-year contract.
QB Alex Smith and Washington now have reached an agreement on a new four-year contract extension, per sources. Smith, who had one year left on his contact, tied to Washington for next five seasons. Smith gets long-term deal from Washington that Cousins could not.

— Adam Schefter (@AdamSchefter) January 31, 2018
This trade also leads to another major discussion. What will happen to Kirk Cousins? Trading for Smith nearly guarantees that Cousins will not return as starting quarterback. Cousins was franchise tagged last season, and it seemed like the Redskins would be willing to do it again if a long-term deal was not struck. It will be interesting to see what options will be available to Cousins this offseason.