The 2022 BET Hip-Hop Awards left fans with a lot to talk about. As usual, the award show provided a spotlight to emerging acts like Ray Vaughn, Reuben Vincent and HDBeenDope to showcase their talents. In addition, BET also made time to honor legends like Trina, Steve Rifkind, Fat Joe, N.O.R.E and DJ EFN. There were also a few surprises along the way like a tie in two categories and a Clipse reunion. With all that went down, it's easy to lose track of how memorable this year's awards show was. Recap the entire night below with the top five moments of the 2022 BET Hip-Hop Awards.
Miami Flowers
Trina is a legend in the realm of entertainment and culture. The Miami, Florida native has not only sold millions of records, but she's also inspired a number of acts in the region like Latto, Saucy Santana and the City Girls. Given her accomplishments and influence on today's music scene, it only made sense that she would be honored with the "I Am Hip-Hop" award at the 2022 BET Hip-Hop Awards. With Trick Daddy, Remy Ma and many of her close friends, family and musical peers nearby, Trina took the stage to thank all those who have supported her career over the years and remind the world that she is still the "Baddest B*tch" in the game.
Bridging Generational Gaps
Following the 2022 BET Hip-Hop Awards, DJ Cassidy led the tenth and final edition of Pass The Mic on BET. With this series, he aims to bridge the gaps between generations in a fun, musical way. However, viewers didn't have to wait until 11:30 p.m. EST to bridge the gap between generations through Hip-Hop. Kicking off the award show, Armani White took the stage to perform his breakout hit, "Billie Eilish." Sampling "Nothin'" by N.O.R.E and experimenting with new flows, the Philadelphia native has been able to land performance slots on festival stages and rack up more than 20 million streams. At the 2022 BET Hip-Hop Awards, he had a moment to shine on national television and he used the platform to heap praise upon the man who made the original track a hit, N.O.R.E. Together, they delivered a remix of "Billie Eilish" that hasn't yet hit streaming services. Could it land on Spotify or Audiomack after the award show? Only time will tell.
Legacy, Legacy, Legacy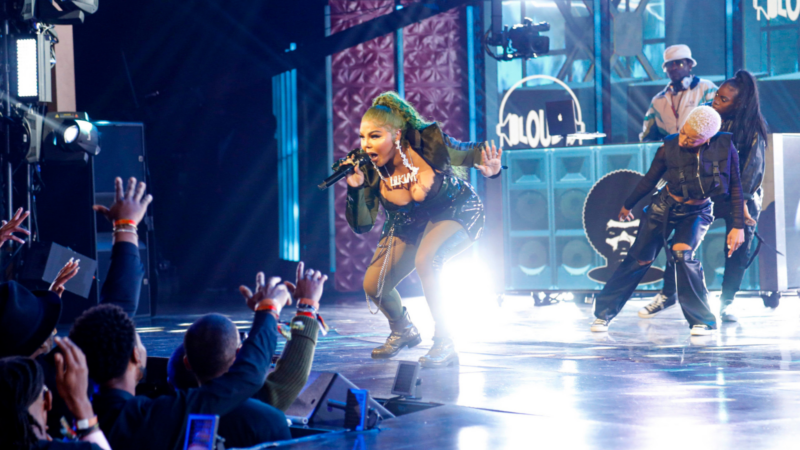 Nearly 31 years ago, Steve Rifkind and Rich Isaacson came together to form Loud Records. Little did they know, the label would go on to be one of the most iconic imprints in all of music. The label played a role in the careers of Big Pun, Three 6 Mafia, Wu-Tang Clan, Twista, Pete Rock and many others. Without the label's contributions, there wouldn't be a BET Hip-Hop Awards. On October 4, 2022, the awards ceremony brought together the likes of Lil' Kim, Remy Ma, M.O.P. David Banner and many others to honor the legacy the label has left on Hip-Hop.
A Tie?
It is not often that a tie occurs at an award show. Mathematically, it's just difficult to take place. With that said, the BET Hip-Hop Awards are different than just about any other award show in the culture. As a result, there was not one, but two ties in the voting process. Drink Champs and Caresha, Please tied in the "Best Hip-Hop Platform" category. While Drink Champs has created cultural moments for a longer period of time and deserve their moment in the sun, it is also hard to deny the impact that Yung Miami's Caresha, Please has had in such a short period of time. It feels like every other week that her interviews create a viral moment. With that in mind, it's not as hard to see how a tie could take place.
In contrast, it is hard to justify the tie in the "Sweet 16: Best Featured Verse" category. Drake tied with himself as he was recognized for his outstanding verse on "Churchill Downs" with Jack Harlow. He was also recognized for his work on "Wait For U" with Tems and Future. While "Wait For U" did take home an award, it is hard to justify a tie and it is also hard to explain how his "Wait For U" verse could beat out what Jadakiss did on "Black Illuminati" and J. Cole's work on "London" with BIA. What can be said? It's an award show. Just move on.
Brotherly Love
The 2022 BET Hip-Hop Awards were a family affair. Baby Keem and Kendrick Lamar took home the "Best Hip-Hop Video" award while Pusha T reunited with his brother, No Malice, on stage. Together, the brotherly duo delivered a crowd-pleasing performance of their timeless hit, "Grindin'." Not only was it nostalgic to see the two lyricists on stage, but it also marked the first time that they had performed at an award show in years. In fact, they hadn't taken the stage together at all in more than a decade prior to their appearance at Pharrell's Something In The Water festival this summer. Pusha T has publicly advocated for a full-out Clipse reunion, but No Malice hasn't touched on the topic just yet. Will the fans get what they want? The world will just have to wait and see.