One more 2019 NBA Mock Draft, the day has finally come. The NBA will welcome its newest batch of hopefuls Thursday night and all eyes will be firmly on the Barclays Center. It has arrived, the 2019 NBA Draft is here and sure to bring the drama. We have done many mock drafts here; so with the draft looming directly over our heads, let's go for one last update.
These choices will be a mixture of what I think will happen, and what I think should happen. With new rumors flying around every hour, this year's draft could be especially unpredictable. That, though, is what makes the NBA Draft one of the most fun events in sports.
2019 NBA Mock Draft
1. New Orleans Pelicans
Zion Williamson: Combo Forward- Duke
This is the obvious pick. With Anthony Davis on the move, the Pelicans have their new franchise player ready to go. This is the jackpot.
2. Memphis Grizzlies
Ja Morant: Lead Guard- Murray State
This seems to be the widely expected choice for Memphis. With the Grizzlies looking towards the future, Ja Morant will be paired with Jaren Jackson to lead the way and it was made blatantly apparent after they traded Mike Conley to the Utah Jazz the day before the draft.
3. New York Knicks
RJ Barrett: Wing- Duke
The Knicks grab a Duke star after all. Barrett is a physical specimen of a wing who could become a high-level secondary scorer that can initiate some offense. Add in some serious on-ball defensive upside and Barrett could become a contributor in multiple ways alongside the stars that the Knicks may bring in.
4. Atlanta Hawks (via Los Angeles Lakers)
De'Andre Hunter: Combo Forward- Virginia
This draft day trade made major waves, as the long-awaited Atlanta Hawks move came to fruition. Reports suggest that they will target the Virginia forward De'Andre Hunter. Hunter is a terrific 3-and-D prospect who has shown flashes of brilliance.
5. Cleveland Cavaliers
Darius Garland: Lead Guard- Vanderbilt
Recent reports leading up to the draft have linked the Cavs with Darius Garland. A combo guard who can co-exist with Collin Sexton serves as a way to solidify the backcourt of the future.
6. Minnesota Timberwolves (via Phoenix Suns)
Coby White: Lead Guard: UNC
The previous trades have jumbled up some prior expectations. Minnesota pulled the trigger on a deal to move up, likely targeting a lead guard. Coby White is the best lead guard available on the board and would be a dynamic addition to an offense that really needs one.
7. Chicago Bulls
Jarrett Culver: Wing- Texas Tech
Jarrett Culver sliding to 7 would be a blessing for the Bulls. They may have wanted a lead guard but grabbing a top quality wing is an excellent consolation. Culver would fit right in with his two-way skill-set next to Wendell Carter and Lauri Markkanen.
8. New Orleans Pelicans (via Atlanta Hawks)
Cam Reddish: Wing- Duke
Reddish had a tumultuous year at Duke but managed to show just enough to keep faith. The freshman projects as a likely 3-and-D player, but will need to continue to work on both aspects. His size at 6-foot-8 paired with his mobility and handle offer an intriguing combination given the skill set he projects to have. Look for a Zion Williamson and Cam Reddish reunion in New Orleans.
9. Washington Wizards
Sekou Doumboya: Combo Forward- Limoges
The Guinean international has seen his stock rise considerably in the pre-draft process. Showing off a smooth jumper in workouts has teams salivating over the 6-foot-9, 18-year-old Doumboya. With a lengthy rebuild on the way in Washington, taking an especially young, enticing prospect like Doumboya is a worthwhile investment.
10. Atlanta Hawks
Jaxson Hayes: Big- Texas
Choosing a dynamic big man with rare mobility is the option for a potentially electric offense led by Trae Young. A potentially elite defensive player, Hayes is as modern a center there is in this class. Throwing him in the midst of an offensive predicated on spacing with Young, Hunter, and Huerter on the perimeter is appealing.
11. Phoenix Suns (via Minnesota Timberwolves)
Nassir Little: Combo Forward- UNC
Nassir Little's stock has seemingly been back on the rise as of late. Phoenix gets this pick as a result of the recent trade and may be looking for a high upside gamble. After getting rid of TJ Warren as well, they may want to backfill the opening on the wing.
12. Charlotte Hornets
Rui Hachimura: Big- Gonzaga
Hachimura's draft floor appears to be the late lottery. Rumors have floated around of a promise in this range, and he has not taken public workouts. It makes sense that the Hornets would look for an addition in the frontcourt. Hachimura's athleticism is enticing and his ability to score in the arc could have value. A Kemba Walker endorsement doesn't hurt either.
13. Miami Heat
PJ Washington: Big- Kentucky
The Miami Heat, given their cap restrictions and mini-rebuild on the horizon, can opt for one of the best players available. PJ Washington is one of the top prospects at this stage and does not interfere with the budding Bam Adebayo. Look for Miami to solidify its frontcourt here with a versatile power forward who shot 42% from deep.
14. Boston Celtics
Tyler Herro: Wing- Kentucky
This pick is a consensus, and almost too widely accepted to be true. However, Boston has reportedly been enamored with Herro since he made a strong impression in his private workout. Herro adds a major offensive spark off the bench with his elite shooting capabilities as well as his capacity to work off the dribble.
15. Detroit Pistons
Romeo Langford: Wing- Indiana
With a need at the wing, Romeo Langford provides the best option for Detroit here. The Indiana freshman projects as a secondary initiator who operates inside the arc. Langford can produce his own offense and has a real knack for finishing through contact at the rim. Add in some perimeter defense and Langford looks like a quality rotation player with starter upside if he can develop his jumper.
16. Orlando Magic
Nickeil Alexander-Walker: Wing- Virginia Tech
This is a fairly safe pick, as Nickeil Alexander-Walker projects as a high floor wing despite a ceiling that's not so high. Alexander-Walker looks to be a versatile guard who can play multiple positions. After showing major improvements off the bounce and out of the pick-n-roll, the sophomore guard should be a factor as an initiator of offense. The former Hokie made strides as an overall defender, too.
17. New Orleans Pelicans (via Brooklyn Nets)
Brandon Clarke: Big- Gonzaga
This pick is also a result of the recent trade with the Atlanta Hawks. The Pelicans can opt to fortify an elite young defensive core with this pick and a versatile center to pair with Zion Williamson in the frontcourt.
18. Indiana Pacers
Bol Bol: Big- Oregon
Recent reports have linked the Pacers with Bol Bol. As they assemble a contender in the eastern conference, rolling the dice on an incredibly unique player like Bol Bol could pay major dividends. His offense can provide value as he polishes his defensive ability and IQ.
19. San Antonio Spurs
Goga Bitadze: Big- Buducnost
The Spurs have an excellent chance to choose the best player available who can also fill a soft need. The Spurs lack a truly bright frontcourt prospect and with LaMarcus Aldridge on the backend of his career, Goga Bitadze can possibly be the center of the future. A smart big man who can space the floor, rebound, and protect the interior is a great addition for San Antonio.
20. Boston Celtics (via Los Angeles Clippers)
Mfiondu Kabengele: Big- Florida State
Danny Ainge and the Celtics are about taking the risks necessary to win. Kebengele has had a meteoric rise in the pre-draft process and finds himself in top-20 consideration. His mixture of fluidity, size, floor-spacing, and shot-blocking ability could be enticing for the Celtics, who could really use a home run right now.
21. Oklahoma City Thunder
Kevin Porter Jr: Wing- USC
Reports suggest that OKC is looking to shop this pick in an effort to unload salary. If they stay put, adding an offensive initiator to serve as the bench scoring spark could be valuable for a team that doesn't have much on its wings outside of Paul George. Porter Jr has a mature arsenal of scoring moves with a very high ceiling if he can improve efficiency and impact in a team setting.
22. Boston Celtics
Keldon Johnson: Wing- Kentucky
Keldon Johnson's range seems right in the early-mid twenties. Johnson is a 3-and-D prospect who plays with a high motor and can attack straight-line drives well. A good basis to work with, Boston may see immediate value in him while also keeping in mind his potential development.
23. Memphis Grizzlies (via Utah Jazz)
Cam Johnson: Forward- UNC
This pick offers Memphis a high-floor, steady player who is likely the best shooter in the class and can maybe learn something from Kyle Korver following the Conley trade. Due to Johnson's elite spot-up shooting and feel for the game, a role for him will be there no matter how Memphis wants to build its team. Cam Johnson can light it up from anywhere on the floor and that is clearly valuable to any team.
24. Philadelphia 76ers
Carsen Edwards: Lead Guard- Purdue
Carsen Edwards is not in the first round of any major 2019 NBA mock draft, but he is a near-ideal selection for the 76ers here. A team that wants to win now taking a high-floor player who adds a jolt of offense and spacing. Edwards can be the yin to Ben Simmons's yang in the Philadelphia backcourt. An elite shooter and creator of offense who can do the little things like set tough screens, Edwards should add immediate value. This one was a judgment pick for me, and Edwards just makes too much sense.
25. Portland Trail Blazers
Grant Williams: Forward- Tennessee
This is another judgment pick for me in this 2019 NBA Mock draft. The Trail Blazers could use a versatile, high IQ forward who plays both ends well. While no major 2019 NBA mock drafts have him selected this high, Williams is a terrific value pick that helps a team in win-now mode.
26. Cleveland Cavaliers (via Houston Rockets)
Bruno Fernando: Big- Maryland
The mid-late twenties appear to be Bruno Fernando's range. Cleveland gets a high-motor big who has intriguing two-way potential. With no long-term prospect in their frontcourt, this helps the foundation of their young core.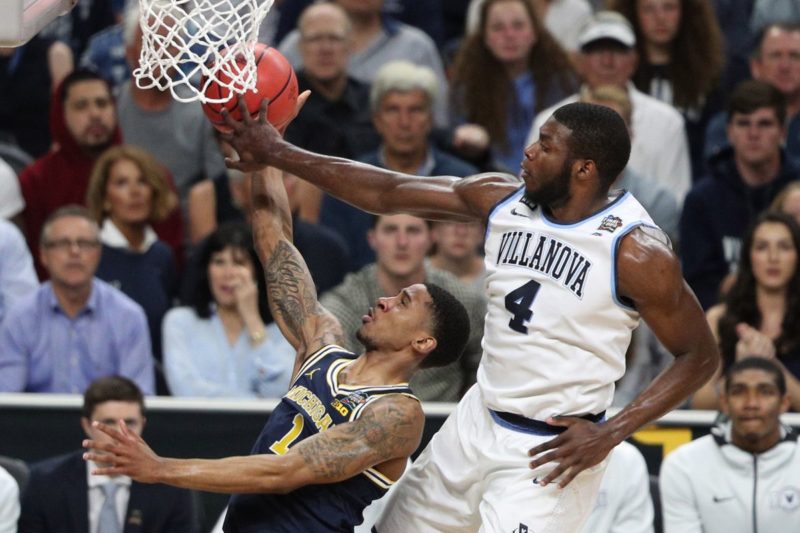 27. Brooklyn Nets (via Denver Nuggets)
Eric Paschall: Forward- Villanova
It appears that Eric Paschall is set to be selected in the late first round. With the Nets on the verge of becoming a win-now team, opting for a high-floor utility forward could be beneficial. Paschall is a solid shooter and a high-motor defender.
28. Golden State Warriors
Nic Claxton: Big- Georgia
The athletic Georgia big man could be a worthwhile bet for the Warriors. Claxton has the athleticism and face-up ability to operate within Golden State's free and open offense. Not to mention, the switchability potential that Claxton possesses is incredibly enticing.
29. San Antonio Spurs (via Toronto Raptors)
Luka Samanic: Big- Olimpija Ljubljana
San Antonio can select a high-potential modern forward in Luka Samanic. Samanic had a great showing at the NBA Combine and solidified himself in the late first-round conversation. Samanic is mobile and can space the floor, as well as create some offense off the dribble.
30. Detroit Pistons (via Milwaukee Bucks)
Matisse Thybulle: Wing- Washington
A trade that happened late Wednesday night may change the end of the first round in the 2019 NBA Mock Draft. Matisse Thybulle adds a quality 3-and-D aspect to Detroit's wings corp. Emphasis on the 'D'.
2019 NBA Mock Draft 2nd Round
31.Brooklyn Nets (via New York Knicks)
Darius Bazley: Forward- N/A
32. Indiana Pacers (via Phoenix Suns)
Talen Horton-Tucker: Wing- Iowa State
33. Philadelphia 76ers (via Cleveland Cavaliers)
KZ Okpala: Forward- Stanford
34. Philadelphia 76ers (via Chicago Bulls)
Dylan Windler: Big- Belmont
35. New Orleans Pelicans (via Atlanta Hawks)
Ty Jerome: Lead Guard- Virginia
36. Charlotte Hornets (via Washington Wizards)
Luguentz Dort: Wing- Arizona State
37. Dallas Mavericks
Jalen Lecque: Lead Guard- Brewster Academy
38. Chicago Bulls (via Memphis Grizzlies)
Chuma Okeke: Forward- Auburn
39. New Orleans Pelicans
Jontay Porter: Big- Missouri
40. Sacramento Kings (via Minnesota Timberwolves)
Daniel Gafford: Big- Arkansas
41. Golden State Warriors (via Los Angeles Lakers)
Jordan Poole: Wing- Michigan
42. Philadelphia 76ers (via Sacramento Kings)
Deividas Sirvydas: Forward- Lietuvos Rytas
43. Minnesota Timberwolves (via Miami Heat)
Terence Davis: Wing- Minnesota
44. Miami Heat (via Charlotte Hornets)
Shamorie Ponds: Lead Guard- St. Johns
45. Detroit Pistons
Louis King: Wing- Oregon
46. Orlando Magic (via Brooklyn Nets)
Naz Reid: Big- LSU
47. Sacramento Kings (via Orlando Magic)
DaQuan Jeffries: Wing- Tulsa
48. Los Angeles Clippers
Isaiah Roby: Forward- Nebraska
49. San Antonio Spurs
Ignas Brazdeikis: Combo Forward- Michigan
50. Indiana Pacers
Admiral Schofield: Combo Forward- Tennessee
51. Boston Celtics
Alen Smailagic: Big- Santa Cruz Warriors
52. Charlotte Hornets (via OKC Thunder)
Zylan Cheatham: Forward- Arizona State
53. Utah Jazz
Jalen McDaniels: Big- San Diego State
54. Philadelphia 76ers
Joshua Obiesie: Guard- Wuerzburg
55. New York Knicks (via Houston Rockets)
Tremont Waters: Lead Guard- LSU
56. Los Angeles Clippers (via Portland Trail Blazers)
Miye Oni: Wing- Yale
57. Atlanta Hawks (via Denver Nuggets)
Jaylen Nowell: Wing- Washington
58. Golden State Warriors
Jaylen Hoard: Combo Forward- Wake Forest
59. Toronto Raptors
Yovel Zoosman: Combo Forward- Maccabi Tel Aviv
60. Sacramento Kings (via Milwaukee Bucks)
Adam Mokoka: Wing- Mega Bemax