RJ Barrett was the consensus number 1 ranked recruit coming into the 2018-19 college basketball season. The Canadian lived up the lofty expectations set after he led Monteverde Academy to the High School National Championship and helped lead the Duke Blue Devils to an appearance in the NCAA tournament's Elite Eight. In addition, he took home numerous player of the year awards as a high school junior and reclassified into the 2018-2019 class. From a talent perspective, playing alongside future NBA draftees Zion Williamson and Cam Reddish proved to be challenging but also a preview of what life will be like in the NBA. Let's take a look at how Barrett stacks up as an NBA prospect.
The more of this, the better for RJ Barrett and @DukeMBB. He's at his best attacking the lane and getting to the rim. He's been able to get to the line more of late and his drive + kick will be key if Zion is out. pic.twitter.com/Ruo27pUlpX

— Luka (@preptopros) February 21, 2019
Attacking the Basket
Undeniably, RJ Barrett's greatest strength is attacking the basket. The natural lefty is adept with both hands and lethal in transition. His transition game will translate very well from day one in the NBA. It's uncanny at his size (6'7″, 210lbs) that he's able to be this smooth in transition but able to take contact at the rim. Barrett has the unique skill of being able to dribble around opponents and use a quick first step to go full steam to the basket from a half court situation. This past season at Duke, he made e 65% of his shots at the rim and 43% from short range, which is a solid clip for him.
First team All-American?
First team All-ACC?
USA Today Player of the Year?
Led the ACC in scoring?

Maple Mamba is a bucket! ??#HereComesDuke (@RjBarrett6) pic.twitter.com/1TFU6MjmlT

— ACC Digital Network (@theACCDN) April 10, 2019
Versatility
Without a doubt, Barrett can do a bit more than just score. The Maple Mamba is also an excellent facilitator from the forward position. He averaged 4.3 assists per game which was second on the team and 6th in the ACC. He has the knack to make great reads and has excellent delivery. RJ also was also a strong rebounder averaging 7.6 rebounds per game. His versatility was on full display at Duke as he recorded only the 4th triple-double in Blue Devil history against North Carolina State. Numerous time throughout the season Barrett posted numbers that were close to a triple-double.
Weaknesses
Barrett's biggest weakness is being a bit inefficient on the offensive end. He's a volume shooter who hoisted a lot of ill-advised shots. This past season, 45% of his shots were long twos or threes while only 38% of his attempts came at the rim. RJ had a 53% true shooting percentage and overall poor efficiency metrics. This will not cut it in an NBA that is built on efficiency. Also, Barrett was not the defensive stopper that many thought he would be. Barrett doesn't anticipate well on defense which puts him in reaction mode. For as amazing of a transition player that he is, he flat out didn't defend in that aspect of his game. Fortunately, his athleticism made up for a lot of his defensive issues in college. Hopefully, in the NBA, he can land with a team that can help him realize his defensive potential.
2019 NBA Draft Comparison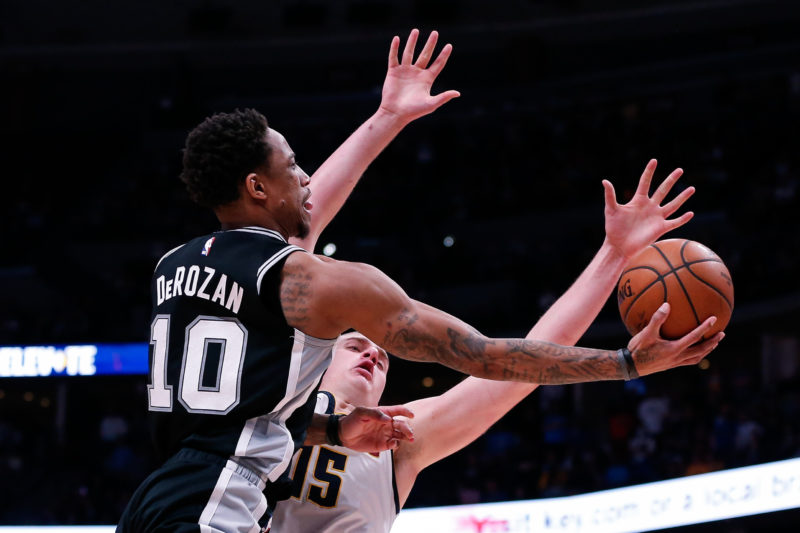 DeMar DeRozan
RJ Barrett is basically locked into the 3rd pick overall to the New York Knicks. He'll be looked to do exactly what DeMar DeRozan did for many years in Toronto, which is adding stability to a starving franchise. Barrett reminds me of DeRozan in so many ways from their mid-range game, athleticism, and measurables. I do believe Barrett's ceiling could be higher based on the skill set he possesses at such a young age. Barrett should pair well with Kevin Knox and Dennis Smith as a good young core.