Football season is over and we are nearing the NBA All-Star break. Meanwhile, college basketball is heating up and prospects are playing some of their most meaningful games of the season. As NBA teams begin to tank the rest of year, the eyes are turning to the top NBA prospects, to see who may be available. This 2019 NBA mock draft is the first one we'll do with a substantive amount of film available on most prospects.
This class has been hard to figure out as there are many groups of players that are not separated by much. The only constant has been Zion Williamson, who appears to have sealed the race for the top pick.
*Draft order based on NBA standings as of the end of the slate 2/5/19
1. New York Knicks
Zion Williamson: Combo Forward- Duke
Plenty of questions surround this year's NBA draft, but this isn't one of them. Adding Zion to a core that features Dennis Smith Jr, Kevin Knox, and two max cap spaces for free agents is an enticing prospect.
2. Phoenix Suns
RJ Barrett: Wing- Duke
In an unenviable spot with the second pick, the Suns safest option is to simply pick the best player available. Who exactly that is appears to be a gray area, but RJ Barrett is a good default. Barrett has had a rollercoaster of a year. Iffy shot selection paired with tunnel vision has marred his Duke tenure thus far. However, he has shown enough ability to get to the basket, knock down shots around the floor, and use his athletic gifts to make a high impact on defense.
3. Cleveland Cavaliers
DeAndre Hunter: Combo Forward- Virginia
The Cavaliers need a player who they can actively build around. Unfortunately, there is only one of such player in the class. DeAndre Hunter, however, has a skill set that can be plugged in with virtually any team. Hunter projects as an elite 3-and-D player at the next level. If he can continue to improve his offensive creation ability in the halfcourt, he could reach a near All-star level in the future.
4. Chicago Bulls
Ja Morant: Lead Guard- Murray State
Morant will get the title of athletic freak who can stuff the stat sheet. What goes overlooked is his incredible overall passing ability and high-level upside on defense. Morant's tight handle and radar-vision allow him to impose his will on defenses. Most of Morant's upside depends on the development of his shooting arsenal, but his floor is high enough to feel safe about this selection.
5. Atlanta Hawks
Cam Reddish: Wing- Duke
Reddish's campaign at Duke hasn't quite gone to plan but that doesn't mean that he hasn't shown some enticing flashes. Since the offensive initiator ability we saw prior to this season has been mostly absent at Duke, his projection leans more towards 3-and-D. Reddish's size as a very mobile shooter with an underrated passing ability is too good of a foundation to pass up at this stage, even if he has been far from consistent.
6. Memphis Grizzlies
Jarrett Culver: Wing- Texas Tech
Culver's game is growing more well-rounded and he looks like a safe prospect who can provide a big impact. Previously viewed as only a 3-point shooter, Culver's feel for the game has grown and he is now much more adept at creating his own offense when needed. On the defensive end, he is a standout player who uses his IQ and frame to fluster opponents. With a slow, mechanical jumper, Culver may never be a star player; but he checks the boxes for a safe pick who can contribute to wins.
7. Orlando Magic
Darius Garland: Lead Guard- Vanderbilt
The Magic may finally nab the point guard they've long been looking for. Garland will be coming off a season-ending knee injury but has already built a reputation as a modern-day lead guard. Garland shot 48% from deep on almost 5 attempts before his injury and displayed a fierce pull-up jumper. The development of his decision-making will be of paramount importance, as he has only shown the ability to run a team in flashes up to this point.
8. Washington Wizards
Jaxson Hayes: Big- Texas
Jaxson Hayes has NBA scouts salivating with his modern-day skill set and athleticism. At nearly 7-foot, Hayes can switch and guard the perimeter better than any big in the class. This trait paired with his natural feel and rim protecting ability offers substantial upside for the freshman. The key for Hayes is going to be the evolution of his offensive repertoire, as he is primarily limited to being a rim roller at this stage.
9. New Orleans Pelicans
Keldon Johnson: Wing- Kentucky
A high-motor wing who can shoot the ball is a great piece to start your rebuild with. Johnson has a pitbull mentality on both ends that offer an extra edge to his game. Shooting nearly 43 percent from deep, Johnson is also a fairly underrated playmaker. His high motor serves him especially well on defense, where he is still learning the nuances of defending well in a team setting. Package all of that up with desirable NBA-level athleticism and Johnson could prove to be excellent value at this point of the draft.
10. Detroit Pistons
Romeo Langford: Wing- Indiana
Romeo Langford has most notably struggled to shoot the ball this season, shooting a dismal 24 percent from deep. However, Langford thrives inside the arc and has natural scoring instincts. He can pick spots on the floor well and use his size and length to force the ball in the bucket. He is also a quality defender, with the potential to grow even more versatile. In smaller lineups, Langford possesses the potential to guard 4 positions. The Pistons can bolster their wings here by adding a player who can create offense as a secondary initiator.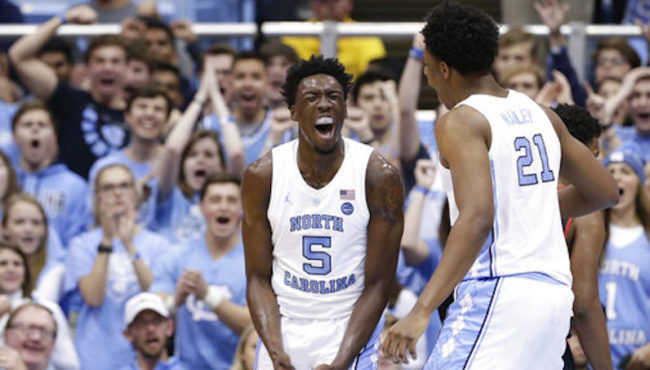 11. Atlanta Hawks (via Dallas)
Nassir Little: Wing- North Carolina
"You can never have too many wing players" -Danny Ainge, probably. With the uncertain futures of Taurean Prince and Kent Bazemore in Atlanta, the Hawks have a great opportunity to stockpile fresh wing talent. Nassir Little has displayed clear talent in scoring from all around the court and utilizing his elite athleticism to pressure defenses. The primary developments Little needs to make involve growing his IQ and feel on both ends of the floor, and learning how to defend better as both an individual and within a team.
12. Minnesota Timberwolves
Kevin Porter Jr: Wing- USC
Kevin Porter Jr is a secondary initiator who can create his own offense at a very high level. Porter could provide some much needed reliable offense to the Timberwolves as another player who can draw gravity from defenses. The freshman possesses ideal size and functional athleticism for an NBA-caliber wing. There are concerns about Porter's shot selection and overall impact to winning, but with proper development and a smaller usage role at the next level, there is a pathway to him becoming a helpful wing creator.
13. Los Angeles Lakers
Bol Bol: Big- Oregon
Bol Bol will be coming off a scary season-ending foot injury, but his combination of skill and size may be too much to pass up on. The closest thing this draft has to a unicorn, Bol Bol shot 52 percent from deep and displayed outstanding mobility at 7-foot-2. How effectively his mobility and length will transfer to the defensive end is a large question, but his overall offensive impact may quell some concerns. The Lakers will have their sites set on Anthony Davis, but may also want to groom a possible unicorn of their own.
14. Boston Celtics (via Sacramento Kings)
Tre Jones: Lead Guard- Duke
Arguably the least appreciated player in the class, Jones is a steady hand who possesses the type of moxie needed to thrive in the NBA. The Duke point guard rarely makes a mistake as he leads the ACC in assists per game, and is fearless in attacking the rim. On top of that, Jones is a suffocating defender- one of the best in the country at his position. The consistency of his jumper is a concern, but Jones' ability to run a team and play high-level defense makes him a safe pick.
15. Miami Heat
Sekou Doumboya: Combo Forward- Poitiers
Doumboya fits the mold of the modern power forward that teams are coveting. The Guinean youngster has an excellent frame with tantalizing mobility at 6-foot-9. He has the tools and ability to become a quality switchable defender at the next level so long as his feel continues to increase. He's shown flashes of being able to shoot the ball but will need to make it a consistent staple in order to be viewed as effective. Doumboya is mostly upside right now, but given the level of talent outside of the lottery, he could be a gamble that results in a big payoff.
16. Charlotte Hornets
Brandon Clarke: Big- Gonzaga
Brandon Clarke has made his mark on draft boards after starting the season as a virtual unknown. Clarke is an elite defender who can guard in space as well as stay home to protect the paint. The redshirt junior pairs extremely high IQ with functional strength and athleticism to utilize to his advantage on both ends of the court. Clarke can dominate a mismatch; either scoring on a small defender in the low post or getting by a bigger defender from the high post. His ceiling comes to question when you consider his age (will be 23 by the start of next NBA season) and the fact that his jumper is mostly nonexistent at this point. Despite that, Clarke is a high-floor prospect that can contribute immediately.
17. Brooklyn Nets
Nickeil Alexander-Walker: Wing- Virginia Tech
Alexander-Walker is a scoring wing who is expanding his ability off the dribble. The sophomore has increased his 2pt% by 10 percent and is shooting over 41 percent from deep. Alexander-Walker can operate out of pick-n-rolls, displaying good vision for a secondary initiator. His ceiling isn't terribly high, as he lacks dynamic athleticism and 'shake' with the ball, but his floor as a scorer and secondary playmaker is valuable in today's NBA.
18. Boston Celtics (via LA Clippers)
Jontay Porter: Big- Missouri
It seems fitting that the big man to work under Al Horford is a player of a similar mold. Porter, like Horford, is a center who does the little things, is fundamentally sound, and can space the floor. Porter is an outlier level passer for a big man and will be a threat as a 3-point shooter. Most of his concerns are rooted in his physical abilities, as he notably had the highest body fat percentage in the draft combine last year. Pair that with an ACL injury and there are some red flags. This brings questions about switchability on defense and how mobile he can be on offense. Nonetheless, the offensive prowess he's displayed will be enticing as a big man.
19. Utah Jazz
Coby White: Lead Guard- North Carolina
The Jazz have been seeking a dynamic backcourt mate for young star Donovan Mitchell. Coby White is as dynamic as they come. White is a downhill point guard who has a wide array of scoring moves. An elite scorer, the freshman can bend defenses and has shown he can dish out a laser pass for a bucket with some regularity. White will need to develop his feel for half-court offense as well as become a better overall defender, but the prospect of his athleticism and scoring ability offer an interesting foundation.
20. San Antonio Spurs
Jordan Poole: Wing- Michigan
Poole is a dynamic offensive player who oozes high-level potential. The long, lanky 6-foot-4 sophomore is shooting over 40 percent from deep and has begun showing more consistency in his ability to create his own offense. Poole's long frame and functional athleticism also signal a tantalizing defensive ceiling under the proper tutelage. Poole has much upside as anyone left at this stage of the draft, but it will depend on his IQ development as well as his consistency.
21. Houston Rockets
Grant Williams: Combo Forward- Tennessee
Grant Williams is an uber-productive do it all forward who is as versatile as they come. Williams has an "old man game" as he is methodical, possesses a high IQ, and is willing to do the dirty work to win. However, Williams has legitimate talent. The 6-foot-7  junior has immense strength and knows how to use it to score around the rim, as he's scored 2-pointers at a 62 percent rate this season. Very much a high floor candidate who can contribute immediately, there are some concerns regarding his ceiling. Williams lacks explosive athleticism and speed with the ball while also having a questionable jumper. With that, it remains to be seen how switchable he will be against NBA wings. Grant Williams has a long NBA career as a desirable role player in his future.
22. Portland Trail Blazers
Louis King: Wing- Oregon
The Blazers can get a promising wing prospect by way of Louis King. King, who missed the first chunk of the year with an injury, if a long, versatile, two-way wing. At 6-foot-9, King has excellent mobility and athleticism, paired with his length and shooting ability. Right now, he primarily projects as a mobile 3-and-D prospect, but he can attack straight line drives and use his length at the rim. If King can improve his feel on both ends and add some scoring moves to his arsenal, he could become a major steal at this stage of the draft.
23. Philadelphia 76ers
Ignas Brazdeikis: Combo Forward- Michigan
The 76ers will be seeking accessory pieces who can help them make their championship push sooner rather than later. Iggy Brazdeikis is a high-floor, high IQ forward who knows how to make the smart play on both ends. To add to that, Brazdeikis can shoot the ball well, offering spacing and decision-making to an offense that could use both. The immense upside may not totally be there, but Brazdeikis has a high floor with room to improve and become a valuable role player.
24. Oklahoma City Thunder
Daniel Gafford: Big- Arkansas
Daniel Gafford offers outstanding size and length at 6-foot-11 with freakish athleticism. With the resurgence of Nerlens Noel, drafting a player in his mold to replace him is a great idea for the Thunder. Gafford offers rim protection with some switchability in certain situations. On offense, he is a boisterous rim runner who can throw down lobs or catch it on the roll for a finish. A valuable role in today's NBA, Gafford cam fill that with effectiveness immediately.
25. Indiana Pacers
Ty Jerome: Lead Guard- Virginia
The steady hand that the Pacers have been seeking to pair next to Victor Oladipo comes in the form of Ty Jerome. Coincidentally, Jerome epitomizes what it means to be a steady-handed point guard. Never phased, Jerome rarely makes a turnover and is always cool from behind the arc, where he shoots over 40 percent on 5 attempts per game. The junior has a 6-foot-5 frame that allows him to defend with versatility at a high level. Jerome's ceiling isn't terribly high due to lacking a degree of athleticism, but for a playoff team, his plug-and-play ability is of high value.
26. Boston Celtics
KZ Okpala: Big- Stanford
KZ Okpala fits the mold of a modern power forward. At 6-foot-9, Okpala is lanky yet incredibly mobile- moving like a guard at times. The sophomore is a knockdown shooter and is showing flashes of being able to create some of his own offense outside of straight line drives. His defensive upside is immense, and under the right conditions, he could become impactful on that side of the ball. Okpala's skill set is far too enticing to pass up for a team who can afford to give him time.
29. Brooklyn Nets (via Nuggets)
PJ Washington: Big- Kentucky
After a disappointing freshman year, PJ Washington is coming into his own as he begins to look like a desirable power forward. Washington is now shooting over 40 percent from three and has made significant strides as a passer. Throw these progress points in with the potential to be a highly switchable defender and Washington offers big-time interest. For the Kentucky sophomore, it will be about putting everything together on a consistent basis.
27. San Antonio Spurs (via Toronto)
Admiral Schofield: Combo Forward- Tennessee
Tennessee's standout senior Admiral Schofield is the ideal high-floor type of player that teams want in the late first round. Schofield provides quality floor spacing, the ability to straight line drive strongly, and switchable defense. 6-foot-6 and ripped, Schofield has a body that even NBA players would envy. Given his age and skill set, his ceiling isn't terribly high. However, Schofield could be a valuable contributor as a role player for a long time.
28. Golden State Warriors
Bruno Fernando: Big- Maryland
The desirable big man for the Warriors looks like a guy who can cut hard to the basket to bend defenses, provide energy on the boards, and offer paint protection. Bruno Fernando fits that bill. Fernando is learning how to contribute at a higher level this season but will need to continue to improve his feel and IQ in order to truly make an impact on a consistent basis in the NBA.
30. Milwaukee Bucks
Shamorie Ponds: Lead Guard- St. Johns
With Eric Bledsoe slated to be a free agent this summer, the Bucks could look to bolster their backcourt. Ponds is a lightning bolt of a guard who can score in bunches. Ponds' scoring skill set allows him to play off the ball as a secondary initiator as well. His size works against him at only 6-foot-1, and there are questions about his ability to be an effective distributor as he runs a team. However, the potential as a bench scorer in the backcourt is worth taking the late first round pick on.