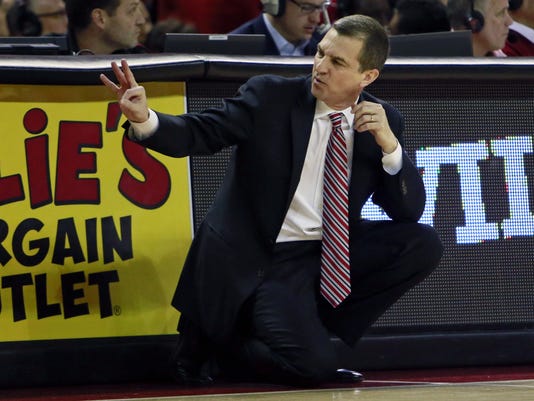 Def Pen Sports continues its 2019-20 NCAA Preview series with a focus on the Big Ten this week. The Big Ten is one of the best conferences in college basketball, but it's been 19 seasons since they've won a National Championship. This conference has a problem and they need a fix. The Big Ten will be one of the top three conferences this year.
Let's take a look at the top storylines to watch in the Big Ten.
Is there any way Mark Turgeon can cool his Hot Seat?
Mark Turgeon has seemingly been on the hot seat for nearly four or five years now. He may have his most talented team since his 2015-2016 team that failed to live up to expectations. Last year he took a team with low expectations and a lack of experience and had a successful season that ended with a two-point loss in the second round of the tournament. He brings back most of that team this year after only losing Bruno Fernando, albeit a great piece. Expectations are once again high for a team generally rated as a preseason top ten team.
Turgeon cannot afford another season where a talented fails to live up to expectations. A top-three finish in the conference is a must and a second-weekend appearance in the Big Dance is also needed. Maryland has the talent in Anthony Cowan and Jalen Smith, two players with All-Big Ten First Team potential. The supporting depth is good too, it will ultimately come down to how well Turgeon coaches this team. If he once again disappoints with a talented squad, it may be his last year in College Park.
Is Juwan Howard the answer at Michigan?
Michigan's former head coach John Beilein made a surprising jump to the NBA. The new Cavaliers head coach makes way for former Fab Five Michigan standout Juwan Howard to take the reigns. Michigan's new head coach has very little experience coaching at a high level. He was the Miami Heat assistant head coach since 2013, but that's it. Many expected Michigan to go after a more experienced name. The nostalgia of the Fab five will give Howard some time to grow, but the Wolverine faithful expect big things.
Michigan lost three major players in Jordan Poole, Charles Matthews, and Ignas Brazdeikis. This is going to hurt the team on the court. The Wolverines did return Zavier Simpson, Jon Teske, and Isaiah Livers, which will help their new coach. This team is good enough to make the NCAA Tournament and fans will expect an appearance. Howard is making some noise in the recruiting realm, but now he needs wins.
Reasonable expectations for Fred Hoiberg at Nebraska
In due time Fred Hoiberg will almost certainly get Nebraska going into a solid Big Ten program. Tim Miles got the Huskers to respectability and Hoiberg is someone who can take them to that next level. This year might be slightly tough though, as the school only returns one player on the team from last season that played any minutes. Fred Hoiberg has already brought Transfer U to Nebraska, something he was famous for in his time at Iowa State.
Expectations are low this year with a back half of the conference finish expected by most. If he can get his new pieces to gel quickly though this could be a team that surprises many in the Big Ten. There is no doubt that the talent is there with many of the transfers that were brought in expected to make big contributions right away. It all comes down to how well and how quickly Hoiberg gets these guys to feel fluid in his space and pace offense.
Can Chris Collins right the ship at Northwestern?
The Northwestern Wildcats had a historic season in 2017 when they made the NCAA Tournament. Those days seem long and far away from what the Wildcats have done since making the big dance. The team has been on a two-year downslide in Big Ten play finishing 6-12 in 2018 and 4-16 in 2019. If you take away the 2017 season it starts looking ugly for Chris Collins. His second-best finish in the Big Ten is 9th and a Big Ten record of 8-10. That year was 2016 and was the only other year the team had a winning record overall in Collins' tenure.
Chris Collins' 2017 record is the only thing keeping his coaching record a winning one. He is 101-96 with the Wildcats since joining the program in 2013. The 2016 and 2017 seasons felt like a building block, but now they look like an outlier. Northwestern's 2019-20 NCAA Preview leaves a lot to be desired and the program could decide to look at Collins as the problem. He needs a good year in the Big Ten or Collins could be out of a job this offseason. Odds are that the team finishes near or at the bottom again this year.
Can Michigan State end the Big Ten's championship drought?
#MSUMediaDay Year 25 for Coach Izzo ?#GoGreen pic.twitter.com/QFSRK4NKUV

— Michigan State Basketball (@MSU_Basketball) October 15, 2019
The Big Ten has not cut the nets down for the NCAA Championship since the year 2000. That team was Michigan State led by none other than head coach Tom Izzo. The Spartans, Wolverines, and Badgers have all lost Championship games recently, so they've literally been close enough to taste victory. Great Big Ten rosters have tried and failed to end the 19 season drought, so can the Spartans finally capture Tom Izzo's second title.
The Def Pen 2019-20 NCAA Preview heavily features Michigan State for a reason. The Preseason favorite rarely wins the NCAA Championship and the nature of the Tournament makes it hard to predict what will happen. Michigan State is extremely talented and has good depth, but a lot has to go right to win a championship. Cassius Winston could prove to be the difference-maker for the Spartans, but don't be surprised if the drought is extended to 20 seasons.