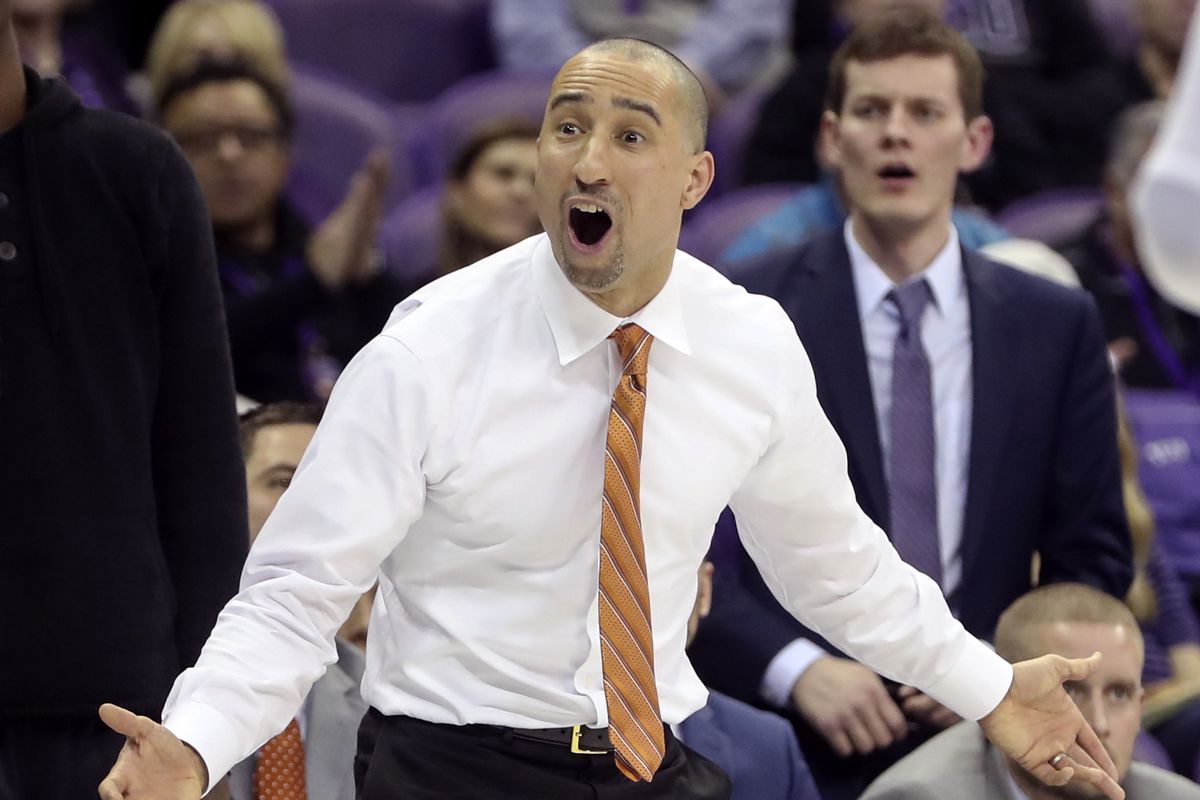 Def Pen Sports continues its 2019-20 NCAA Preview series with a focus on the Big 12 this week. Last year marked the second straight year and third, in four years a Big 12 school has made the Final Four. The conference is expected to take a slight step back this year with some top-end talent leaving the conference but it is still as deep as ever top to bottom.
Let's take a look at the top storylines to watch in the Big 12.
Can Shaka Smart cool his continuously warming seat?
The Texas head coach has debatably been in the hot seat for two years now and missing out on the NCAA Tournament last season isn't gonna help his standing with the school. Texas overhauled its athletic department and hired the VCU standout to turn the program around. The success of that plan has been mixed, to say the least. Recruits like Jarrett Allen and Mo Bamba are a great start, but the University wants wins and tournament appearances. It is hard to say how safe Smart's job is at the moment.
Texas has a good looking roster this year and has to be able to compete in the Big 12 this year. Shaka Smart has to lead the team to an appearance in the NCAA Tournament. Making the NIT this year is not going to cut it and could absolutely see the Texas head coach wind up on the infamous yearly coaching carousel. Texas can't reasonably expect a Big 12 title or a deep run in the NCAA Tournament, but they can and should expect an appearance. Smart could buy some leeway if he manages to make it to the second weekend of the NCAA Tournament. This year could very well make or break his coaching tenure at Texas.
Can Kansas Start a new conference title streak?
For the first time in 14 years, Kansas did not own at least a share of the Big 12 conference title. Kansas State and Texas Tech both held a share of the title at the end of the last year's regular season. A mix of injuries, suspensions, and youthful inexperience were the Jayhawks downfall last season. It's widely expected that Kansas will finish back on top after a brief break from the top spot. The Jayhawks brought back a ton and were boosted by the reduced suspension of Silvio De Sousa.
The cloud of allegations hung over the team last season and some players recently admitted it affected them last year. With the recent allegations that have been levied, the players insist it won't be an issue this year. Bill Self seems as motivated as ever and with another talented squad in hand, it would be a shock to not see the Jayhawks once again win the Big 12.
What will Chris Beard do next?
The Texas Tech head coach is in the exact opposite situation as Shaka Smart is in with the Longhorns. Beard's job is likely safe at Texas Tech until he decides to retire should he so choose. The Red Raiders fell just short of a National Championship last year and Beard is largely to thank for the program's progress. That level of success means better recruits and more talented rosters. Chris Beard could be well on his way to turning Texas Tech into a Big 12 powerhouse. Expectations were lower for the team last year, but that won't be a luxury this time around. People know the Red Raiders are for real and people know that Beard is the real deal.
Coaches like Beard normally get snatched up by bigger and more powerful programs, but this coach may be different. The bigger blue blood jobs may not have openings for a while, but eventually, they will and it could be hard for the coach to overlook them. This possibility could hang over the program every single offseason. The Texas Tech coach has spurred advances thus far, but continued success likely means bigger and better offers each year. The future is unclear for Beard at this time. He could turn Texas Tech into a modern-day "blue blood" or jump ship later down the road for almost any program he would want for a price he could literally almost name.
How many teams will the Big 12 make the NCAA Tournament
Last year six of the ten teams made the tournament with a couple other just on the outside looking in. The conference took a slight step back talent-wise compared to last. It's fair to think that six teams are pretty comfortably recognized as tournament teams. The consensus top three in Kansas, Texas Tech and Baylor are all in. The next crop of three in Texas, Iowa State, and West Virginia are all near locks as well. TCU is likely to miss the tournament after losing their point guards and really only returning Desmond Bane as a major player.
It'll come down to teams like Kansas State, Oklahoma, and Oklahoma State and where they fall. Kansas State lost a ton off of a senior-laden squad last year. Oklahoma is extremely young but has a decent shot to slip in as a low seed. They are a team that will be much better next year with only one senior on this year's team. Oklahoma State is not quite there although Mike Boynton continues to do a good job in collecting big upsets. This year's ceiling seems to rest between six and eight and will probably fall much closer to six.
How will the Notice of Allegations Effect Kansas?
As mentioned above, the cloud of allegations hanging over the school's head last year affected some of the team's younger players. The team has expressed they won't let it affect them much this year and their coach is about as locked in as he's been in years. This team is much more experienced and won't have to deal with hearing the school's name in court proceedings like last season.
The coaching staff likely will be able to help the players navigate this as the basketball team has dealt with off-court distractions numerous times over the past decade. Add in the fact that many of the same players were part of the team that "broke the streak" and you may see a very determined Kansas squad this year.