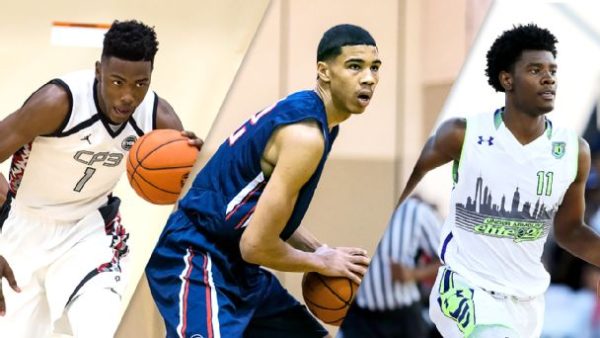 With the 2016-17 college basketball season under way, we have gotten a good look at this freshman class that has been so hyped for over a year now. Many scouts were looking at the 2017 draft board before Adam Silver even announced Ben Simmons as the top pick in the 2016 draft. Now with most of the top prospects around 10 games into the season the freshman class has not disappointed. While the freshman class has held most of the attention, some returners have made some noise too and are looking to be this years versions Buddy Hield or fellow standout senior Denzel Valentine. The 2017 NBA draft is just loaded as everyone expected.
(It's important to note, for now, the 2017 NBA Mock Draft is just the top 30 prospects void of team needs. It's still relatively early in the NBA season to project standings in the power 'tankings' for that top overall pick.)
2017 NBA Mock Draft: Top 30 Prospects
1) SF Josh Jackson (Kansas)
An extremely competitive athlete with the game of Paul George. Jackson can do a little bit of everything whether it be scoring, rebounding, passing and maybe the best part of his game, defending.
2) PG/SG Markelle Fultz (Washington)
Another explosive freshman made in the mold of a Russell Westbrook, someone he even models his game after. Fultz is having a big year at Washington where he is putting up the stats people expected while showing off his ability to score and facilitate.
3) SF Jayson Tatum (Duke)
Another freshman from Duke was a consensus top 3 high school prospect. Tatum is a smooth SF who reminds most people of Paul Pierce or Carmelo. Tatum is reminding people a lot of Jabari Parker in his one year at Duke.
4) PG Dennis Smith (North Carolina State)
Another explosive point guard who has drawn comparisons to Derrick Rose pre-knee injuries. Smith is coming off an ACL tear his senior in high school but has proved he's back to his old self which is easily top 5 worthy.
5) PF Harry Giles (Duke)
Another Blue Devil in the top five, Giles has had two ACL tears in the past 3 years, and recently had his meniscus cleaned up. He has missed all of Duke's game so far but Coach K expects him back around Christmas time. If he proves healthy Giles could ultimately compete for the top spot in this draft, he's that good.
6) PG Lonzo Ball (UCLA)
A long 6'5 PG, Ball may be the best passer in college basketball this year. He has special vision and is surprising people with his ability to hit the long ball albeit with a unique form.
7) C Thomas Bryant (Indiana)
Bryant could have been a first rounder in 2016 but made the smart decision to return. He has shown the ability to step out to the 3pt line but will make his money down on the block. He's showing another year in school really helped him possibly be a top 10 pick in 2017.
8) SF/PF Jonathan Isaac (Florida State)
Isaac almost went the Thon Maker route and entered the 2016 draft straight out of prep school. He ultimately decided to head to school. At Florida State he has added some weight to his 205 lb. frame but at 6'11 and with the ability to shoot from the perimeter and handle the ball his weight wont stop him from being a top 10 pick.
9) PF Ivan Rabb (Cal)
Rabb is another guy who came back that could have been not only a 1st rounder but possible lottery or one of the top 10 picks last year. Rabb is a double double machine who has benefited from the departure of guys like Jaylen Brown and others taking most of the touches at Cal last year. If he is indeed the next LaMarcus Aldridge, as a scout once said, Rabb could be a steal at the ninth pick.
10) PG Frank Ntilikina (France)
Our first international prospect is Ntilikina. A 6'5 PG with a high basketball IQ and ability to play at different speeds. His feel for the game is what really has scouts excited.
11) PG De'Aaron Fox (Kentucky)
A lightning quick PG that is a menace on the defensive end. Fox excels in the open court where he can get out and run and show off that incredible speed. His jumper needs work as does his ability to score in the half court.
12) PF Lauri Markkanen (Arizona)
A stretch 4 who can face-up, step out and still put the ball on the floor. He should be a good addition to Arizona who will have a lot of talent. It will be interesting to see how much time he gets and if he gets to show his game enough to come out after one season.
13) SF Ogugua Anunoby (Indiana)
An athletic wing that reminds people of Victor Oladipo but taller and longer. Most of the comparisons come from the fact he plays at Indiana but they are similar in the athletic, hustle type of players they were and are in there early college years. Anunoby has added the ability to hit the trey ball this year which has really helped his stock making him a potential lottery pick.
14) PG/SG Malik Monk (Kentucky)
Monk is a high flier. He may be the most explosive in the class and has formed an ultra athletic backcourt with Fox at Kentucky. Monk's surprising three point ability has impressed scouts but there are worries what position he'll play at only 6'3 with no point guard skills.
15) C Jarrett Allen (Texas)
A center mostly known for his defense, Allen is an athletic big that stays inside rebounding and blocking shots. He has a limited offensive game but can hit the occasional baby hook.
16) PF/C Edrice "Bam" Adebayo (Kentucky)
Yet another Wildcat in the top 20, Bam is a rebounding beast. He's a physical specimen when it comes to rebounding and dunking. He is similar to what people thought Cheick Diallo would be at Kansas with the motor and rim running but with an added 20 pounds of what seems to be all muscle. Bam is built similar to Dwight Howard and their offensive games are very similar at the same age.
17) SG Terrance Ferguson (Australia)
A high flying prospect who committed to Arizona but ultimately decided to go overseas for a year when academic problems arose. Ferguson is slight of build but can stroke it from deep and get up. When he fills out he could be similar to a J.R Smith type in the league.
18) PF Isaiah Hartenstein (Germany)
The second international guy on the list. Hartenstein is a 6'11 mobile big man with the ability to play inside and out.
19) C Omer Yurtseven (North Carolina State)
A seven footer who last minute decided to attend college in the U.S. He has dominated in international competitions posting 30 point 20 rebound games. His motor isn't always high which is a reason for him not being higher but if he ever commits to always playing he could be a great one.
20) SF/PF Miles Bridges (Michigan State)
A wing with a strong frame at 6'8 230lbs. Bridges built similarly to a Draymond Green type and actually plays a little like him with his ability to drive, rebound and occasionally knock down the 3 ball. He also happens to be going to Draymond's alma mater.
21) C Jonathan Jeanne (France)
Jeanne is a 7'2 rim protector who can step out to hit a mid range jumper. Jeanne also has a soft touch around the rim so the potential is definitely there with him.
22) PF Caleb Swanigan (Purdue)
Swanigan has moved up most boards since the season began. He has benefited from the departure of A.J Hammonds. Swanigan can play down low and is a big body that fancied playing out on the perimeter. He has become a better rebounder and realized he can dominate down low with his frame.
23) C Marques Bolden (Duke)
A true center Bolden is a throwback big man. Is similar to a Jahlil Okafor who also played at Duke but less polished. Bolden is a better shot blocker than Okafor but hasn't gotten the same usage in his time there as Bolden is behind Amile Jefferson and will be behind Giles once he returns.
24) SG/SF Sviatoslav Mykhailiuk (Kansas)
A 6'8 wing who has been on scouts radars since he came to Kansas from the Ukraine at 16. Now a junior he has seemed to break out as the sweet shooting wing everyone expected with the ability to make plays from the 3 spot. "Svi" is still only be 19 this year and younger than some freshman in this draft.
25) SF Dwayne Bacon (Florida State)
Another athletic wing who has the ability to really fill it up when it comes to scoring. Bacon can score at all three levels and could have been a first rounder if he came out in 2016.
26) SF Justin Jackson (North Carolina)
Jackson declared this past year and went through the process but ultimately decided to return. Jackson has improved his outside shot which is what scouts at the combine told him. Jackson has looked much improved this year which should help him sneak into the back end of the first round.
27) PG Monte Morris (Iowa State)
Would be a great backup point guard option late in the first round here. Morris had the best assist to turnover ratio his first two years in school and fell to third this past year. He owns the record for college basketball players. He knows how to take care of the ball and how to find guys. Morris would be a great backup PG in the league because of his ability to run an offense and get guys in the right spots while continually keeping his turnovers low.
28) SG/SF Jaron Blossomgame (Clemson)
A guy who also entered the draft and ended up backing out. He averaged 20 point a game last year and is an extremely athletic wing who can really defend. Blossomgame would be good value here in the back end of the first round.
29) PF Tyler Lydon (Syracuse)
Lydon is similar to Thomas Bryant in a guy who could have come out as a first rounder but was better off for returning. Lydon is a guy who while slight isn't afraid to mix it up down low. But his real value is his ability to step out to the 3 pt line. Lydon shot 40% from 3 as a freshman but has had a disappointing start to his sophomore year where he hasn't made the strides many thought he might.
30) PF T.J Leaf (UCLA)
Originally thought to be a multi year guy, Leaf has really impressed people with his all around game. He can play inside and out and is similar to Lydon in their games. Leaf has a better all-around skillset especially as a passer but Lydon still tops him on our board.