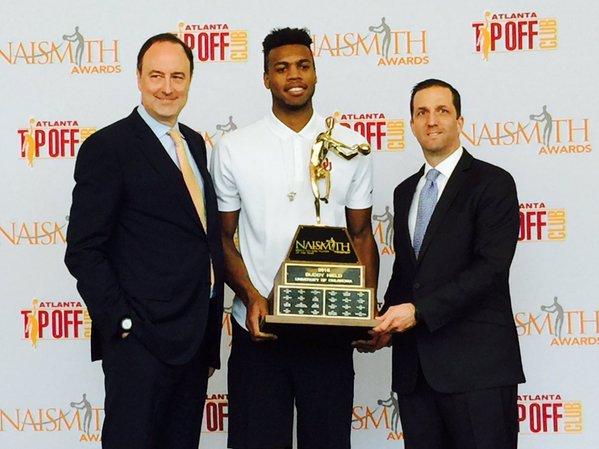 The Oklahoma Sooners season might have ended prematurely but the celebration of their season in Houston didn't end on Saturday night. One day after they were decimated at the hands of the Villanova Wildcats, Buddy Hield, the star of the Sooners, has been awarded the 2016 Naismith Player of the Year award. It comes one day after Michigan State star Denzel Valentine was awarded the AP Player of the year award. It's the first time since 2003 that the AP player of the year and Naismith player of the year has been awarded to two different players and back in '03 it was T.J. Ford that took home the Naismith Trophy and David West who took home the AP award.
Following from an official Naismith Trophy press release.
After spearheading the Sooners' postseason run to the Final Four, University of Oklahoma's Buddy Hield has been named the 2016 James A. Naismith Trophy winner as the most outstanding men's college basketball player, the Atlanta Tipoff Club announced today.

Hield, who becomes the second Sooner to claim the award (Blake Griffin, 2009), was honored at the Naismith Awards Brunch delivered by UPS earlier today at The Hobby Center for Performing Arts in downtown Houston. The other Naismith Trophy finalists were Malcolm Brogdon (University of Virginia), Tyler Ulis (University of Kentucky) and Denzel Valentine (Michigan State University).

The two-time Big 12 Player of the Year, and two-time All Big 12 first team member, was first among Power 5 players in scoring (25.4 ppg). He is the only player in the country to average 25.4 ppg and 5.7 rpg. Hield notched 12 30-point games and 20 25-point games this season. Hield was named an Academic All-Big 12 performer for the second consecutive season.