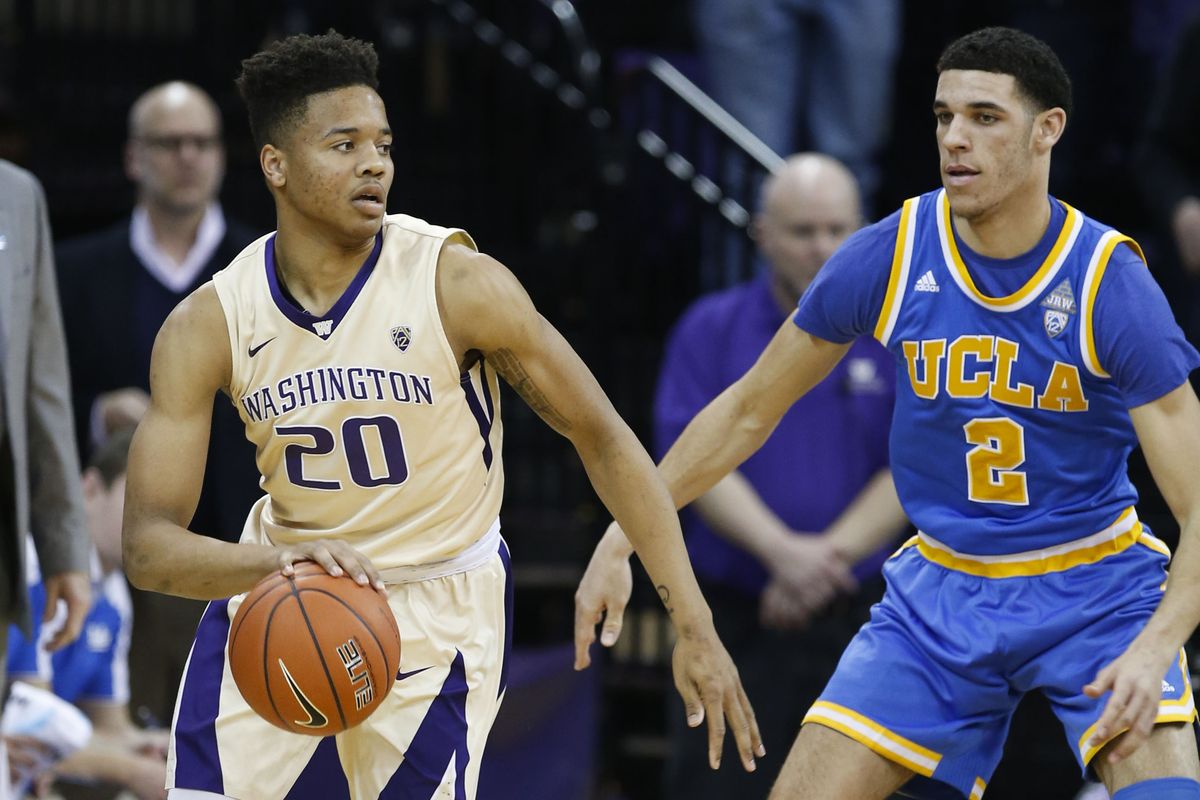 We have our first Post-Lottery 2017 NBA Mock Draft. It's our first mock draft since the combine took place last week. It is also our first mock of the year in which the official draft order will be set following the
With the draft lottery taking place last night we can officially begin to pick where guys fit best. Since the combine, no big names have dropped out of the draft but High School sensation Hamidou Diallo still has a big decision to make and NC State point guard Dennis Smith Jr still hasn't signed with an agent. Louisville guard Donovan Mitchell is a guy who has signed to stay in the draft. In the next couple of weeks, we will get clarity on some of the undecided guys with the May 24th return date quickly approaching.
2017 NBA Mock Draft: First Round
1) Boston Celtics (via Brooklyn)- PG Markelle Fultz (Washington)
It is official, Boston has won the right to pick first in this draft. With that, they shouldn't think about anyone but Fultz. Unless they trade this pick for a king's ransom they need to draft him as he is the best player in this draft. Isaiah Thomas and Fultz could coexist in the backcourt although both are ball dominant guards.
2) Los Angeles Lakers- PG Lonzo Ball (UCLA)
Magic Johnson was right, the Lakers kept their top three pick and slid up to number two. With that, they get their man in Lonzo Ball who can move D'Angelo Russell to the '2' spot where he excelled late in the year. Ball and Russell actually compliment each other well and could form a renaissance pushing the ball in Luke Walton's uptempo system.
3) Philadelphia 76ers- SF Jayson Tatum (Duke)
Josh Jackson is the better prospect but Tatum is the better fit. Jackson's best skills and biggest weaknesses are too similar to Ben Simmons. Tatum can slide into the vacant three spot and take most of the shots on a team in need of a wing scorer.
4) Phoenix Suns- SF Josh Jackson (Kansas)
Although they drop out of the top three, the Suns still get their man in Josh Jackson. His defensive upside is needed on a terrible defensive team and his passing ability will benefit Devin Booker.
5) Sacramento Kings- PG De'Aaron Fox (Kentucky)
None of the Kings options at point guard truly inspire a ton of confidence. Not only is this a "best player available" pick but also a pick of need. The Kings could use a playmaker in the backcourt and they take Fox in hopes he improves their defense and uses his speed to become similar to John Wall.
6) Orlando Magic- PG Frank Ntilikina (France)
A bit of a surprise here, but I like the french point guard here. A couple of teams are interested in the best international prospect in the 2017 NBA Draft, and with proper reason. With Elfrid Payton already in tow the Magic can grab a 6'5 combo who can play both the '1' and '2'. Ntilikina can play alongside Payton and has the shooting capability to do so or slide to the one and run the offense. His defensive ability is another thing teams will love and he slides his feet very well given his great length.
7) Minnesota Timberwolves- SF/PF Jonathan Isaac (Florida State)
Isaac gets to go to the perfect team for him. Isaac can slide between Karl-Anthony Towns and Andrew Wiggins. A positive for Isaac in college was his ability to fit within the system and play a role, which is what he'd be asked to do in Minnesota. He doesn't have to be a great scorer and he can worry about filling the stat sheet similar to a Draymond Green.
8) New York Knicks- SG Malik Monk (Kentucky)
Monk goes to the Knicks after they think about Dennis Smith but don't like his fit in the triangle. In Monk, they get a shooter to play off of Carmelo if they keep him and Porzingis. If they continue to run the triangle adding a shooter in the two spot like Monk could help with the team's spacing.
9) Dallas Mavericks- PG Dennis Smith Jr (North Carolina State)
The Mavericks finally get their star point guard in Smith. Smith is an athletic playmaker who can also score at will and will help Dallas immediately. This fit could not be much better and Smith and Dirk in the pick and pop should be fun to watch for Dirk's last years.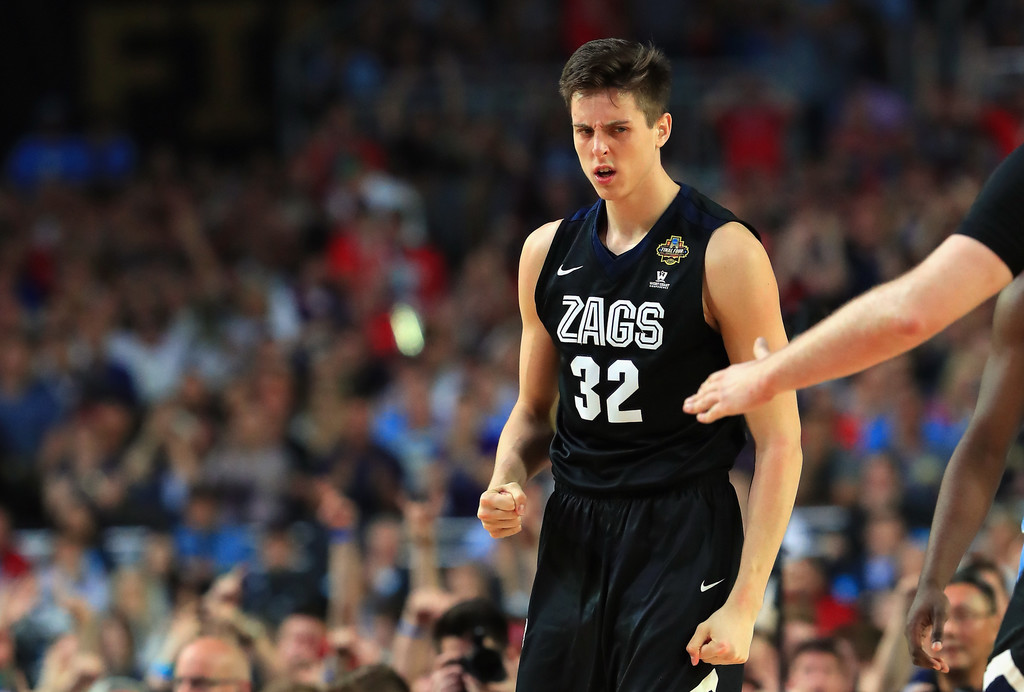 10) Sacramento Kings (via New Orleans)- C Zach Collins (Gonzaga)
I really like this for the Kings, Collins and Cauley-Stein can form a twin towers look, plus Skal Labissiere still developing as a third big could be a scary young trio. Collins has the ability to step out which will compliment Cauley-Stein's inability to score besides putbacks and rim runs. Collins and Cauley-Stein could form a very nice front court for the Kings, in time.
11) Charlotte Hornets- C Jarrett Allen (Texas)
Allen could be a guy who ultimately replaces Cody Zeller in the next year or two. Allen isn't ready right now but in time with his potential, he should have no problem eventually overtaking Zeller for the center spot.
12) Detroit Pistons- PF Lauri Markkanen (Arizona)
Markkanen takes a dive in this mock after Collins and few other jump him inside the top ten. The Hornets consider him but recently drafting a similar player in Frank Kaminsky decide not to. The Pistons happily take him to slide next to potentially pair as another shooting option to compliment Andre Drummond. They hope Drummond's rebounding and defensive ability shield Markkanen there.
13) Denver Nuggets- SF Justin Jackson (North Carolina)
The Nuggets would be wise to bring in a guy like Jackson to slide into the three spot.  Whether it's starting immediately or as a backup in that position early in his career. A lot of the Nuggets' decision at this spot depend on what they do with Wilson Chandler and/or Danilo Gallinari. Jackson's shooting and scoring ability as a role player would fit well on this Nuggets team on the wing.
14) Miami Heat- PF John Collins (Wake Forest)
Collins could be a nice fit here right alongside Hassan Whiteside. Given the impending departure of Chris Bosh, the Heat need a stretchy four option. Collins averaged 20 and nine in the ACC and showed off a respectable mid-range jumper. That jumper could be his way to play alongside Whiteside as Whiteside isn't a guy who stretches the floor for the Heat.
15) Portland Trail Blazers- PG Donovan Mitchell (Louisville)
Mitchell began to fly up draft boards mid-season after the Cardinals' starting point guard went down and he took over the duties. In that time, Mitchell showed not only could he run a team but still produce scoring wise while at it. His shooting was much better this season and he kept that elite athleticism that made him well known as a freshman.
16) Chicago Bulls- SG Terrance Ferguson (Australia)
The Bulls could use an infuse of youth at the two spot behind Wade, who could also test the free agency market this summer. The Bulls missed on a lot of draft picks lately especially going with the experienced player pick. Here they try youth and hope Ferguson turns into an athletic 3&D guy in the near future.
17) Milwaukee Bucks- SG/SF OG Anunoby (Indiana)
The Bucks love long, athletic, defensive-minded players and Anunoby fits that description better than anybody. The ability to add a potentially elite defender at 6'8″ with a huge wingspan is something the Bucks won't pass up. Imagine the Greek Freak, Anunoby, and Thon Maker making up a future front court with Jabari Parker and Malcolm Brogdon on the wings. That is length no team will want a part of.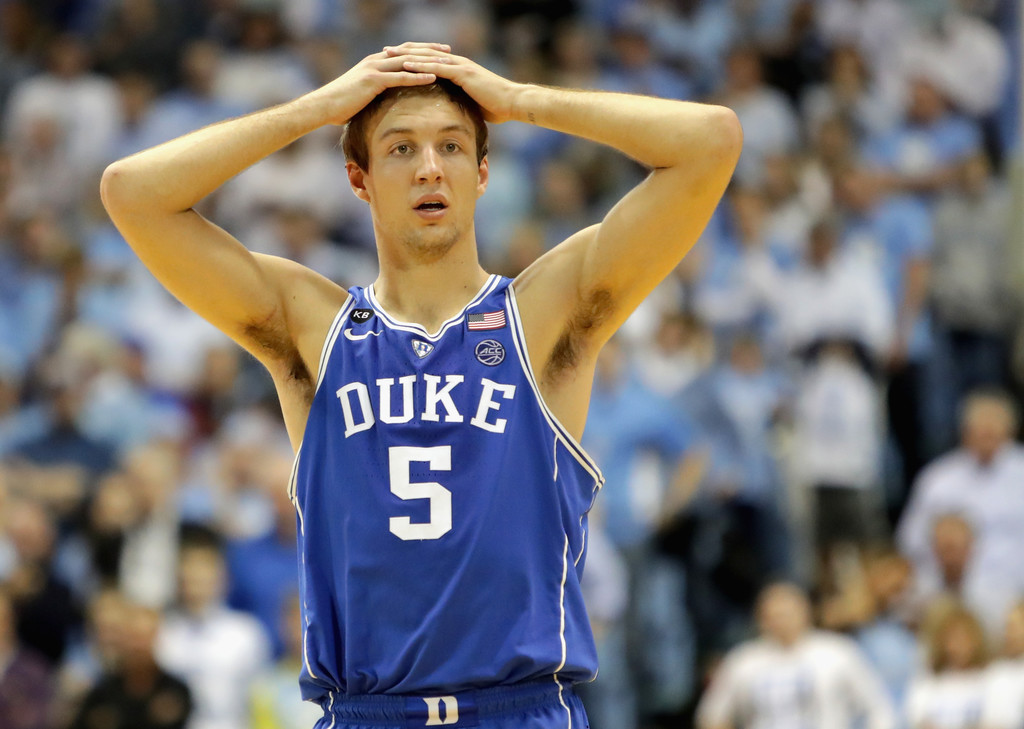 18) Indiana Pacers- SG Luke Kennard (Duke)
Kennard's ability to shoot has him just outside of the lottery and his shot making could be nice on a Pacers team who can struggle to shoot from the outside at times. Kennard has the chance to carve out a nice career for himself with his ability to knock down shots.
19) Atlanta Hawks- C Justin Patton (Creighton)
With Dwight Howard owning two more years on his deal, it's time the Hawks go for the center of the future with no one else in mind. Patton is a guy not on the radar entering the year as a freshman and exploded onto the scene. He will need some time to develop, get stronger but when Howard's deal is up Patton could slide in.
20) Portland Trail Blazers (via Memphis)- PF T.J Leaf (UCLA)
Leaf has shown the ability to stretch the defense at 6'10" while shooting 45% from three. This is a "best player available" pick as Leaf is a similar player to Meyers Leonard. With the Blazers owning three first round picks the latter two become BPA picks.
21) Oklahoma City Thunder- PF Tyler Lydon (Syracuse)
The Thunder need shooting and with Nick Collison at the end of his career, there might be a spot in the frontline. The Thunder could use a backup at the power forward position outside of Sabonis who could start next year. Lydon fixes both issues as someone who can stretch the floor and play the four position.
22) Brooklyn Nets (via Washington)- PF Harry Giles (Duke)
The Nets probably won't be good for awhile, so why not take a chance on a guy like Giles? At this position in the draft, Giles becomes a low risk/high reward guy. The reward could be great considering Giles was a consensus top three pick before his knee injuries.  With the Nets giving Boston their top three pick, the Nets need to take a chance like this. They need to hope it nets them a star if Giles returns to his old form before his injury.
23) Toronto Raptors (via Los Angeles Clippers) SF Semi Ojeleye (SMU)
Ojeleye could be a nice depth piece on a Raptors team with not much wing depth. They are loaded at the one and down low but lack defensive depth on the wing. Ojeleye shot well from three in a small ball four role and could be a nice player for the Raptors at this spot.
24) Utah Jazz- SF Rodions Kurucs (Spain)
Kurucs most likely is a guy to be stashed especially with the Jazz somewhat set on the wing at the moment. That could change with Gordon Hayward and Joe Ingles both on the verge of free agency. As a result, without any top center options to help Jeff Withey backup Gobert, they look for a small forward.
25) Orlando Magic (via Toronto)- PF Ivan Rabb (Cal)
Rabb risked coming back for his sophomore year after being a projected lotto pick last year. It did not turn out great as his stock dropped after he showed little improvement in his game. His numbers improved because of more touches but not as drastically as many assumed they should or would.
26) Portland Trail Blazers (via Cleveland)- PF Bam Adebayo (Kentucky)
Many thought Bam would be a lottery pick entering the year but inconsistencies in his game hurt that. As a result Bam is no longer thought of as a potential starter. He will need to commit to being a great energy big and sliding in as a backup behind Jusuf Nurkic could be interesting. He has shown an ability to hit a 15-foot jumper and will need to further make that consistently.
27) Brooklyn Nets (via Boston)- PG Jawun Evans (Oklahoma State)
Evans is seemingly a Chris Paul clone, same size, and similar game. He was the best pick and roll player in the entire country this past season and consistently carved defenses up. He won't reach Chris Paul all-star status but similar to Tyler Ulis last year will be in the league as a nice backup point guard for a long time.
28) Los Angeles Lakers (via Houston)- C Tony Bradley (North Carolina)
Bradley was a surprise entry into the draft. He has not hired an agent and will decide on that after receiving feedback from the combine, but the clock is ticking. Bradley was a great offensive rebounder in his limited minutes on Carolina's championship team. His potential is tantalizing at 6'10" with a 7'4″ wingspan. With a good combine showing he will move higher in the first round with possible lottery consideration.
29) San Antonio Spurs- SG Josh Hart (Villanova)
Not many feel Josh Hart will be a first rounder, let alone even possibly a draft pick. This is my sleeper as the Spurs never go conventional here. This is the perfect San Antonio pick, an experienced guard, sound fundamentally and a total team player. Hart comes from a great culture at Villanova which is some ways similar to the way the Spurs play. Most joke the Spurs love international players but in this draft, Hart is their picture perfect player as a possible Manu Ginobili replacement when the Argentinian hangs it up.
30) Utah Jazz (via Golden State)- PF/C Isaiah Hartenstein (Germany)
A stretch foot seven footer gets picked and can play both the four and five spot. He is relatively young so he may stay over in Germany for a year or two. Hartenstein has a chance to play with Gobert or back him up at the five in time.