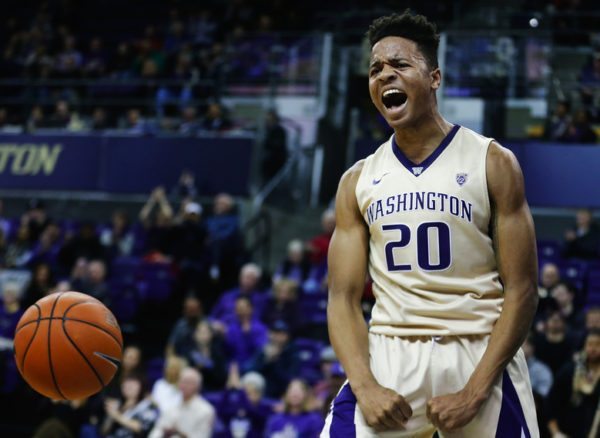 Nearing the end of conference season, the country's best prospects are starting to taking shape. With the usual top three beginning to distinguish themselves, we've also seen some newcomers enter our mock draft from almost out of nowhere. This freshman class continues to impress and that doesn't just go for the McDonald's All American's. Some of those "diamond in the rough" prospects are the reason this draft class is so highly regarded. There is talent to be found everywhere in this 2017 NBA Mock Draft.
(It's important to note, for now, the 2017 NBA Mock Draft is just the top 30 prospects devoid of team needs. It's still relatively early in the NBA season to project standings in the power 'tankings' for that top overall pick.)
2017 NBA Mock Draft: Top 30 Prospects
1) PG Markelle Fultz (Washington)
The consensus top prospect has done nothing to lose that spot. Even with Josh Jackson shooting the three ball well, Fultz is still in a tier of his own at the top because of his strong playmaking and scoring skills. Fultz's smooth game and excellent athleticism should transition well to whoever gets the top pick.
2) SF Josh Jackson (Kansas)
Josh Jackson had a moment in January where he couldn't hit a three at all and teams were beginning to sag off. With each missed three he slowly started dropping down draft boards. However,he recently went on a run where he made 16-25 threes, raising his season average to 35%. With that, he has climbed back into the top three with some buzz about whether or not can take away that number one spot from Fultz. For now, he'll settle for second on the big board but Jackson's development 6'8" is a nice sight for scouts.
3) PG Lonzo Ball (UCLA)
Coming into the year, people wondered if Ball's shooting would knock him down the boards. However, here we are half way through February and Ball is shooting 43%. That shooting hasn't taken away from him displaying his crazy court vision either. You know, the court vision that had people comparing him to Jason Kidd before he ever played a college game. Ball is certainly a top three player in this class and has created enough hype to have people asking who the true number 1 point guard in this class is.
4) PG Dennis Smith (North Carolina State)
Smith has had a great year that not many people have heard about because his team isn't performing well. That isn't his fault, and neither is the recent firing of his coach. Smith has shown he is completely over the ACL tear he suffered in high school and has firmly put himself in the top 5 of this loaded class.
5) SF/PF Jonathan Isaac (Florida State)
Isaac is a tantalizing prospect standing at 6'10". He displays a skill set similar to Kevin Durant and in that regard, he needs to bulk up as well. So far, he has blended in nicely with the Florida State offense averaging 22 points per 40 despite not hunting shots.
6) SF Jayson Tatum (Duke)
Tatum came into the year as a guy people thought would be a top 3 pick. While he has dropped out of the top five because of his ball stopping and inefficient offensive game, lately, he's blended into Duke's offense very well. Even so, people question how he will fit into an NBA offense when he isn't the go-to guy right away. This is what's keeping him out of the top 5.
7) PF Lauri Markkanen (Arizona)
The Arizona Finn has been a steady riser since the start of conference play because of his smooth stroke from outside. While he isn't a great rebounder at this size, some teams will overlook that because at 7 feet tall, Markkanen might be the best shooter in this draft class.
8) PG De'Aaron Fox (Kentucky)
Questions about his ability to hit outside shots remain but Fox's speed should have no problem translating to the next level. He is in the second tier of point guard prospects below Smith, Fultz, and Ball but Fox will most likely be a top 10 pick.
9) PF Ivan Rabb (Cal)
Rabb is falling on some boards but he remains just inside the top ten of Def Pen's draft board. He is a guy that could potentially have a smooth transition to the league with his ability to rebound and occasionally go to work down on the block.
10) PG Frank Ntilikina (France)
Our first international prospect is Ntilikina.He's a 6'5" PG with a high basketball IQ and ability to play at different speeds. His feel for the game is what really has scouts excited.
11) SG Malik Monk (Kentucky)
I'm not quite as sold on Monk as others are. At 6'3", it will be tough for him to be the scorer he is now in the NBA. His best comparison is J.R Smith but Smith is 6'5". That height could mean a lot. While Monk may be a better shooter, I think Smith is probably Monk's ceiling.
12) C Justin Patton (Creighton)
Patton came from nowhere to a now potential lottery pick. His finishing ability off the pick and roll combined with his shot blocking is appealing to many GM's. Patton stands at 6'11" and only weighs 215 pounds. However, the strength should come with age and not playing immediately may benefit him.
13) PF/C Robert Williams (Texas A&M)
Williams is another freshman potential lottery pick who has come from nowhere. Similar to Patton, Williams has shown an elite ability to block shots despite being only 6'9". Williams, with his incredible 7'4" wingspan, will get lots of looks around this range as a high upside big man.
14) SF/PF Miles Bridges (Michigan State)
He doesn't have the length of a Draymond Green but could maybe turn himself into a similar player. Standing at about the same size with better athleticism, Bridges is a good bet at the end of the lottery in hopes that his skill catches up to his elite athleticism.
15) PF Isaiah Hartenstein (Germany)
The second international guy on the list. Hartenstein is a 6'11" mobile big man with the ability to play both inside and out. He may need some time to adjust to the U.S game, but he could end up being a nice pickup for a fringe playoff team.
16) PF John Collins (Wake Forest)
A breakout star in college basketball under Danny Manning's tutelage, Collins has become one of the best big men in college basketball. Collins is a good rebounder and an excellent offensive player. Not only can he score from around the block, he also has the ability to step out and knock down a jumper from the elbow as well.
17) SG Terrance Ferguson (Australia)
Terrance is a high flying prospect who committed to Arizona but ultimately decided to go overseas for a year when academic problems arose. Ferguson is slight of build but can stroke it from deep. When he fills out, he could be similar to a J.R Smith type in the league.
18) PF Harry Giles (Duke)
Giles has dropped severely and is now out of the lottery. He isn't fully back from all the knee surgeries he's had and while Duke has recently hit a hot streak, they weren't helping his draft stock for a while. Some people are even thinking he should return for another year. If he decides to declare for the draft, some team will gamble on him just outside the lottery to see if he returns to form. If he does, it could be the steal of the draft.
19) SF OG Anunoby (Indiana)
Even with his recent ACL injury, some scouts and GM's have said that Anunoby might stay in the first round. His offense didn't improve drastically like some thought it might this year, but his measurables, work ethic, and slight improvement offensively have made him a tantalizing prospect.
20) PF Bam Adebayo (Kentucky)
Bam started the year as a potential lottery and top ten pick. Currently, his offensive game is behind where some hoped and most see his role being limited to a rim runner in the League. Bam should have a long career if he embraces being an energy big willing to do the dirty work for whichever team drafts him.
21) PF T.J. Leaf (UCLA)
Leaf has shown the ability to stretch the defense at 6'10" while shooting 45% from three. Leaf is also averaging 2.7 assists a game from the power forward spot and is another reason teams love his game. Despite struggling on defense, like the rest of UCLA roster, Leaf's all around offensive game is what scouts have fallen in love with.
22) PF Tyler Lydon (Syracuse)
Lydon started off the year slow but has really picked up his game, showing that stretch four ability he flashed as a freshman last year. Three point shooting and blocking shots in that Syracuse zone are what scouts like about Lydon.
23) PF Caleb Swanigan (Purdue)
Whether it's post ups, three point shooting, or dominating the boards, Swanigan can really do it all. Swanigan has really helped himself in his sophomore campaign is in the running for National Player of the Year.
24) SG Luke Kennard (Duke)
Some aren't sold on whether Kennard should leave Duke this year, but with the way he is playing, there is no reason to come back. Kennard has flashed an array of ways to put up points. Spot up shooting, one dribble pull ups, and a good use of change of speed dribbling have made him really good at getting to get the rim. Kennard's stock can't get any higher and the time for him to cash in is now.
25) PF Jonathan Motley (Baylor)
Motley has turned himself into a very good two way big man. He isn't an elite shot blocker but has good timing on that end. Motley has also shown the ability to not only step out and knock down jumpers but also bang down on the block with a nice jump hook and quick spin move.
26) SF Justin Jackson (North Carolina)
Jackson declared for the draft last year but ultimately decided to return to college. He has improved his outside shot which is what scouts at the combine told him to do. Jackson has already more than doubled the amount of 3s he made all of last year. Because of this added portion to his game, combined with his floater and mid range game, Jackson has become a first round pick.
27) C Thomas Bryant (Indiana)
Bryant has slid way down our board because of his sophomore season. He has shown an improved ability to step outside but overall, Bryant just hasn't done enough to stay in the top half of the draft. He may be able to stick around in the league for awhile but it's hard to see Bryant being a starter in his career.
28) SG/SF Jaron Blossomgame (Clemson)
Blossomgame is another guy who also entered the draft and ended up backing out. He averaged 20 points a game last year and is an extremely athletic wing who can really defend. As a result, Blossomgame would be good value here in the back end of the first round.
29) SG Josh Hart (Villanova)
Hart has improved every year of his college career. His three point accuracy improving to above 40% is why he now becomes a first round pick. Hart is a perfect fit for the Spurs because of the Villanova culture he comes from being fundamentally sound. Hart is a guy who will do all the little things similar for a team. Almost like Corey Brewer, that 15 year vet who opposing teams hate to play against.
30) PG/SG Donovan Mitchell (Louisville)
Mitchell over the past few weeks has really come on as a prospect despite his size at 6'3". While flashing some ability to possibly be a combo guard, a la Jordan Clarkson, Mitchell has slid in the first round. His elite explosiveness and playmaking ability are going to be his calling cards to get drafted this high.