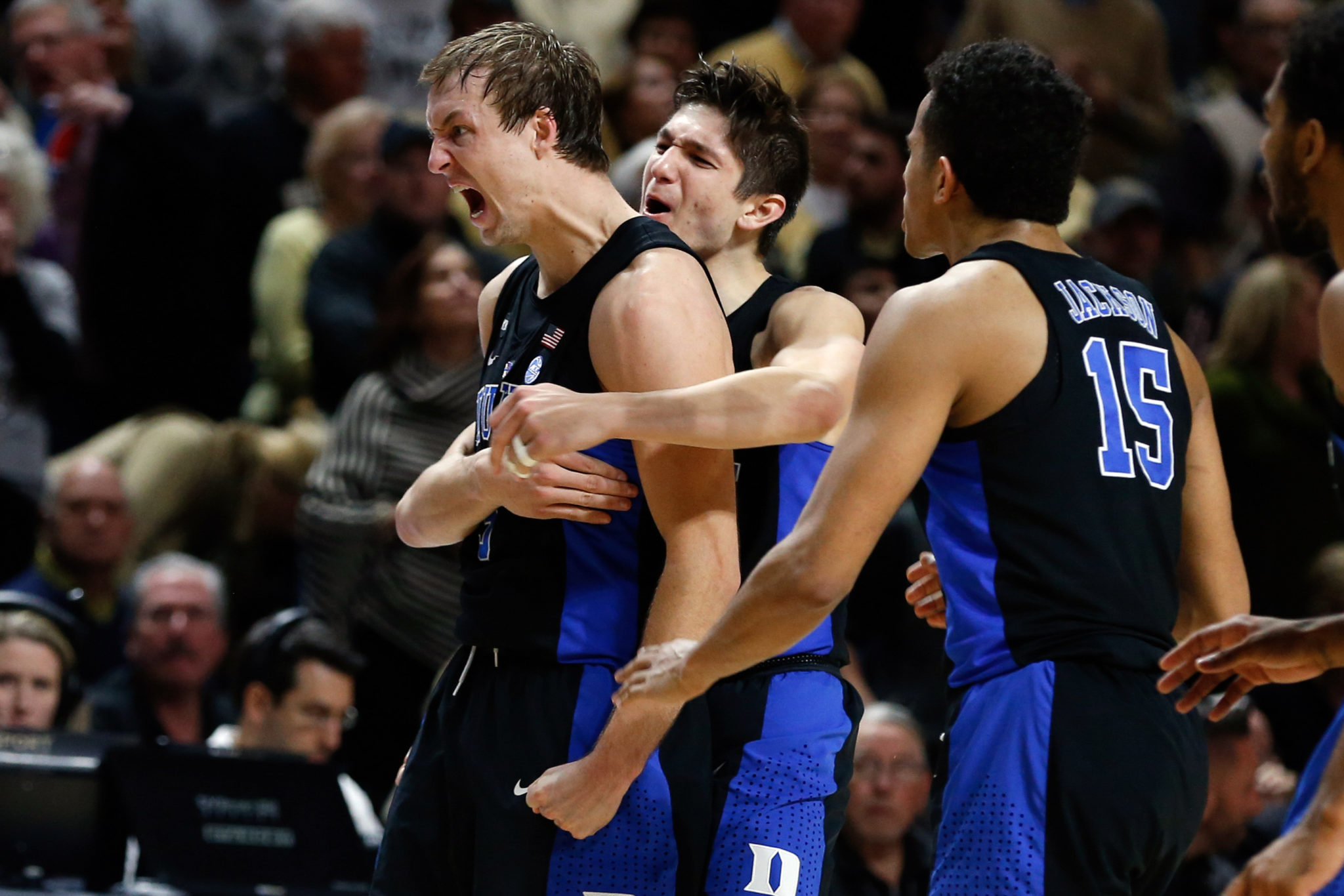 Anyone who's watched Duke play this season knows they have some major problems. Entering the season, they were deemed the favorite to win the National Championship by just about anyone you asked. Now, it looks like they'll have to claw their way past the first weekend of March Madness. Here are some of the biggest reasons they are falling short so far this season.
Chemistry:
We all know talent isn't the problem with this Duke team. They had the best recruiting class this season, including four players ranked in the top 20. On top of the highly touted recruits, Duke's Grayson Allen was among the preseason favorites to win the National Player of the Year and also tallied the most votes for the Associated Press preseason All-American Team.
Of course, early season injuries hindered the Blue Devils quite a bit. More than anything, it held back the on-court chemistry that is especially vital once March rolls around. Following the return of Jayson Tatum, Marques Bolden and Harry Giles, Duke has looked much more hesitant than we've become accustomed to from a Mike Krzyzewski coached team.
Shooting:
Another area of concern is the team's three point shooting. Luke Kennard (47%) and Frank Jackson (37%) are the only two players currently shooting above 35% on the team. Three-and-D specialist Matt Jones is shooting 34% and Grayson Allen is shooting just 33%. Duke currently ranks 101st in the country at 36.7% as a team. If you take out Kennard, that number drops to 33.2% which would rank them at about 252nd. The team has had promising shooting games, but the inconsistency won't take them very far.
Grayson Allen:
I hate to put blame on one player, but Grayson Allen has hurt the team at times. Don't get me wrong, he's a tremendous player and one of my favorites to ever put a Duke jersey on, but he's performed far below his expectations. His numbers have dropped in just about every category since last year. Allen's drop in efficiency is the biggest area of concern moving forward. Last season he shot 46.6% from the floor and 41.7% from deep, those have both dropped to 39.6% and 33.3%, respectively. With the ACC Tournament and March Madness approaching, Duke will benefit greatly if Grayson Allen steps up the way he is capable of.
What's Next:
After beating #20 Notre Dame on the road in part of their three-game win streak, the Blue Devils should look to build some momentum as they near the the toughest part of their schedule. Now that everyone's healthy, Duke should begin their ascent back to the top.
Although Duke has underperformed, Cameron Crazies should feel optimistic. The talent alone can win them "un-winnable", but they have arguably the highest potential in the country. In a season with no clear-cut title favorite, Duke could make some noise as we count down the days to March Madness.