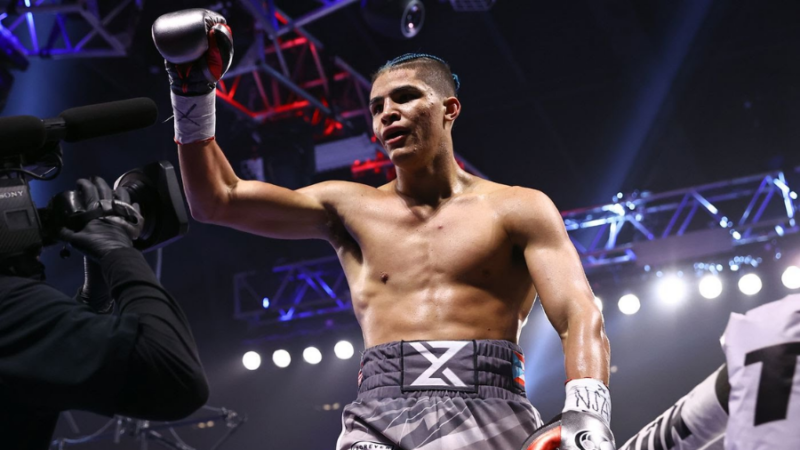 The time has come, the lights are on and the ring is nearly empty. At the center, two men stand. One man comes with everything to lose and the other has everything to gain. A win would put Xander Zayas one step closer to reaching his goal of becoming a top tier super welterweight fighter by the end of the year. Meanwhile, Quincy Lavallais could put himself on the map and set himself up for a larger payday in the future with an upset win. Who will walk out of here with the win? We think we know the answer to that question, but we settle things in the ring around here. Follow along for round-by-round scoring live from the Hulu Theater at Madison Square Garden.
Round 1
Notes: Lavallais is not a push over, but Zayas found a home for his left hand early and often in that first round. Making matters worse, Lavallais could be seen moving around his hands down at times which is a problem when squaring off with a young, athletic fighter. It may take a few rounds to get him out of there, but I feel like Zayas is on his way to a fifth or sixth round stoppage.
Unofficial Score: Zayas leads Lavallais (10-9)
Round 2
Notes: Things got worse in round two. Lavallais sat in the northeast corner of the ring and seemingly just let Zayas tee off on him as the pro-Zayas crowd cheered. If things continue down this path, the fight could be stopped in round three.
Unofficial Score: Zayas leads Lavallais (20-18)
Round 3
Notes: Things were less eventful, but the result was the same. Zayas is too quick and too acurate for Lavallais and he continues to get him in the corner where he's comfortable. With that said, Lavallais is still able to land a few head shots from time to time. It won't be anything that stops Zayas, but he's shown signs of promise. Win or lose, it wouldn't be bad to see Lavallais on another Top Rank card in the future.
Unofficial Score: Zayas leads Lavallais (30-27)
Round 4
Notes: Lavallais loves that southwest corner and it's hard to tell why. Sure, he's blocking some punches and moving around others, but it's all bad news for the most part. While he is able to fight back and remain somewhat competitive, it's starting to feel like the corner or the referee should save this tough Louisiana native from himself.
Unofficial Score: Zayas leads Lavallais (40-36)
Round 5
Notes: There's not much more that needs to said at this point. One guy is coming forward with a strategic gameplan full of percision and aggression while one guy is trying to fight back and survive. While Lavallais is able to fight back and keep things somewhat competitive, this match has hit the point of return. Barring a miracle, Zayas is improving to 13-0.
Unofficial Score: Zayas leads Lavallais (50-45)
Round 6
Notes: If anything, Zayas has secured the support of Puerto Rican boxing fans in New York. At every turn, fans are on their feet and ready to cheer. Regardless of who the headliner is, it'd be hard to imagine Top Rank not including the 19-year-old in their upcoming event in June at the Hulu Theater.
Unofficial Score: Zayas leads Lavallais (60-54)
Round 7
Notes: To start this round, the referree allowed doctors to take a quick look at the Louisiana native. Ultimately, Lavallais was allowed to continue. However, the continuation of this fight is not a pretty thing to watch. Well, Zayas' boxing ability is pretty and Lavallais' tougness is admirable. However, that's about it.
Unofficial Score: Zayas leads Lavallais (70-63)
Round 8
Notes: Well, that's all she wrote. In the closing seconds, Zayas and Lavallais went toe-to-toe, throwing caution to the wind. At one point, Lavallais invited Zayas over to what appeared to be his favorite corner of the ring. While Lavallais was outclassed throughout much of the fight, he showed toughness, athleticism and grit. He definitely earned some fans in New York tonight.
Unofficial Score: Zayas leads Lavallais (80-72)
Official Result
Ringside view of the punishment @XanderZayas is dishing out ?#BerlangaRolls pic.twitter.com/5vTPL2f2eb

— Top Rank Boxing (@trboxing) March 20, 2022
Official Scorecards: Xander Zayas def. Quincy Lavallais (80-71, 80-72, 80-72)