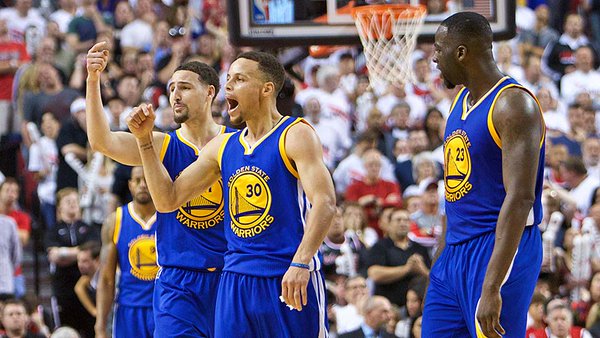 Stephen Curry was listed as doubtful and then questionable for the Golden State Warriors game 4 matchup with the Portland Trail Blazers due to his recovery from his sprained MCL. The Blazers came into the game riding a high wave of success and they were looking to be the first team in the NBA this season to beat the Warriors twice in a row, just a couple days after they were the first team to beat the Warriors twice in a season with their game 3 win. Little did the Blazers know, Stephen Curry, who was declared active shortly before the game began, would have an epic performance coming off the bench. The two-time NBA MVP proved his worth on this night.
The Blazers and Warriors had an all out slugfest in the second half of their contest after the Blazers took a 10 point lead into the half. Starting point guard Shaun Livingston would prove to be the most pivotal person in Curry's night after he got ejected right before halftime. Curry was originally slated to only play 25 minutes but before the night ended, he played 37 which prompted Steve Kerr to declare at the end of the game that Steph would absolutely be starting game 5.
Curry scored 40 on the night on 16-32 shooting including going 5-16 from the three-point line with nine rebounds and eight assists. Curry scored 27 points in the fourth quarter and overtime combined but his overtime period was the most dominant in NBA history. He scored 17 points in the extra frame which set an NBA record for a playoff or regular season game. On top of that, Curry joins Nick Van Exel as the only players to score 40 points coming off the bench in a playoff game.
Curry was joined by the other two members of the Warriors 'Big 3' with Klay Thompson scoring 23 points on 7-18 shooting but Draymond Green's night might have been the most under appreciated. He scored 21 points, grabbed nine rebounds, blocked seven shots, handed out five assists and grabbed four steals. Yes, Draymond Green almost had a 5×5 game and no one even knew it.
The Blazers backcourt duo struggled for a majority of the night despite combining for 60 points after a big win at home that showed us glimpses of what this team could be. Lillard scored 36 on 9-30 shooting and handing out 10 assists while McCollum dropped 24 on 9-23 shooting. Al-Farouq Aminu came up big for the Blazers, especially in the second half, finishing with 18 points and 13 rebounds.
The Warriors can close out the series in Game 5 at home on Wednesday night at 10:30 on TNT.
Check out Stephen Curry's complete highlights below.