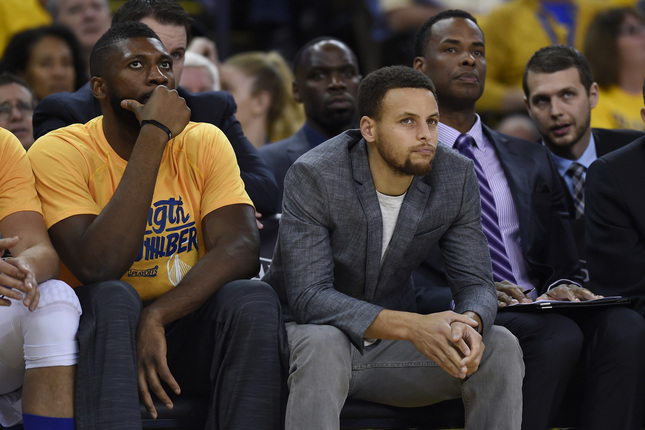 UPDATE:
Steve Kerr was a guest on the 'Dan Patrick Show' and formally announced that Stephen Curry was going to be out for game 3 and there's a slight chance he will play in game 4.
(Original story from 5/5/16)
Despite the NBA's reigning – and possibly soon to be – MVP Stephen Curry saying he was close to returning to the floor for the Golden State Warriors, it appears those hopes have been dashed by his head coach. The injury that he suffered in the Warriors first round matchup with the Houston Rockets has not yet healed.
Curry spoke during game 1 of the Warriors win over the Portland Trail Blazers in their Western Conference semi-finals series and he said he was hoping to play in game 3.
Today, the Warriors had practice and Curry didn't participate, making it seem unlikely that the Dubs star will play in the game 3 but if there's any indication of how the series is going after the first two games, will they even need him?
Following from Diamond Leung of the Bay Area News Group.
Stephen Curry will probably be unable to play in Game 3 of the Western Conference semifinals against the Portland Trail Blazers, Warriors coach Steve Kerr said Thursday.

"It's tough to see him playing Saturday," Kerr said of Game 3 at Portland.

Kerr said it was conceivable Curry could return from a sprained right knee in time for Game 4 on Monday after the reigning MVP completes a three-day process in order to return to action.

"We need to see him in rhythm, cutting, moving and see how he responds the next day," Kerr said.

Curry has been ramping up workouts in the weight room and doing some drills on the court apart from the rest of the team.

"The good thing is that he's gotten better and better each day with his rehab, and so now he's taking things out onto the court," Kerr said. "So if that progress continues, then yeah, it's conceivable he could practice with us on Sunday and get some timing and rhythm and see how he responds.

"Everything's gone very smoothly. He hasn't had any setbacks."