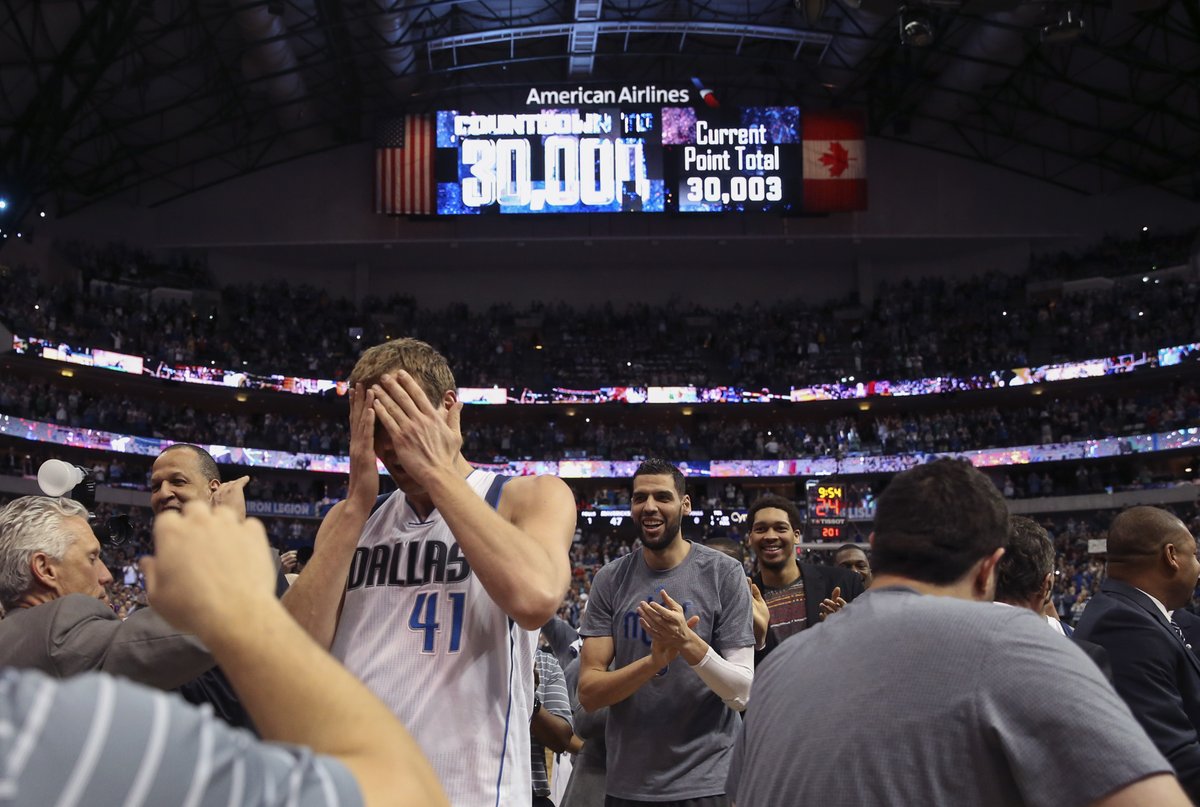 Kareem. Malone. Kobe. Jordan. Wilt. And now, Dirk joins the super exclusive 30,000 points club.
Dallas Mavericks sure-fire first ballot Hall of Fame sharpshooting big man Dirk Nowitzki came into his game on Tuesday night against the Los Angeles Lakers only 20 points away from reaching 30,000 points that only five other men have done before in NBA history. Kobe Bryant was the recent member to join the illustrious list over five years ago.
But it was apparent early on that the Mavs were looking for Nowitzki at every chance they could to get him to that scoring milestone and it worked. Early in the second quarter, Dirk caught a pass from longtime teammate Devin Harris. Dirk Nowitzki officially joined the 30,000 points club, the only way he knows how. A one-legged fadeaway over the defender.
Here it is…

Dirk Nowitzki (@swish41) becomes the sixth member of the 30,000 NBA points club on this shot! pic.twitter.com/FXs3hLqJMF

— Def Pen Hoops (@DefPenHoops) March 8, 2017
The shot!#LooksFamiliar#Dirk30K#MFFL pic.twitter.com/Pw7D7v5reO

— NBA (@NBA) March 8, 2017
After he hit the shot, and then another shot, Dirk was cheered endlessly and mobbed by his teammates along with longtime Mavericks owner Mark Cuban.
The AAC goes WILD after @Swish41 hits 30,000 points. #Dirk30K #DALvsLAL #Dirk #GOAT pic.twitter.com/x6eGoRDCJw

— FOX Sports Southwest (@FOXSportsSW) March 8, 2017
Dirk was congratulated by a number of big names, current NBA players and even a few former teammates who helped him cross that 30,000 points threshold.
.@RedHourBen congratulates @swish41 on 30K points! #MFFL pic.twitter.com/yt6GPwOAsZ

— Dallas Mavericks (@dallasmavs) March 8, 2017
Take a close-up look at history being made ? pic.twitter.com/JoDoILYAwx

— Dallas Mavericks (@dallasmavs) March 8, 2017
A special congratulations from @RealJasonKidd to his former teammate @Swish41 #Dirk30k #DALvsLAL #MFFL pic.twitter.com/xSkdTsVqow

— FOX Sports Southwest (@FOXSportsSW) March 8, 2017
"You made me an NBA Champion." @jasonterry31 sends his love to @swish41 on his historic night. #Dirk30k #MFFL #DALvsLAL pic.twitter.com/0TbmEQOn2t

— FOX Sports Southwest (@FOXSportsSW) March 8, 2017
.@kingjames comes through with a huge congrats to Dirk Nowitzki on joining the 30,000-point club. pic.twitter.com/CaOsYAnXFI

— UNINTERRUPTED (@uninterrupted) March 8, 2017
A special congratulations from @SteveNash to his best friend and ? @Swish41. #Dirk30k #DALvsLAL pic.twitter.com/Ot9cmeKwcv

— FOX Sports Southwest (@FOXSportsSW) March 8, 2017
Congrats to @swish41 !!! 30K

— Goran Dragi? (@Goran_Dragic) March 8, 2017
Watching @Lakers vs Mavs game. Congratulations Dirk on becoming the 6th player in NBA history to score 30,000 career points!

— Earvin Magic Johnson (@MagicJohnson) March 8, 2017
DEUTSCHE LEGENDE and all NBA @swish41 https://t.co/3p2lYWzw41

— Detlef Schrempf (@Dschrempf) March 8, 2017
Congrats DIRK!! #legend

— Jamal Crawford (@JCrossover) March 8, 2017
Congrats on #30K @swish41! ??? pic.twitter.com/5fmOetptan

— KG's Area 21 (@KGArea21) March 8, 2017
Congrats Dirk!! #legend https://t.co/2qpHLTIJSN

— Al Horford (@Al_Horford) March 8, 2017
Congrats to an idol and the man who has influenced the way I play the game I love @swish41 #Dirk30k

— Frank Kaminsky III (@FSKPart3) March 8, 2017
Congrats my brother @swish41 #30K career points. Amazing ??

— Zaza Pachulia (@zaza27) March 8, 2017