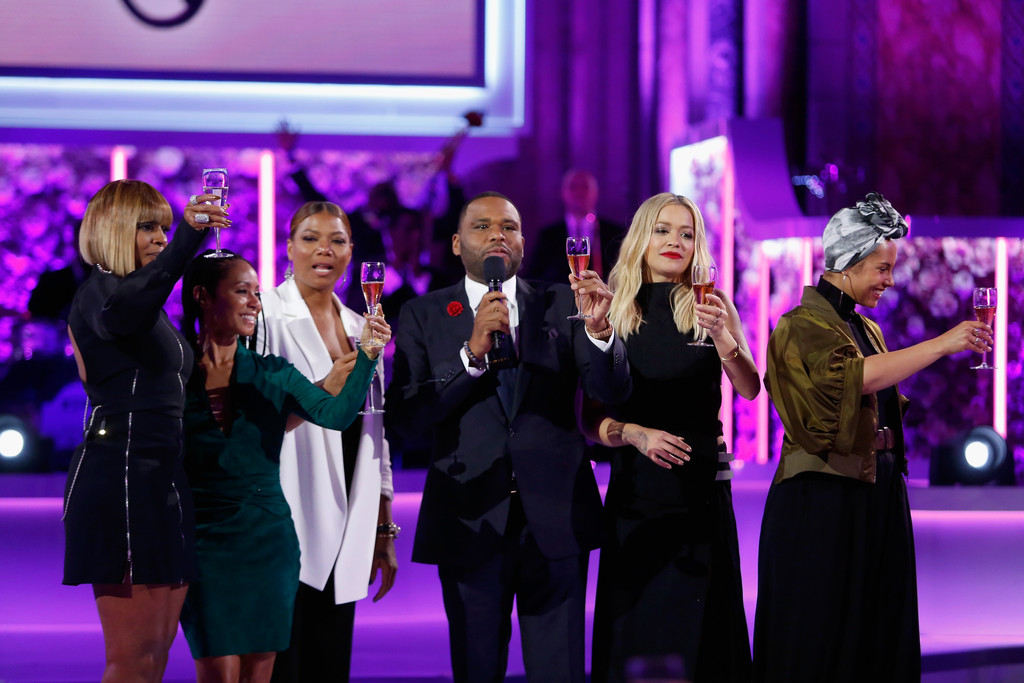 Sunday May 8th was a celebration of Mothers. For those who were able to be in the presence of the individual who brought you into this world and can take you out (one of the many sayings I grew up hearing), you showered her with all the love possible or at least you should have. By any means necessary the showing of gratitude to Mothers was on display and for VH1, aside for an unnecessary episode of Love & Hip Hop: Atlanta, they aired a special event titled 'Dear Mama'. Hosted by Anthony Anderson of the hit ABC show "Black-ish", the star studded event was elegant, humorous but the love and appreciation for each Mom in attendance was felt from every performance and tribute displayed.
To start the show off, Anthony Anderson brought the hilarity with his opening performance of LL Cool J's 'Momma Said Knock You Out' and followed it up with putting the spotlight on his mother. To follow Anthony's act, the legend herself Queen Latifah took the stage to present a montage of footage of herself growing up featuring her mother and letting her mom know along with the world viewing that she wouldn't be who she is without her. I know I share the same sentiments when it comes to my mother. Immediately after Queen performed "Poetry Man" which she details as being a favorite that she grew up on and remember her Mother playing throughout the house.
Rita Ora was next to honor her Mother, Vera, which was an emotional one and Rita even shouted out to her Mom about their deal of no crying. Thanking her Mom was more than warranted especially on this day as she touched on the sacrifices that were made for them to have a better life when their family relocated from Kosovo to England all while also battling cancer. Talk about the strength of a Woman.
The astounding Alicia Keys came to the stage in true A.Keys fashion with piano and all to celebrate her love and admiration for her Mother, Terria Joseph. Alicia spoke on the sacrifices her Mom also made which in return influenced the wonderful music we have received throughout the years. She also serenaded the crowd and her Mom with a performance of "If I Ain't Got You". If you thought that was enough, the surprises continued to roll in as Swizz Beatz and their son Egypt surprised Ms. Joseph with a birthday cake as the audience in unison sung happy birthday.
Taking a break from the celebrities honoring their parents, Presidential candidate, Hilary Clinton delivered a heart warming tribute to Jordan Davis' mom, Lucy McBeth. Jordan Davis who was shot and killed at a gas station in Jacksonville, Florida during an argument over loud music. Lucy McBeth is the Faith and Outreach Leader for Everytown for Gun Safety.
To lead into what starts to wind down the show but on a high note with honoring mothers, Alessia Cara performs 'Wild Things'. Prior to the performance she paid tribute to her mom for having the ability to teach herself English after moving to Canada from Italy. As a woman coming to a new country and not having that countries language as your first language had to be very challenge so we applaud her and that level of dedication to overcome those boundaries.
Even though he didn't perform nor did his children; Will, Jaden, Willow and Trey Smith all honored Jada Pinkett Smith with a special tribute. The children did their own as they highlighted the amazing talents Jada possesses and with everything she has accomplished provides a path that each use as a guide for all of them. Now Will Smith on the other hand brings a bit of humor to the side of things with his speech for his Wife as he shares a story on how Jaden Smith, their first born, was conceived. Being ever so grateful for all that she has and her family, to end their special tribute to Jada, Will surprised her with a performance by Mary J Blige of her hit songs, "My Life" and "Love Is All We Need".
Closing out the wonderful evening that took place in New York City, legendary Boyz II Men took the stage for a surprise performance honoring their Mothers in attendance and what better way to end Mother's Day off with a live viewing of 'A Song For Mama'.
If you want to check out any of the other videos from the evening of celebration that took place for Dear Mama presented by VH1, head on over to their site to do so for those that weren't included above.