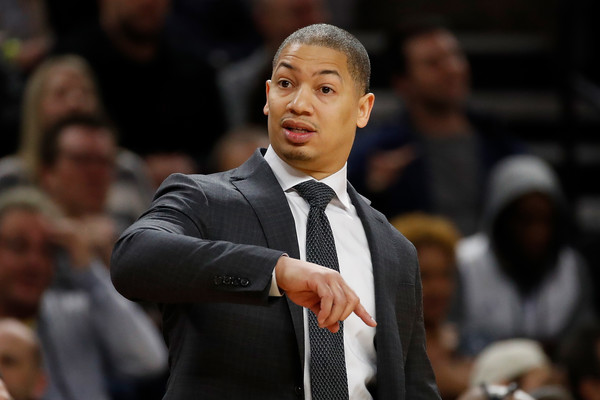 We're about a week away from the NBA Finals which almost certainly will feature the Golden State Warriors and the Cleveland Cavaliers. The Warriors have already punched their ticket to the championship round and the Cavaliers are just one win away from having the chance to defend their first title.
But before they can get going on the ultimate goal, the Cavs have to finish off the Boston Celtics. And according to head coach Tyronn Lue, that's exactly what the team is focused on. In fact, Lue believes the Celtics are a more-than-capable primer for the Finals, via ESPN's Dave McMenamin:
"I don't even think about them," Lue said of the Warriors to a small group of traveling Cleveland beat writers following the Cavs' Game 4 win Tuesday. "We're just focused on Boston. The stuff they're running, it's harder to defend than Golden State's [offense] for me, as far as the actions and all the running around and all the guys who are making all the plays, so it's a totally different thing."

"Like, they hit the post, Golden State runs splits and all that stuff, but these guys are running all kinds of s—," Lue said of Boston coach Brad Stevens' schemes. "I'll be like, 'F—.' They're running all kinds of s—, man. And Brad's got them moving and cutting and playing with pace, and everybody is a threat. It's tough, you know, it's tough."
The Celtics have been playing great team ball and their cutting (especially that of Avery Bradley) has been a sight to see. But it really seems like a stretch to say the Isaiah Thomas-less Celtics are harder to guard than the Warriors.
That said, they've posted an offensive rating of 112.3 in their last two games without Thomas, so maybe Lue has a point. There's a reason I'm not an NBA head coach.