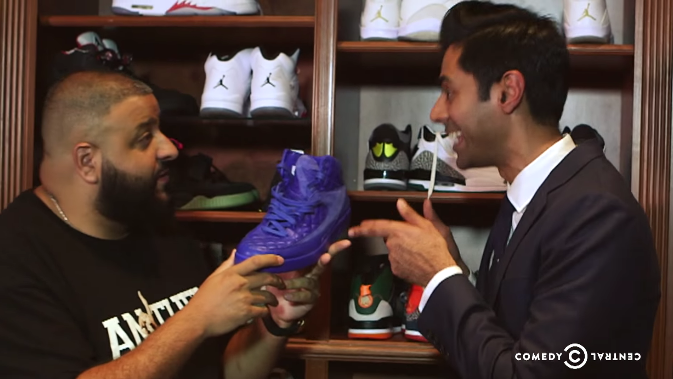 The sneaker culture is on an incline right now, whether it's in the retail market or in the resell market, sneakers has seen a relatively huge increase of interest from all facets; men, women or kids. While some may be frustrated with the sneaker market due to the difficulties they come across to obtained some of the highly coveted shoes caused by the resellers, when you realize the resell market is a lucrative business worth 1.2 billion dollars, you can't be mad at the reseller.
The Daily Show recently had a segment on their show,  'Just for Kickz' with Hasan Minhaj who is a sneaker fan himself. To kick things off Hasan, who was looking for a pair of this past holiday season must have Air Jordan, the '72-10′ 11's, he sat down with Campless.com founder Josh Luber. The two spoke on what drives the secondary market and upon hearing how much Nike resellers make as opposed to the likes of Skechers as a company, Hasan decided to then head to Sneaker Con in which he spoke to a few resellers.
He then went on to troll resellers by taking a pair of Bred 1's and bending them at the toe box which even infuriated me myself. Next Hasan met up with @BenjaminKickz, 'The Sneaker Don' who has been linked with celebrities like Chris Brown, Rick Ross and DJ Khaled. Benjamin Kickz has over $1 Million dollars worth of sneakers in his warehouse and was able to provided Hasan with the 72-10's for $450 which is double the retail price. Lastly in the segment meeting up with DJ Khaled, the two swap nicknames for several Air Jordan's in Khaled's closet.
Check out the videos below.