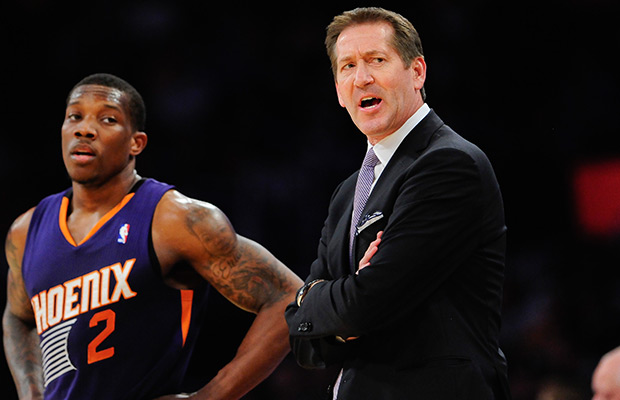 NBA head coaches have an extremely short leash in the league. It's rare to see any type of job security in the head coaching ranks on the NBA outside of guys like Gregg Popovich or Erik Spoelstra. In the last few years, it appears every season, no matter if you take your team to the playoffs, win coach of the year or even make it to the conference finals, no coach is safe.
This season is no different as we have recently seen Scott Brooks ousted of his job with the Oklahoma City Thunder in favor of Billy Donovan. Earlier this week we witnessed Monty Williams lose his job with the New Orleans Pelicans, despite the Pelicans making the playoffs, which was supposed to be Williams' saving grace.
Now even though the job of Phoenix Suns coach Jeff Hornacek appears to be safe, there might be other coaches moving around that could affect his status in the NBA.
Following from CBS Sports Ken Berger.
Iowa State coach Fred Hoiberg is widely believed to be the Bulls' preferred replacement, but who would replace him in Ames, Iowa? There's a growing belief that Iowa State would try to lure another Cyclones great from the NBA: Suns coach Jeff Hornacek, currently making less than Hoiberg's average salary with less security than college jobs offer.
There's an interesting chain of events that's going to occur this summer with the Chicago Bulls letting go of their head coach Tom Thibodeau seemingly being the lynchpin to all movement.
Here's a quick (reported and speculated) breakdown of how things may fall.
Coach Tibs leaves the Bulls, Fred Hoiberg is in and Hornacek moves from the Suns to the Cyclones.
Tibs goes to the Orlando Magic, Alvin Gentry heads to the Pelicans and Scott Brooks goes to the Suns, Mike D'Antoni heads to the Nuggets.
At least, that's how it would play out if you read into any head coaching reports of possible moves. It's pretty crazy how one coach can change the whole dynamic of the landscape of the NBA coaching scene for the next few years. The power is in Tom Thibodeau's hands and he might know that, which could be scary for the checkbook of any team trying to bring him in.