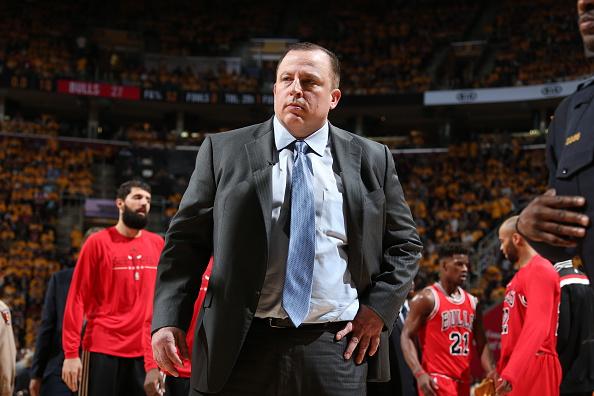 By now we know that Chicago Bulls management and head coach Tom Thibodeau have reached a breaking point. The relationship between the Bulls front office and Thibodeau reportedly reached a point beyond repair this season, but the Bulls' current playoff run makes the situation more interesting after winning Game 1 of the conference semifinals against Cleveland on the road.
If the Bulls were to reach the Conference Finals, or especially the Finals, that would put management in a dicey position. Still, Adrian Wojnarowski of Yahoo Sports reports that the Bulls are still anxious to part ways with Thibodeau, and they have a familiar replacement in mind:
Amid the twisted culture of Chicago's regime – where winning is losing, where success is failure – management can't wait to rid itself of one Tom Thibodeau.

For everything Chicago management does to undermine the coach, this Bulls locker room has remained something rare in professional sports: unaffected and unrelenting. …

Yes, the Bulls have a real good shot now. And the best chance that they'll ever have to win a title here would be with Thibodeau – as terrific of a coach as Iowa State's Fred Hoiberg, management's choice to ultimately be the replacement.
Hoiberg was reported to be next in line to replace Thibodeau back in March.
There would have to be some pure, deep-rooted tension built up if Thibodeau makes it out of the East and is still let go. Going back to the final Game 6 of the first round, the Bulls have played extremely sharp in their last two games. There's still so much basketball left to play, but they seem to be hitting a stride.
Thibodeau's players have not wavered on his ways or coaching style. They're still playing hard for him. If they play hard and well enough to continue advancing in the playoffs, we'll have to see if things change.