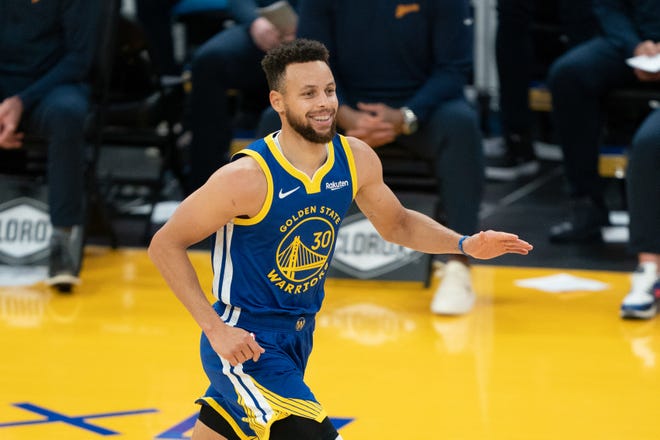 The Golden State Warriors have not had the best of seasons. After riding high on their dynasty era just a few short years ago, the last two have been rough. Klay Thompson's injuries, the Kevin Durant era ending, and the Warriors looking to rebuild to a championship franchise. Despite that, Steph Curry has been playing like the former MVP he is. Last night, he battled with Jayson Tatum in one of the best games of the weekend.
Tatum has similarly been on a tear all this month. He put up a historic 53-point performance and followed that up with strong performances in game after game, despite being on an inhaler now due to effects from COVID.
Steph really went at the Celtics defense, especially Kemba Walker who felt it all night.
Steph just abusing Kemba right here pic.twitter.com/7IK5bgtZhT

— Def Pen Hoops (@DefPenHoops) April 18, 2021
He was making plays out there that only Wardell Stephen Curry could make. Grant Williams was the victim of this four-point play.
This is just getting ridiculous Stephpic.twitter.com/pZyuhWVcmI

— Def Pen Hoops (@DefPenHoops) April 18, 2021
Tatum wasn't going to let Curry come into Boston and school his entire team. So, he did what he has been doing all month.
Tatum putting the Celtics on his back pic.twitter.com/N9FhntRp9c

— Def Pen Hoops (@DefPenHoops) April 18, 2021
Curry would go on to post 47-points in the game. Tatum was close behind with 44 of his own. Steph did it in his own fashion too, with 11-19 from three and with a big smile. Watching the two go back and forth was a treat. When it came down to the end, Curry wasn't enough on his own. The Celtics won the game 119-114 without Jaylen Brown.
Tatum is now averaging 29.3PPG for the month of April. The Celtics are 8-1 over the course of that stretch. They needed this run after going 4-8 for the month of March. The Warriors find themselves in 9th in the Western Conference. Perhaps Steph makes a push for the playoffs?
The Celtics play Chicago next on Monday at 7:30 PM EST. The Warriors play the Philadelphia 76ers Monday at the same time.