SPONSORED BY

Starbucks understands representation does matter and as part of their two part, holiday series, they are highlighting two women who are breaking the mold not only in their careers but in their communities as well.
They say that when you do what you love, you'll never have to work a day in your life.  Such is the story of Brooklyn Native, Nicole. A 12-year mainstay at a New York City Starbucks store, Nicole, a Starbucks partner (employee), has faced challenges most would consider insurmountable. However, she has come out the other side all smiles and as strong as ever.  This former math teacher has enjoyed immense growth at Starbucks.
Mother To Son!
This Brooklyn native began her journey with an undergraduate degree and a master's in teaching. Shortly thereafter, she would experience the blessing of motherhood, giving birth to a son who was diagnosed with epilepsy. As a teacher and mother, the demands of her job began to impede the time spent taking care of her son.  Like many mothers, Nicole made the difficult decision, walking away from her career as a teacher to focus on her most important job, being a mom.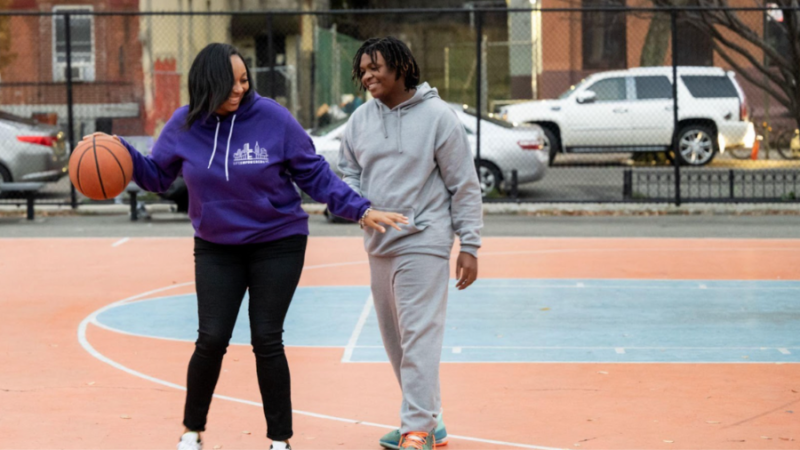 Nicole took a job at a Starbucks store, not knowing that it would be a life-changing decision. The Starbucks partners where she worked were extremely understanding of her situation. "They took care of me when no one else would," she acknowledged. One way Starbucks was able to take care of Nicole is by offering her comprehensive health care benefits, which they offer all partners who work more than 20 hours a week. "Why leave a place that cares about your family and needs," she continued.
And while her son, now 14, is still living with epilepsy he remains an avid basketball player, AP student, and Nicole's greatest motivation.
Finding a New Family and Purpose 
Nicole's positive energy extends to her store, especially during the holidays. She loves to connect with her customers, checking in with them on their lives and day-to-day happenings. That connection with others is what drives Nicole to be who she is, selfless, caring, and generous. She started at Starbucks not knowing where it would lead her but, 12 years later, she is still going strong. This combination has not only allowed Nicole to take care of those she cherishes the most, her family, but it has also allowed her to give back to her community.  
One of these examples, has been in the spirit of her giving back year-round, especially during the holidays, since community is a large part of who she is.  As founder of the non-profit, Life Empowered NYC, Nicole embraces the opportunity to engage with not only those who come in her store, but those in her community.  
Community Love
 "I wanted to create a non-profit that would support my community. I wanted to be able to change lives and enable families to be empowered to be able to live and enjoy life by providing them the resources and tools to grow in a world that is changing daily," Nicole exclaimed. 
Life Empowered NYC reaches the community through various events and activities; among them are a Lupus Walk, where they feed the more than 3,000 participants. There is also a summertime basketball tournament which hosts an incredible 1,150 kids, and finally a backpack and school supply drive. When the pandemic hit, Nicole's organization soldiered on with their "Food for the Soul " event where they were able to provide over 300 families with hot meals.  Life Empowered has given away a total of 1,000 toys to children in hospitals and shelters. This year she also received a $10k grant via The Starbucks Foundation.
Teamwork Makes the Dream Work 
Despite Covid presenting major challenges, especially in 2020, Nicole and Starbucks were still showing up and out for their employees. "Why would you not want to be a part of this team that cares for you."
What Matters the Most During the Holidays
Nicole credits her family as her foundation and appropriately, Christmas is her favorite holiday.  Her mom is considered the "neighborhood mom" and has always given to everyone. "She (mom) never judged, or put anyone in a box" Nicole stated.  In addition, Nicole credits her son as the reason to carry on the custom, citing the importance of being a positive example for him.  "It's time for giving.  It's not about gifts, but giving from your heart."
It is that same type of gratitude and perspective that has allowed Nicole to power through life, taking on whatever the world has thrown her way.
"If you hold me in the palm of your hands when I am at my lowest…how could I not love working here" she said. "They (Starbucks) gave me life when I was struggling," Nicole concluded.