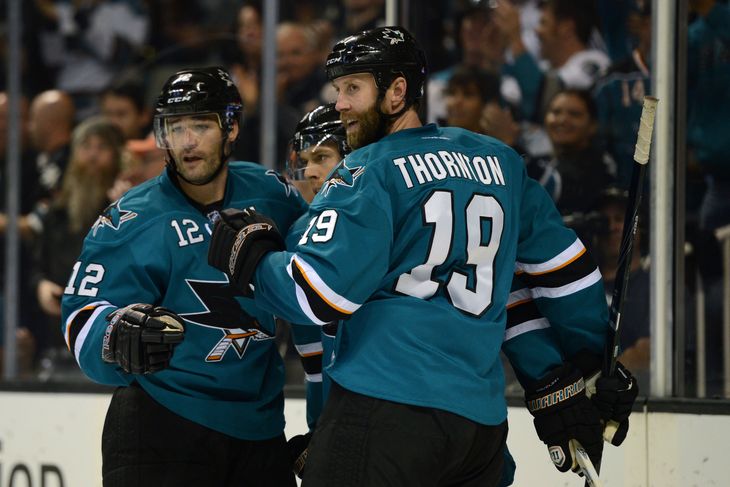 It's been a turbulent year for the San Jose Sharks. At this time last year we were all talking about one thing that turned into many things, the blown 3-0 series lead against the Los Angeles Kings, Doug Wilson and Todd McLellan's job status and trading away aging forwards Joe Thornton and Patrick Marleau.
Nothing happened, bottom line. Wilson and McLellan kept their jobs as the general manager and head coach respectively, and Joe Thornton and Patrick Marleau both said they would not waive their no move clauses. Hardly any roster moves and just weeks after the collapse the headline signing for the Sharks was, wait for it, John Scott. That signing sums up the San Jose Sharks last two seasons.
Still, I think for many it was a little hard to be that worried. The Sharks accumulated 111 points in the 2013-14 season being one of the best teams in the league. Even with some losses like Dan Boyle and Brent Burns going back to defense, this team still had plenty to make the playoffs.
Starting the season was up and down, combined October and November saw the Sharks go 11-10-4. Panic buttons were probably going off and questions started to come up. December and January put this team right back into familiar waters though, going 17-7-2. That stretch highlighted by the end of January when they beat Los Angeles, Anaheim and Chicago in three straight games. They had put themselves in a good spot, seemingly locked into second, a ways behind Anaheim but a ways ahead of LA. Then February happened, a 3-7-2 record combined with a 0-5-2 home record that month really put the pressure on the Sharks that they could never handle.
Put together an average March and April 10-8-1 coupled with come big losses to Vancouver, Winnipeg and Arizona, the Sharks were finished. Ending ten straight seasons of qualifying for the playoffs and a really big exclamation point on the last years playoffs.
It's easy to see what undid the Sharks last season, inconsistent play, lack of defense throughout the team, a poor home record and in my opinion a team waiting for the playoffs to prove themselves and found out they could wait then couldn't pull the falling plane back up.
I'm sure the team was hoping that everything would go similar to the previous season. Everyone would put in their usual contribution, young guys would step up and they'd be fine. Poor defense seemingly all year long and down seasons from Marleau, Antti Niemi and young guys not taking the step up management wanted nailed this teams coffin shut.
Nobody really knew what the think going into this off-season for the Sharks. Again both Wilson and McLellan's jobs were in doubt which resulted in Wilson keeping his position as GM but letting Todd McLellan go as head coach where he would soon end up with the Edmonton Oilers. The Sharks would then hire former Florida Panther and New Jersey Devil Peter DeBoer as their new head coach. A guy who has had somewhat little winning experience in the NHL but a lot of the time having little to work with and the one time he had a pretty good team he led them to a 106 point season as well as a Stanley Cup Final appearance losing to the Kings in 2012. A pretty good hire but with names like Babcock and Bylsma I think fans were disappointed but I think this was a good hire.
The question marks once again started coming up for Patrick Marleau and Joe Thornton. Would they be traded? How can they be traded etc. After so many good years yet so many disappointing results is it finally time to start the full on rebuild. The Sharks had the number nine overall pick in the 2015 draft can they possibly trade up and get a franchise player to take over from the aging core?
With that ninth selection in the draft the Sharks to Timo Meier, a kid who scored forty-four goals in sixty-one games in the Quebec Major Junior Hockey League. Adding to the San Jose Sharks prospect pool which included 2014 first round draft pick Nikolay Goldobin who played pro hockey in Finland this past season, and young guys currently in the Sharks first time like a Tomas Hertl, Matt Nieto, Chris Tierney, Mirco Mueller, and Barclay Goodrow.
The Sharks still seemed to be that "tomorrow team" that Doug Wilson coined after the 2014 playoffs with more and more young promising talent coming into the organization. Not many people expected the Sharks to be too active during the off-season and if it was it was going to be talent leaving not coming in.
A few days before free agency, with the Sharks needing to find their new goaltender after letting Antti Niemi go in a trade to Dallas acquired former King goalie Martin Jones from the Boston Bruins for a first round pick in next years draft and prospect Sean Kuraly. High price to pay for a somewhat unproven netminder and a puzzling move for a rebuilding or retooling team whatever you want to call them. If the Sharks can't get into the playoffs or become a threat again that could be a high pick and a missed opportunity. There is a lot of pressure on the Sharks new twenty-five year old goalie because San Jose doesn't have much else to rely on in goal.
The Sharks are still retooling and can't expect much out of free agency unless they get a good young player. Wrong again, San Jose went to sign thirty-four year old defenseman Paul Martin, a former Pittsburgh Penguin, New Jersey Devil as well as a three time U.S Olympian (even though he's only played in one). Signing a thirty-four year old defenseman for four years doesn't sound like the best thing for a retooling team. This signaling the teams intention to try to make another run at the Cup. With the Sharks struggling on defense all year this was a good signing even though again like the coaching situation there was better names out there so I think people again were a tad disappointed.
A more minor signing was Joel Ward. This creating more depth and more competition in the forward group. Ward can or could play up and down the lineup and chip in with some goals and he's shown to have a knack for scoring big goals. Lower profile signing but a good one.
This off-season has set up a very interesting 2015-16 season for the San Jose Sharks. Looking at this team, they should be good enough to once again get back into the playoffs but with other teams getting better they could still miss if their new players don't pay off. If Jones and the goaltending can't hold, if the defense doesn't improve and if the Sharks top scorers don't get help this could be a repeat of last season.
I would consider this a good off-season for the Sharks, they got a good young goalie, plugged some holes and added some depth. Some guys had down years last season and you hope they rebound and again you hope that young guys take a step up this year. I've heard people talking about western Canada taking over the pacific division, with teams like Calgary, Vancouver and Edmonton, but as of right now I'd say California stays the rulers of this division and all three teams make the playoffs.