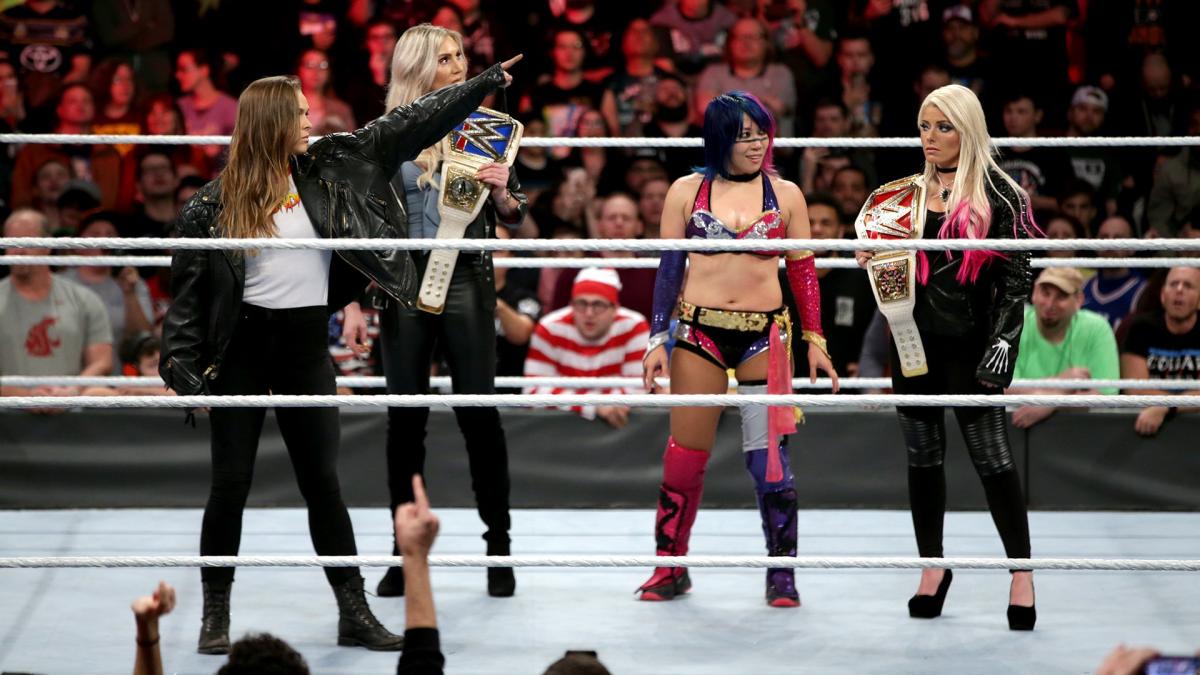 The 2018 Royal Rumble was a historic night for the WWE women's division in more ways than one. The main event of 2018's first Pay-Per-View was the first ever Women's Royal Rumble match. 30 participants made their way to the ring and battled for a championship match at Wrestlemania 34. Lita, Sasha Banks, Trish Stratus, Bayley and many other fantastic wrestlers took to the squared circle but at the end of the day, Asuka reigned supreme. But her moment was short-lived thanks to former UFC star Ronda Rousey making her first official WWE appearance after months of speculation surrounding the next path in her career.
Everyone's eyes are on #WrestleMania 34…

…including @RondaRousey's!!! #RoyalRumble pic.twitter.com/ynkps4gqx5

— WWE (@WWE) January 29, 2018
That moment in the ring was supposed to be when Asuka revealed who she would face at Wrestlemania but instead, 'Rowdy' Ronda Rousey's trademark entrance music hit: Joan Jett's "Bad Reputation." Rousey came out with a huge smile, wearing a t-shirt reminiscent of legendary WWE Hall of Famer 'Rowdy' Roddy Piper's "Hot Rod" shirts. Rousey also stated that she was wearing Piper's jacket to the ring after his son brought it to her for the occasion. Famously, Piper's nickname was "Rowdy" and he granted Rousey the use of the name years ago as she dominated during her MMA career.
In an interview with ESPN's Ramona Shelburne, Rousey revealed that she was indeed signing a deal with the WWE and she's all in for the sport entertainment platform.
"This is my life now. First priority on my timeline for the next several years. This is not a smash-and-grab; this is not a publicity stunt. When I first met with Triple H, I told him, 'There are other things I can do with my time that'll make way more money, but I won't enjoy nearly as much.'"
After the show, Rousey was at a loss for words following her appearance in Philadelphia at the Royal Rumble event.
Rousey, 30, was arguably the most dominant women's fighter in the history of mixed martial arts up until 2015. She was shockingly knocked out by Holly Holm at UFC 193 in Australia and that began a spiral into a dark place for the former Bantamweight champion. Rousey returned for a title fight against Amanda Nunes at UFC 207 in December 2016, but was knocked out in the first round. She has not returned to the UFC since and her new deal with the WWE is a 'multi-year' agreement.