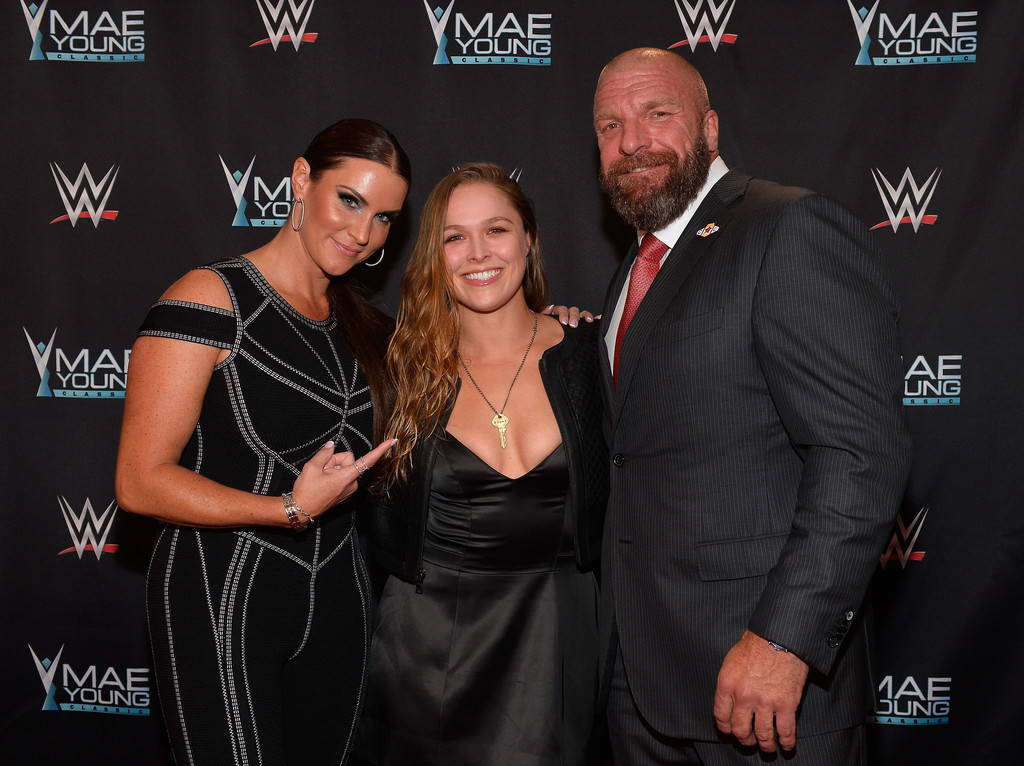 Ronda Rousey was last in a professional bout almost one year ago at UFC 207 where she lasted 48 seconds against Amanda Nunes in what was being dubbed the return of the greatest female MMA fighter. What it became was a clear sign that the once-dominant combat fighter was not the same. She left the MMA promotion and started to inch towards doing some things with the WWE and it had many speculating on the potential partnership between prizefighter and promotion.
It now appears that the former UFC champion will be heading towards the WWE to join the professional wrestling company almost a year after her last fight.
Following comes from Martin Rogers of USA TODAY Sports.
Two people close to Rousey told USA TODAY Sports that she is finalizing details of her move to WWE. The people requested anonymity because the switch has not been announced.

…

That led to speculation that an official appearance is imminent, perhaps at Wrestlemania 34 in New Orleans on April 8. The WWE did not immediately respond when contacted by USA TODAY Sports on Wednesday.
It's currently unclear what capacity Rousey will perform with the WWE. It'll be rather interesting to see how she is used, though. She could easily get a contract similar to fellow former UFC star Brock Lesnar. A deal with fewer appearances on the schedule but more money but she could also take a route similar to what Ken Shamrock did back in the 90's, a regular wrestlers schedule to fully encompass her life in the WWE lifestyle. Rousey joining the WWE could potentially bring the WWE's women's division to unprecedented heights. She's not only an MMA star but she's also appeared in movies and has a gravitating star power about her that few fighters have.
Rousey first appeared in a major capacity on WWE programming back at Wrestlemania 31 when she stood side by side with Dwayne 'The Rock' Johnson as they went head to head with Stephanie McMahon and Paul 'Triple H' Levesque. Rousey proceed to hip toss Triple H and it became one of the best moments of the whole show. That's where the serious intrigue began.
The night: Historic.
The moment: Electric.
The Rock, Ronda &the WWE Universe: Magic.
We're just gettin' started… pic.twitter.com/mUOoBIFsaQ

— Ronda Rousey (@RondaRousey) March 30, 2015
Following her Wrestlemania appearance, Rousey lost to Holly Holm in stunning fashion and proceeded down a dark, secluded path in her life. She opened up about considering suicide and the depression she faced following her first title loss. After she lost again to Amanda Nunes, no one was sure about what was next for the former Women's Bantamweight champion.
For a long time, many viewed the pairing between Ronda Rousey and the WWE would eventually happen but no one was exactly sure when. She eventually turned up on WWE programming at the women's wrestling tournament, the Mae Young Classic, to support Shayna Baszler, a fellow member of her MMA 'four horsewomen' stable. Rousey appeared alongside the other two members Jessamyn Duke and Marina Shafir. WWE NXT wrestler Roderick Strong is also engaged to Marina Shafir.
The MMA four horsewomen confronted the WWE's version of the four horsewomen, Charlotte Flair, Becky Lynch, Sasha Banks and Bayley, on more than one occassion. Rousey appeared on WWE television for three separate tapings of the 'Mae Young Classic'.
EXCLUSIVE: @MsCharlotteWWE @itsBayleyWWE & @BeckyLynchWWE cross paths w/ @RondaRousey @MarinaShafir & @jessamynduke at the #MaeYoungClassic! pic.twitter.com/Ipc7YW5nv2

— WWE (@WWE) September 4, 2017
Rousey reportedly popped at the WWE performance center earlier this year potentially to begin training for a second career.
The connection has been there all along. Now to finally see some semblance of a deal being agreed to, right before Wrestlemania season begins, should have WWE fans going crazy for what could potentially come at Wrestlemania 33 in New Orleans.