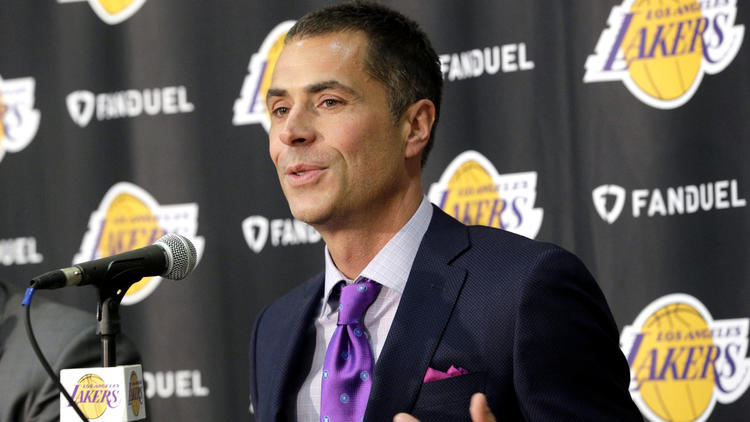 The 2019 NBA Draft Lottery contained surprise after surprise, as the New Orleans Pelicans were able to secure the first overall pick despite having only the seventh best odds for the top spot. Perhaps just as surprising was the fate of the Lakers, who managed to come away with the fourth overall pick, well higher than where they were originally predicted to select at pick 11.
The Lakers got the luck of the draw Tuesday night, and it gives the franchise another high-value asset to work with. In fact, Lakers GM Rob Pelinka sees this as a great opportunity heading into next season and isn't ruling anything out, including a potential trade.
"This is a powerful asset for us," Pelinka told ESPN on a conference call. "We owe a commitment to our fans to have an outstanding season next year. What this does is it gives us the ability to either select an impact player at 4 or possibly use this as an extremely valuable asset in trade."
The Lakers have been one of the notable teams involved in trade talks for multiple superstar players over the past year or so since acquiring LeBron James in free agency. With James aboard, it makes sense for the Lakers to go towards more of a win-now approach as opposed to undergoing a rebuild. James will be heading into his 17th NBA season in 2019.
Of course, the marquee trade target for the Lakers has been superstar big man Anthony Davis. Davis' Pelicans landed the first overall pick in the lottery and if the Lakers were to offer the fourth pick for Davis, this has to be an attractive proposition for New Orleans. Potentially pairing top pick Zion Williamson with another premier talent in this year's draft class would be an ideal start to a rebuild.
But with their myriad of young talent, perhaps the Lakers do build for the future instead of plunging on Davis or another established star. Pelinka is aware of the potential weight a top-five pick can carry and will take this into consideration when making his ultimate decision.
"I think it's an extraordinary shift for us," Pelinka said. "I mean, top-five picks in the draft, if you go back in the history and study them, those picks can alter and impact franchises."
"This is a big moment for us. Last year, of course, we had to go through some hard and difficult things that this is certainly a great silver lining. Our dedication is really toward our fans right now and doing all we can to deliver a really special Lakers season for our fans."