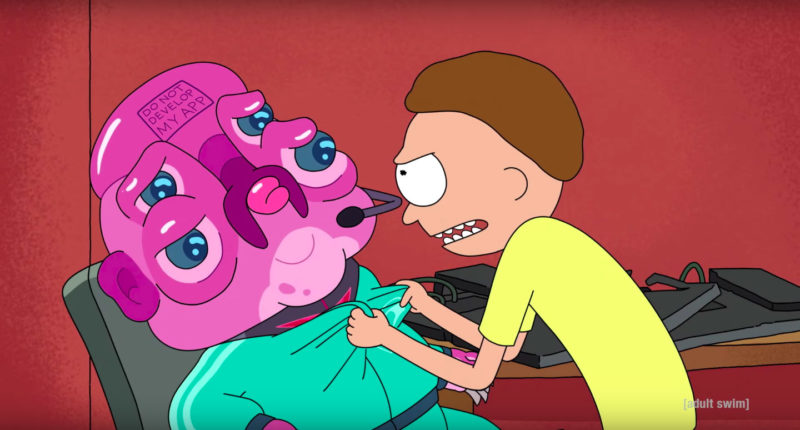 It's almost time to start gettin' schwifty again y'all because Rick and Morty showed up at Comic-Con ready to get the hype train rolling. Series creators Dan Harmon and Justin Roiland were on-hand at the show's panel to discuss the new season. Castmembers Spencer Grammer, Sarah Chalke, and Chris Parnell were also in attendance to talk about the upcoming season.
The fans in the audience were shown unfinished footage from one episode featuring Rick spouting off about how he's a god. Y'know, normal Rick stuff. They were also shown an exclusive clip where Morty directly disobeys Rick telling him not to leave the ship. Once outside the ship Morty is bitten by some kind of tiny snake wearing a helmet. The fans at the panel were also shown a short teaser that was then released to the public.
The teaser features Taika Waititi as an alien Rick hires as an intern. Morty, Jerry and the intern get into a fight over deleting an app and the clip ends as Morty has one of his classic angry outbursts. It's not much but, it hints that the show is going to be more of the same goofy sci-fi shenanigans when it returns. Which isn't a bad thing.
Check out the teaser for yourself below:
Adult Swim previously revealed that the series will return in November, but an official date hasn't been announced. The series was renewed last year for an incredible 70 episodes, so if you're worried about losing Rick and Morty after this year, don't be.
Rick and Morty season 4 premieres in November on Adult Swim.