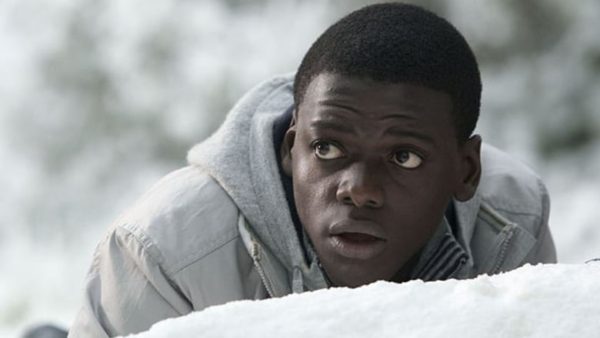 It's now been 50 years – a full half century – since Guess Who's Coming to Dinner; my how far we haven't come.
Get Out is the first movie written and directed by Jordan Peele from the iconic comedy duo Key & Peele. Although humor is his specialty, this is a chilling horror movie that grips you tight and doesn't let up until the very end.
Rose (Allison Williams) decides it's time for her boyfriend Chris (Daniel Kaluuya) to meet the family. One weekend, they take a trip up to her small hometown and stay with her 'cool' (and 'not racist' she assures) parents. Her dad Dean (Bradley Whitford) is a doctor, mom Missy (Catherine Keener) is a psychiatrist, and brother Jeremy (Caleb Landry Jones) is a med student.
They all act perfectly nice to him and seem to go out of their way to show how accepting they are of it all. In fact they treat their black groundskeeper Walter (Marcus Henderson) and maid Georgina (Betty Gabriel) as part of the family. However Chris's interactions with them leave him weirded out, a feeling that's only going to escalate the more he stays there.
There's definitely a vibe similar to that found in the likes of The Stepford Wives, Disturbing Behavior, Perfect Little Angels, and practically every story about a planned community, but Get Out goes further. This isn't just a commentary on conformity, but also one's worth as person and how others relate the topic of race to that and eventually, it all comes together brilliantly at the end. Like magic, the film misdirected the viewer into looking out for clues to the obvious twist only to shock us with much more up its sleeve.
Kaluuya is quite simply a revelation. The depth to his character is uncommon for a horror lead of any color, and he handles it all with tremendous ability. Before this role, you may have seen him give a highly affecting performance in one of the more popular Black Mirror episodes, 'Fifteen Million Merits' – and coming up will have a key role in Black Panther – but he shows off even more of his talents in Get Out.  The terror is expertly crafted, but Peele's sharp comedy is still around in moments of relief, often delivered deftly by Lil Rel Howery as Chris's friend back home, with whom he's discussing his trip throughout the film. And Stephen Root (fans of creepy-small-town-with-a-secret movies might remember him from The Lottery, everyone else probably will from Office Space or Dodgeball) has an interesting part as a town resident who, ironically, is a blind art dealer.
Overall, the film is about twisting things up in new and provocative ways. It first brings to life an experience that many have had or at least seen very commonly depicted in movies (meeting the family of one's partner) and adds to that a more crucial theme that isn't as explored (the racism that African-Americans face) to create something very special. Peele's direction and writing bring to light important questions we need to face as a society while still producing a thrilling horror movie. Racism still has major presence in society and Hollywood in particular (remember that we're just weeks away from Ghost in the Shell starring a white actress), and pictures like this that take them to task for it are very much needed. Get Out and see it.