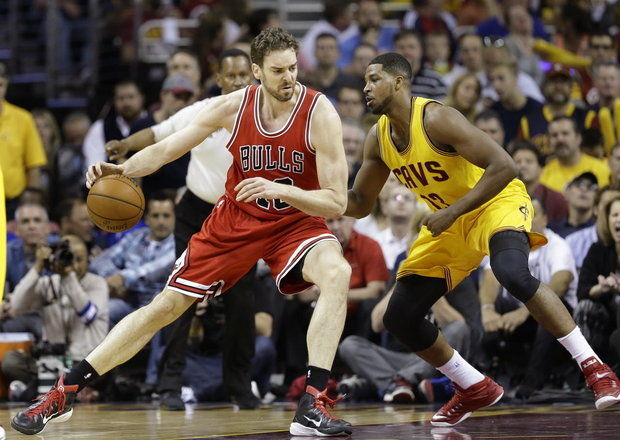 Pau Gasol has been a big reason why The Bulls have been successful this season, and him being out for two games in the post season is a big deal. Gasol stated he will suit up tomorrow, but may face a minutes restriction depending on how his hamstring responds.
#Bulls Pau Gasol says he plans to play Game 6 vs #Cavaliers. Isn't sure how effective he'll be, but is feeling better. "I'll be out there."

— Rachel Nichols (@Rachel__Nichols) May 13, 2015
Pau has been involved in big post season games and fully understands what's at stake for the Bulls tomorrow night. Gasol averaging 15 points, 9 rebounds, and 2 blocks per game in the playoffs this year has been a big help for Chicago and he's taken some of the scoring load off of Rose and Butler in the games he's played.
Gasol's pick and roll/pick and pop killed Cleveland early in the series it seemed nearly unstoppable. With the Cavs looking to close the series after their game 5 victory everyone saw the void Gasol left by sitting out.
Mirotic, Gibson, and Noah simply aren't enough of a threat to Cleveland and limit what Tom Thibodeau can do with his rotations. Mirotic might be one of the only guys that stretched the floor consistently for the Bulls in Gasol's absence.
If Gasol can provide Chicago with much needed scoring I think they can force a game 7, but for Pau to not suit up the past two games says a lot about his hamstring.