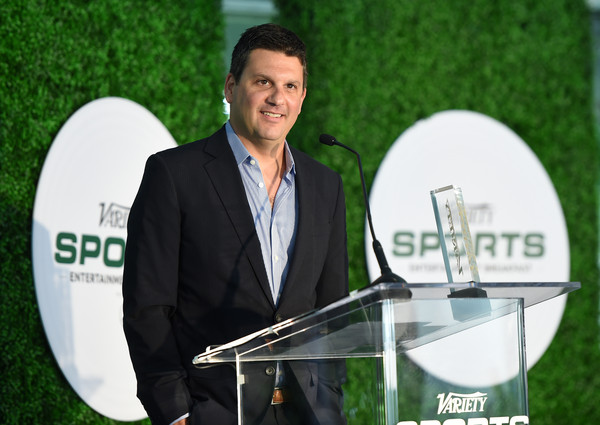 Former NFL Network employee Jami Cantor has claimed that multiple ex-players and a former producer sexually harassed her. Former producer and current employee of Bill Simmons' venture 'The Ringer' Eric Weinberger and On-Air talents including former NFL star Marshall Faulk, Heath Evans, Ike Taylor, Donovan McNabb and Eric Davis were named in a complaint that was originally filed in October 2016.
Cantor was a wardrobe stylist while employed with the network. In her original claim, she stated that she was suing the network for wrongful termination, failure to reimburse her for expenses, and lack of compensation for hours worked. After being fired Cantor, then 51, was replaced by a 30-year-old, allegedly.
Cantor claims that Weinberger sent her sexually explicit texts and photos at one point telling her she was "put on earth to pleasure me." Faulk was claimed to have groped Cantor and asked her "deeply personal and invasive questions" about her sex life. Taylor allegedly sent Cantor nude photos and a video of himself masturbating.
Cantor also states that when she complained to Marc Watts, the NFL's talent coordinator, he said, "It's part of the job when you look the way you do."
Faulk, Evans, and Taylor have been suspended pending an investigation into the allegations. McNabb and Eric Davis are no longer an analyst for the Network but both have been suspended by ESPN. Eric Weinberger has been suspended by 'The Ringer'.
ESPN on Donovan McNabb and Eric Davis re: the NFL Network allegations:
"We are investigating and McNabb and Davis will not appear on our networks as that investigation proceeds."

— Richard Deitsch (@richarddeitsch) December 12, 2017
Statement from @nflnetwork:
"Marshall Faulk, Ike Taylor, and Heath Evans have been suspended from their duties at NFL Network pending an investigation into these allegations." #sportsbiz

— Scott Soshnick (@soshnick) December 12, 2017
Statement from a Ringer spokesman on the allegations against Eric Weinberger: pic.twitter.com/vai4Zl236q

— Kevin Draper (@kevinmdraper) December 12, 2017
Here is the lawsuit in full.
0002a First Amended Complaint (Signed) by Deadspin on Scribd